The Wedding of a family member – maybe a brother or sister, even a parent remarrying – is a wonderful time.
But it does mean you've got to wish them congratulations.
It can sometimes be even more difficult to come up with the right words when trying to write a wedding card or message for a member of your family.
Thankfully we're here to help with ideas for the perfect wedding card messages for family.
Be it a sibling that you need something funny or special for, or one of your parents is remarrying and you are struggling to find the most meaningful words for their big day.
Our pre-written family wedding messages will either give you inspiration and a starting basis for your own message or you can copy them exactly if they reflect what you want to say.
Wedding Wishes for Family
Use these wedding messages for a card, email, text message or just to say in person. They can kept as they are or changed to suit your situation or reflect your feelings with different words.
Brother
My best wedding wishes for a dear brother and new sister-in-law. May you always be warmed by each other's smile and your love live forever.
You are such a special Brother and today is so special too. So a lifetime of love and happiness sent from my heart to you on your wedding day!
Dear Brother, as your life together unfolds may love always be with you. Congratulations on your Marriage!
Congratulations, Brother! My heart is smiling! Enjoy every moment of your new love filled life.
Wishing the two of you a lifetime of caring, growing and sharing with the love of your life. May you have many, many happy year's ahead dear brother.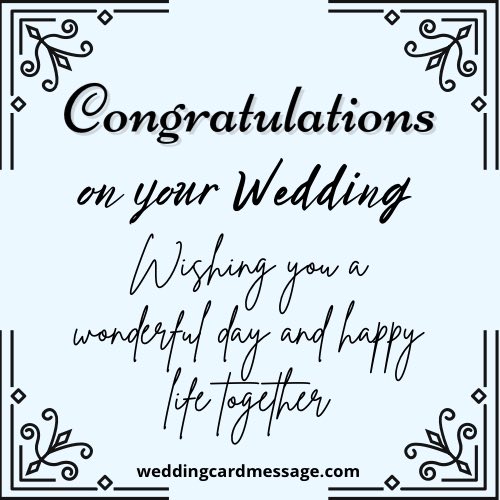 SEE MORE: 31 Wedding Wishes for Brother
Sister
Congratulations to my sister and brother-in-law on their Wedding day.
My dearest sister, wishing you a very happy wedding day. You are not only the sweetest sister but also a true friend. I feel blessed to have a sister like you. May you enjoy a lifetime of love and happiness with your husband.
To my sister on your wedding day; wishing you a lifetime of beautiful tomorrow's.
You are more than a sister, you are my best friend. Best wishes on this wonderful day, may your happiness never end.
No longer a Miss but always a Sis! I love you!
Have a great day sis! Congratulations on your wedding and sending my love

SEE MORE: 31 Wedding wishes for your Sister
Son
Congratulations to our son and daughter-in-law on their wedding day.
I hope you know how much we love you son, and how we wish you all the happiness in the world with a wonderful future ahead of you with your new wife.
You have always made us proud with the life you have built. We wish that you build an equally amazing married life my dear son.
From the day you were born we have wished the best for you. So today on your wedding day we wish the same and much more for the both of you. We love you son.
Congratulations on your wedding day my son. You have grown into such an amazing young man I'm beyond proud of you. I know you've found a love and happiness that will last forever. Enjoy your big day.
Sending all out love to you son and wishing for a perfect day. Congratulations and we just know you're going to be so happy

SEE MORE: Wedding Wishes for your Son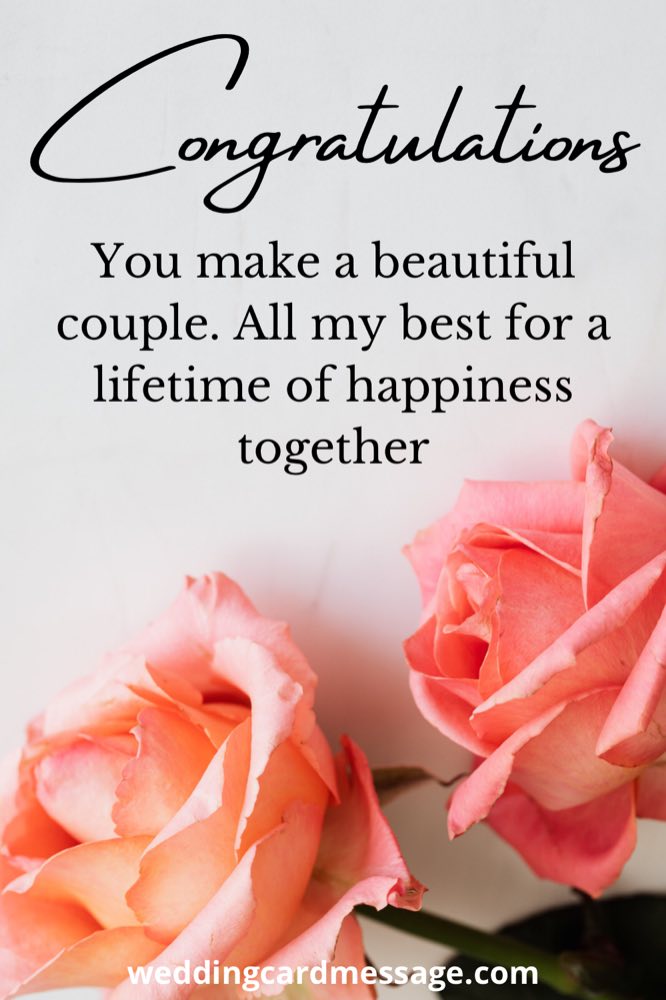 Daughter
My little daughter, I am very happy because today one of your most greatest desires will come true. You will join in holy matrimony with the man that loves you and I hope you will be very happy.
Today you will unite your life with the man who won your heart, you are all grown up now but remember I will always be there for my little princess whenever you need my help. Congratulations on your wedding.
The dream of every father is to see their children move ahead with their lives, so that is why I am so happy today, as my daughter will join the love of her life to be companions forever.
I couldn't be happier to see my darling daughter marry the man of her dreams. Congratulations and my love
I wish you so much happiness in this new phase of your life. I feel conflicted because you are grown up and are a woman now, but also so happy as you always dreamed about this big day. Congratulations on your wedding.
To see our beloved daughter getting married is truly special. Have a wonderful day and enjoy all it has to offer

SEE MORE: Wedding Wishes for your Daughter
Mother
I'm delighted you've found happiness again mom and decided to remarry. I can't remember when I last saw you this happy and so on your wedding day I wish you a lifetime of love and joy

Congratulations mom. Hoping you have a brilliant day. From your loving son/daughter

Dear mom, you've always put us first so today it's all about you. Enjoy this big day and I'm sure you will have years of happiness to come with your new husband. All the best

Sending my love to you mom on your wedding day. Congratulations on finding new love and a new life.

Contrats mom! I was so pleased to see you let love into your heart again and today is both the result of that and beginning of staring over. You can look forward to so many more happy years of which you fully deserve

Father
I am overjoyed to witness the coming together of two people so in love. Congratulations dad

After all this time I want sure if you'd find love again but it's with such joy I can say you have. You've found the one and

Congratulations Dady! I always wanted you to find that special someone and now you have. I couldn't be happier for you

Big wedding day hugs to my amazing dad. You deserve such happiness and I just know you've found it. Congrats!

Sending my love to you daddy on your big day. Don't be nervous – you're marrying the woman of your dreams. You can now look forward to the joy you've always been searching for and I'm elated to see it take place

Aunt
Congratulations auntie! Hoping your wedding day is filled with laughter, joy and love

To my loving aunt, I'm so happy to be able to come to your wedding. Congratulations!

I will be raising my glass to you auntie and wishing for a happy and joy filled marriage

Congrats to my brilliant aunt. I'm really pleased you're getting married and have been lucky enough to find that special man. All my love

My best wishes today auntie. Here's to a perfect wedding!

Uncle
You've always been so important to me, and so I'm thrilled to see you finding happiness with your bride. Congratulations to my amazing uncle

Sending our love to you on your wedding day. It's a delight to see our uncle getting married and I'm really happy for you

I'm delighted to be able to attend your wedding and be there to see just how much joy it will bring you. All the best for your big day

Wishing you the best wedding you could possibly hope for uncle! All my love

Congratulations Uncle on this huge day! Hope you're not too nervous and can enjoy it. We'll be there to see you finally walk down the aisle

Niece
To my favorite niece – congratulations on your wedding day! I hope it's everything you dreamed it would be and more

I always knew you would find love quickly. Who could resist your beauty and warmth!? Congratulations my sweet niece

I can't believe my baby niece is getting married! You've grown up so fast. But I'm really happy for you and know you've found that one special person to love forever

Best wishes for a lovely day and the start of a truly happy life together. Congratulations my little niece

Wishing niece uncle a perfect wedding day and then years of untold happiness with her new husband

SEE MORE: 31 Wedding wishes for your Niece
Nephew
Congratulating you, my darling nephew, on your wedding. It's wonderful to see you find the woman you can spend your life with. Enjoy your day

Congratulations and best wishes to my favorite nephew! You're going to make a great husband

Wishing you a wedding and marriage that is filled with laughter and love for all time

You deserve an incredible wedding day and happy marriage. Sending my congratulations

May you always be blessed with love and laughter in your marriage. Congratulations

SEE MORE: 31 Wedding wishes for your Nephew
Cousin
Its been too long since we've seen one another and here we are cracking up on your wedding day! Congratulations and all the best

You're going to make such a beautiful bride. Congratulations to my baby cousin – enjoy married life!

Your heart has been stolen by that one person you will love for eternity. Congratulations

May today be one of amazing memories you treasure forever. All the best and congrats

May your love today only grow stronger with each passing day.

SEE MORE: 31 Wedding wishes for your Cousin
Son in Law
My daughter means everything to me so it's taken someone special for me to be happy to see her get married. Congratulations and you have my blessing

Wishing you a happiness like no other that touches your very soul and reaches every corner of your heart.

Congratulations and best wishes to my future son in law. You're going to make a great addition tithe family

Wishing you and my daughter a lifetime full of love

All my best wishes in your wedding day. You will make a great husband and wonderful son in law

SEE MORE: Wedding Wishes for Son in Law
Daughter in Law
You have made our son so happy we are delighted to be there to see you get married. Congratulations

We are so thrilled to be a part of your big day. There's not much else to say except congratulations and welcome to the family!

You have brought love and happiness to my sons life. I couldn't be more delighted to see you get married – congratulations

All my best wishes and love to my beautiful daughter in law. I am so pleased to see you and my son become man and wife.

SEE MORE: Wedding wishes for your Daughter in Law
These are just a few examples of what you can say or write to various different family members and relatives on their wedding day.
Hopefully they will have helped you in finding the perfect words for a family member and you will have shown them just how happy you are to see them getting married.