You probably think your daughter in law isn't good enough for you son, right? Be honest. No one is good enough for your wonderful little boy!
Only joking, of course! But your son getting married is a big day. And not just for him. There's a new member of the family to welcome – your daughter in law.
So congratulations are in order. But what do you say to your new daughter in law on her wedding day?
You want to convey just how happy you are to see her marrying your son (or daughter). But also make it clear how pleased you are to have her as part of the family.
If you're struggling to find the right words it need some inspiration then try the example wedding wishes and messages below.
They can edited or changed to fit your situation and are perfect for wedding cards or to say in person on the big day.
Wedding Wishes for a Daughter in Law
Use the Wedding messages here to let your daughter in law know how pleased you are for her on her big day.
Welcome to the family! Have a wonderful wedding
You make my son happier than anyone else. We are delighted to have you as a member of the family. Congratulations
I'm delighted to see you marrying my son today. I've watched you grow as a couple and seen how happy you make one another. I wish you all the best for a long and joyous life together
Happy wedding day to our brand new daughter in law! Enjoy your day
Wishing you and my son a truly happy life together and future that is filled with love
May today be the start of a new life that brings you a love so pure and a joy so powerful it lasts for eternity
Here's to my daughter in law having a wonderful wedding day. You're one of us now!
Sending you all my love on your wedding day and knowing you will make my son very happy. Congratulations
I am delighted you and my son are getting married. You have made him unbelievably happy and the whole family are right behind you both
It's an honor to see you and my son get married today. All my love and best wishes for a fantastic day
May your marriage be blessed with never ending love and happiness. Congratulations to you my new daughter in law
Here's to a long and healthy life with my son. He adores you and I know how much you care for him. You make the perfect couple snd it will be my pleasure to witness your wedding
Wishing you all the best as you take those steps to become man and wife. Congratulations to my newest daughter in law
I may be biased but you're marrying the most amazing man… my son! Enjoy your day and the outpouring of love you will find
Wishing you and my son a long life as husband and wife. I know you will make each other so happy
May your new life with our son begin with a spectacular wedding that demonstrates your love and commitment for each other. All our love
Today you have your happy ending. Enjoy every second of it and love my son with all your heart
From the moment I saw you with my son I knew it was the real thing. You couldn't be anymore perfect together and I am so incredibly happy for you both. Have a wonderful day
SEE MORE: 49 Wedding Wishes for the Bride and Groom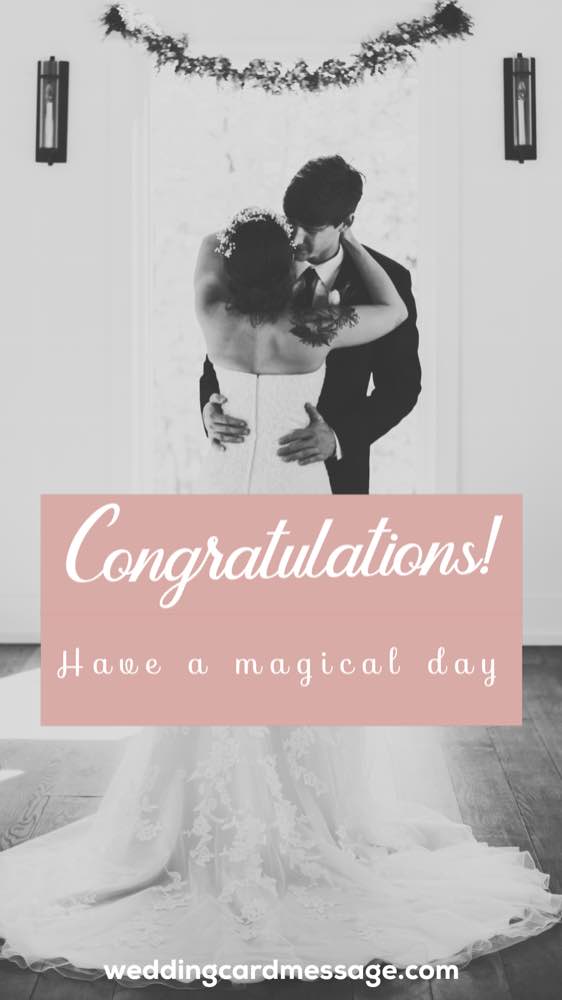 Wedding Congratulations for your Daughter in Law
Wish your soon to be daughter in law congratulations on her wedding with the messages here.
Congratulations to my son and his new wife – my daughter in law! Wishing you a happiness that last forever
Congratulations to my daughter in law. I hope the love you and my son have only grows with each passing year
May today signify the start of a truly beautiful life between two people who love each other fully. Congratulations to my daughter in law
You are such a special girl and one who I know will treat my boy right. Congratulations and enjoy your wedding
The wonderful memories you make today will never leave you. You're a brilliant couple and I'm so pleased to be welcoming you as my new daughter in law
I will raise a glass and wish you all the best for a life of untold happiness with my son. Welcome to our family and congratulations
Congratulations my beautiful daughter in law. Getting to know you has been so enjoyable and not only has my son found the love of his life but I've we've become such good friends
Congratulations and cherish the memories you make today. You have my love and best wishes for a life of happiness in each other's arms
Congratulations from your new mother in law! Have a special and amazing day
We welcome a new face to our family today, our beautiful daughter in law, and wish you huge congratulations on your wedding
Congratulations on your wedding. May it be all you dreamed it would and bring you the happiness you've wished for
Sending our best wishes for you to have the perfect wedding. Enjoy your big day and I hope you like being a part of our crazy family now!
Congratulations! You and my son have found their soul mates in each other and can now look forward to sharing the rest of your lives with the person you love the most
May your marriage be blessed with good times, happy memories and a love like no other. Congratulations
SEE MORE: Wedding Messages from Parents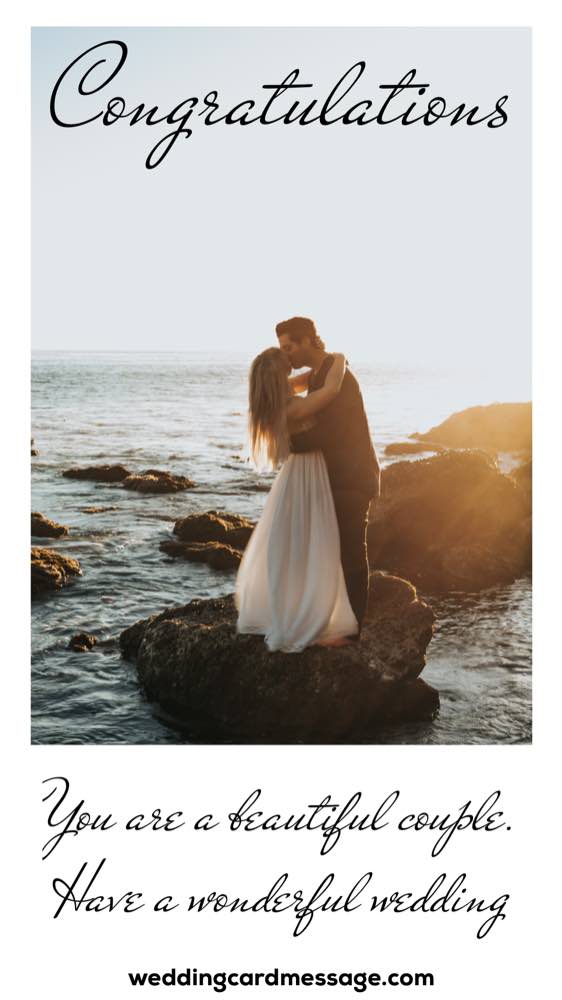 These wedding messages for your daughter in law will have hopefully helped you to show the newest member of your family how happy you are to have them onboard.
Remember to be honest and genuine in what you say and express just how pleased you are that your son or daughter has found such a wonderful person to marry. And enjoy the wedding!