Seeing your son in law get married can be just as emotional as your own son. Son in laws may not be direct relatives but they feel like it.
That relationship you establish and build with them makes them become just as important special to you as any other member of the family.
So on his wedding day you want to make sure he knows just how pleased for him you are. But what do you say or write in a wedding message for your son in law?
You are going to want your wedding wishes to be truly reflective of you feel – delighted for him and his partner. You can try following these simple tips for writing your own wedding message for your son in law, or alternatively keeping reading for some example messages.
Let him know how pleased for him you are
Tell him how important and how much it has meant to you to be a part of his life
Talk about how beautiful the wedding was
Wish him and his partner a life of happiness by each other's side
That is a very basic outline of what you could say. But it should give you a starting point if you wanted to write your own message.
For some prewritten examples you can use then try the wedding wishes below, and feel free to edit them to suit your situation.
READ MORE: Wedding Wishes for your Daughter in Law
Wedding Wishes for a Son in Law
Use these wedding messages to show your son in law how pleased you are for him on his wedding day.
Welcome to the family! We're looking forward to a fantastic wedding and are delighted to have you as our son in law
We are so happy to see our daughter as in love as she is. We have you to thank for that, and we are delighted to have you as a member of our family
It's with such joy we will see you marrying our daughter today. You have been the perfect couple from day one and it's just amazing to see how happy you make each other. All our love and congratulations
Best wishes to our new son in law! Have a wonderful day
We wish you and my daughter a very happy life together and one that is filled with wonderful moments and continuous love
I know that today will be the beginning of your new lives that brings you so much love and joy. All the best to my new son I law
Here's to my new son in law enjoy a fantastic wedding day! Don't forget – you're one of us now!
We know you are going to make our daughter very happy and you have our full blessing. Congratulations
You have the support of the entire family and we are all delighted to see you get married to our daughter
We are truly honored to be there and witness you and our daughter getting married today. It will be such a joyous occasion
I want your marriage to be blessed with an abundance of love. Congratulations to my new son in law
Wishing you and our daughter a long and happy life. We can see how much she loves you and together you make the perfect couple. We are thrilled to see you get married
Sending our loving wishes as you take such a big step in becoming husband wife. Huge congratulations to our newest son in law
My daughter is the most beautiful angel in the world and you are lucky to be marrying her! But you have my blessing and I will shed a tear as I see you two walking down the aisle
Wishing you and my beloved daughter a long life as man and wife. I am certain that you are going to name one another so very happy
May today be a huge success and mark the start of a life that is nothing but love and devotion to one another. All our love
Enjoy every moment of today and promise me you will love my daughter with every fibre of your being and soil
You two were destined to be together and from the first moment I laid eyes on you as a couple I could see it was true love. I am so happy for you both, have a wonderful day
SEE MORE: Wedding Wishes for Grandson
Wedding Congratulations for your Son in Law
Congratulate your son in law on marrying your daughter with these messages.
Congratulations to my daughter and her new husband – or should I say my son in law! Wishing you a lifetime of happiness
Congratulations to my son in law. I know you will treat my daughter right and never let her down
May today be the beginning of what will be a perfect life and union between two people who's love for one another is clear to see. Congratulations
You are very special man and someone who we know will treat our daughter with the respect, care and love she deserves. Congratulations
You make an absolutely wonderful couple and it's with such joy we welcome you as our new son in law. Have an amazing wedding
It is with great honor I will raise a glass at your wedding and toast you both and the happy life you will be embarking on. Welcome to the family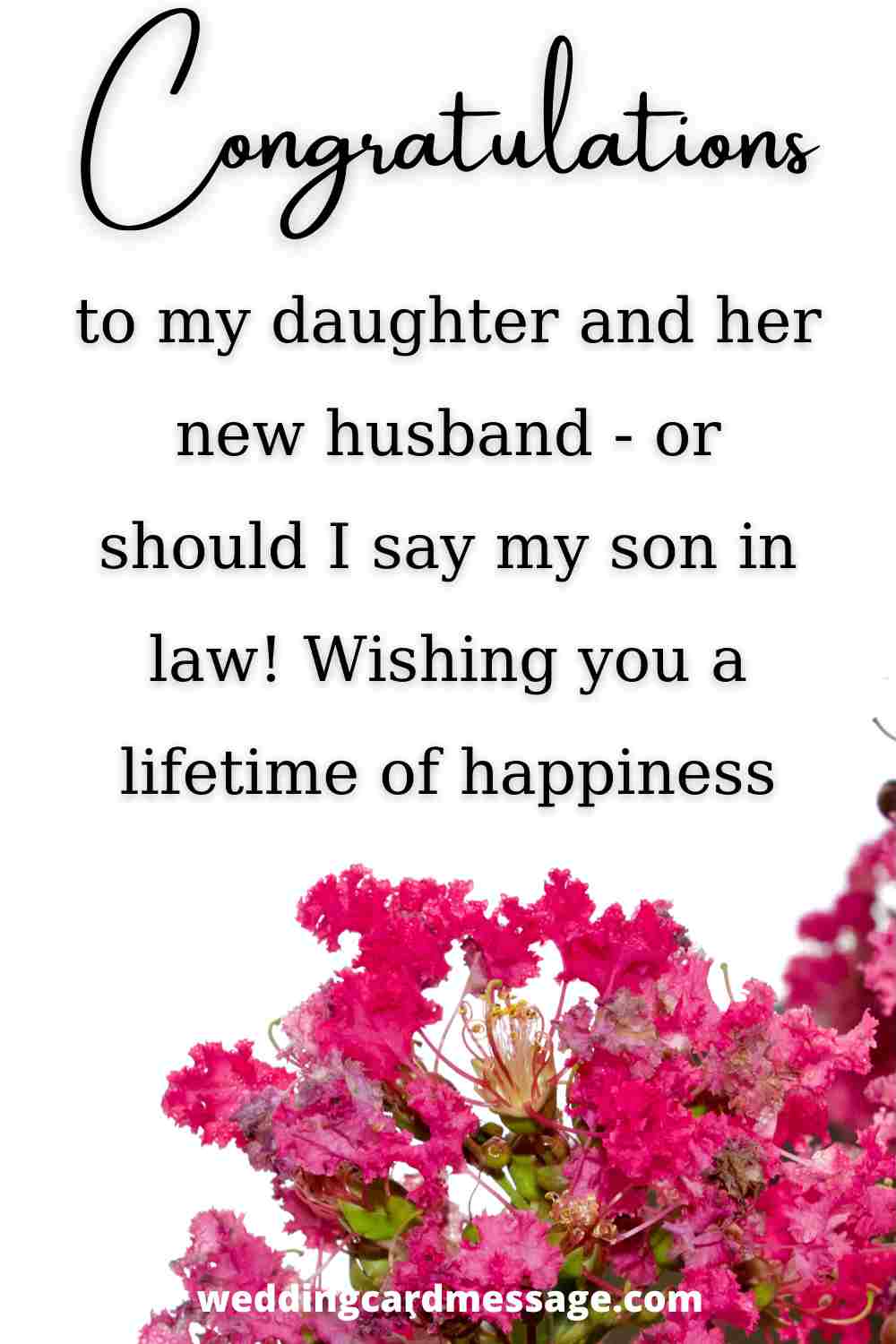 SEE MORE: 51 Wedding Congratulations Messages
Congratulations to my son in law. It has been a true joy to get to know and see why my daughter has fallen so madly in love with you. I feel like I've gained a son in law but also a friend
Congratulations and be sure to treasure the memories that today brings. I hope you two will forever love each other
Congratulations from your new mother and father in law! We hope you have an amazing wedding day
Today we welcome a brave new face to our family. You are our son in law but also a friend and we wish you many congratulations on your wedding
Congratulations and all our best on your wedding day. I know it will bring you a happiness you could never have imagined before
You're part of our mad family now whether you like it or not! Sending our best wishes for a wonderful wedding and ceremony
Congratulations! My daughter and you have found your soul mates with each other and will be blessed with such a strong bond and connection forever more
May today and always you have the best of blessings, bringing you a love so string and a happiness that lifts your soul. Congratulations
SEE MORE: Wedding Messages for Family and Relatives
Hopefully the wedding messages for your son in law will have shown you the best way to welcome a new member of the family with open and loving arms.
Try to speak from the heart and with sincerity and let your son in law know his happy you are your daughter has found the man she can truly love forever.