Seeing your son get married is a special day in any parents life. Having watched him grow into the man he is today it means so much to see him finding happiness with his partner.
So it's only natural you will want to congratulate him on such a huge day. But what can you say or write in a wedding message for your son that truly reflects the emotions you're feeling?
You want to show him just how happy you are and how special a day it is for you.
You can follow these few steps for writing a wedding message for your son or keep reading for example messages further down.
Don't overthink what you want to say. If you do you're likely to just get muddled. Talk from your heart and let whatever you're feeling flow naturally. As long as you make it clear just how happy for your son you are then that is all that matters
Tell him just how important he is to you, and how raising him and being in his life has been the most amazing experience. Feel free to get weepy and emotional!
Comment in how lovely the wedding was, the occasion in general etc.
Wish him and his partner a lifetime of happiness together
That is merely a quick guide if you want to say or write your own Wedding message for your son. You will want to include your own person touches of course. That should give you a starting point though.
If you would prefer to see some prewritten messages for inspiration or just to use then try the examples Wedding wishes below. You can edit them as you like to fit your circumstances.
Wedding Wishes for a Son
Use these wedding wishes to let your son know just how excited and delighted you are for him on his wedding day.
To our perfect son, we are overjoyed to see you get married. Enjoy a truly special day
I can barely believe my son is actually getting married! It seems like yesterday you were still a little bit and yet here you are about to wed the woman of your dreams. I'm so happy for you
We are overwhelmed to see you get married today. We've watched you grow into such an amazing young man and now as you're on the cusp of married life we are beyond thrilled to see you enjoy such happiness. All our love
Wishing you a wonderful day and a truly happy life my son. Enjoy your big day and all the exciting times you have ahead
Wishing my son a happy life with your partner and all the joy that brings. Congratulations on your marriage
May today be just the start of a life that brings you laughter, happiness and love that last forever. We love you son and are so proud
Here's to our son having a perfect wedding and enjoying the most amazing life as a happy couple!
We are sending you so much love on this amazing day and are delighted to see the beginning of such a happy life we you are going to share together. We love you son, congratulations
We can't express just how happy it makes us to see you, our baby boy, getting married. To see you walking down the aisle is going to be such a joy – congratulations!
Wishing you a lifetime of happiness as man and wife. May you be blessed in everything you do. All our love
We only hope you enjoy years of happiness and love and that it grew ever greater as each year passed. Sending our best wishes to our son and the woman who has made him so happy
We are honored to see you exchange vows and be there to see our only son as embarks on married life
May this journey be filled with special memories you can cherish forever and a happiness like no other. We are so thrilled for you son!
Wishing you, my son, a special wedding day and marriage that brings you a life that is nothing but happiness
We are looking forward to a day that starts your new life off in the happiest way – surrounded by friends and family and celebrate rating your love
To our son on your wedding day – you have found that one person to love forever. We are ecstatic for you and know this is just the beginning of a long and happy life. Congratulations and all our love from your parents
We are so happy for you son. Be warned though – on your wedding day there are going to be a lot of tears!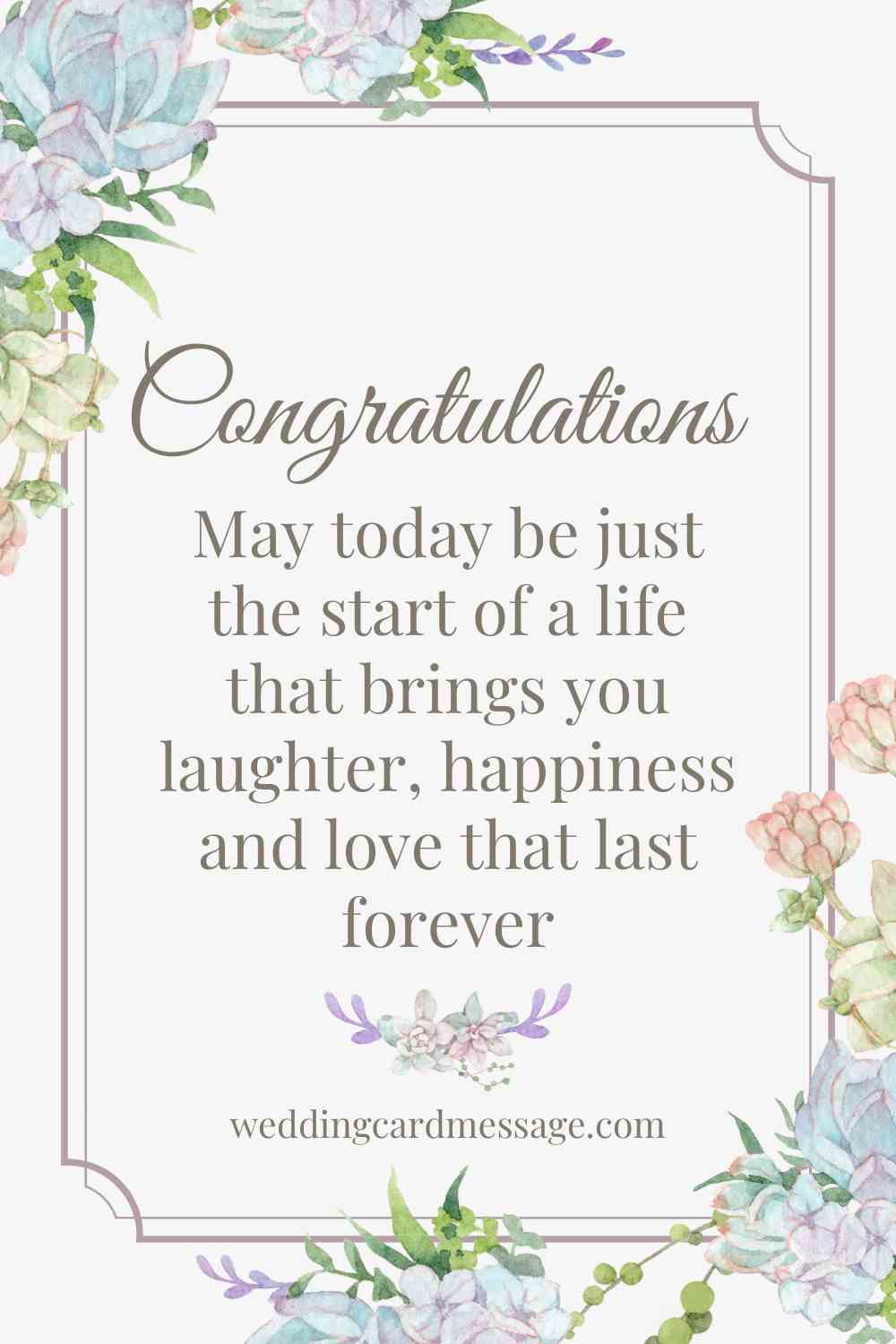 SEE MORE: Wedding Wishes for Son in Law
Wedding Congratulations for your Son
These wedding messages from parents for their son congratulate him on his wedding day and gives your best wishes.
Congratulations son! We wish you all the best in your wedding day and that you will have a life filled with happiness
Congratulations to my son on his wedding day. I hope you grow closer each year and you have a love that is stronger than anything else
We just know that is the beginning of a a wonderful life together. Congratulations to our beloved son
You deserve so much happiness and we are delighted to see you find it with the woman you love. Congratulations and all the best for a spectacular day
Congratulations to our son! We hope the memories from today will last forever. You are a truly perfect couple
Today we will raise a glass to our son and the woman who has captured his love. May you both enjoy so much joy together a day we wish you all the best for a happy married life. Congratulations
SEE MORE: 51 Wedding Congratulations Messages
Congratulations to our incredible son. We are just as excited as you are, maybe even more so about the exciting journey you're about to go on! Congratulations and all our love for your wedding day
Congratulations and remember to cherish every second of today. Weddings don't come around very often and you will want to take it all in. Wishing you a truly amazing day
Enjoy today and treasure the memories you make. And of course treasure your new bride! Congratulations from your loving parents
You deserve to be so happy son, and we know the woman you have found will do that. We are delighted for both of you and wish you all our love and blessings
Congratulations and lots of love. May your wedding be an occasion that is filled with all the joy and excitement that you could want
Congrats to our son. We wish you a brilliant wedding and happiness ever after
Congratulations, you have found your soul mate and are lucky to be able to share the rest of your life with them
Congratulations and may your marriage be blessed today Ava forever more with a love so pure. All our love from your parents
SEE MORE: Wedding Messages from Parents
We hope the wedding wishes and message for your son provided here will have given you some help with finding the right words to show him just how happy you are on such a big day.
It can be daunting to speak so openly to your son but try to express how you're feeling and let him know how much it means to see him find love.