If you aren't sure what to write in a wedding card or need some wording examples then look no further. This resource is the most comprehensive guide on how and what say when writing a wedding card message. Period.
You will find over 130 wedding messages for friends, family, coworkers and more on this page. As well as a complete guide to writing your own wedding wishes.
So if you're struggling with what to say in a wedding card, this is the post for you.
Table of Contents
Wedding Message Examples
Writing a wedding message isn't easy. Finding the most appropriate words and offering your best wishes in a fairly short, simple way is tricky for a lot of us us.
These examples should help to show you the type of wedding messages and sentiments that you can use in your card.
We're absolutely delighted for you. Congratulations
Sending out best wishes for your big day
Best wishes for a special wedding and a happy life together
Congratulations to the both of you and have a wonderful day
You are true love personified. I'm so delighted for you
You've found happiness in each other – enjoy a spectacular wedding
Cherish these amazing moments and treasure the memories today will create. Best wishes
I love you both and wish you a life of joy together. Have a brilliant day and happy marriage
We are so happy to have been invited and share in your happiness. Congratulations
Blessed to partake in such a joyous day. Best wishes and happy wedding day!
SEE MORE: 51 Wedding Congratulations Messages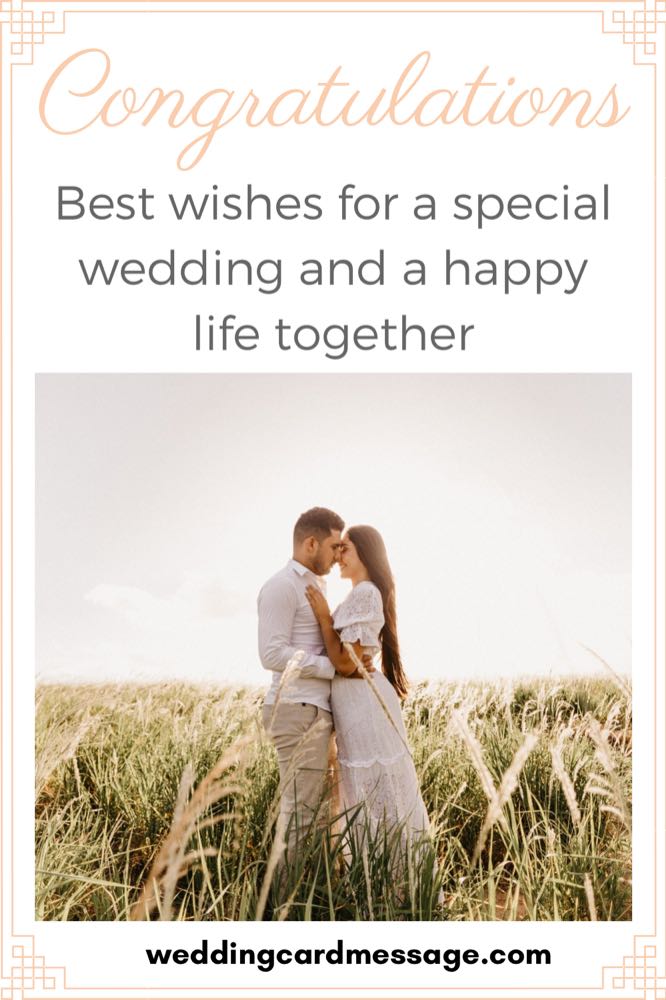 Short and Simple Wedding Messages
You might want to only say a few short words of congratulations in your card. Keeping it simple and not going overboard with emotion is sometimes a good idea and more appropriate if you aren't that close to the couple.
The following examples should be suitable for most weddings and work well in person and written in a card.
Please accept our best wishes
You both look beautiful. Congratulations
To a fantastic pair – you're going to be so happy
I was so happy to be invited. Congrats and best of wishes to you
Celebrating the coming together of two amazing people
Delighted to be in the presence of true love
Congratulations and enjoy a happy life as man and wife
You make a gorgeous couple
I hope you have a happy life together
May God bless you and your marriage
SEE MORE: 68 Wedding Shower Wishes and Messages
Wedding Messages for the Couple
Many wedding cards are addressed to both the bride and groom, so to them as a couple. If you know or are close to both of them then this is probably the best way to go about writing your message.
As you are addressing both halves of the couple you can talk about how they met or their history together. If you're friends with them then mentioning something funny or memorable they will both understand will go down well. Above all though wish them well and say how happy you are for them.
Wishing you a wonderful wedding day and a life of fun and excitement
Congratulations and best wishes on an amazing life together
You two are perfect for each other and are going to be deliriously happy as man and wife
Thank you for letting us share in your joyful day. You make a beautiful couple
May your marriage bring you an abundance of treasured memories and years of happiness by each other's side
Sending loving wishes on such a special day and hoping your wedding is as lovely as you both are
Congratulations to a truly amazing couple who embody what love is
You two found love the moment you met and I've been honoured to watch that love grow. I'm thrilled for you both – congratulations!
Having been the one who introduce you I feel like I deserve a bigger part in the wedding.. only kidding! You guys are amazing and I'm so happy for you
Enjoy a perfect wedding and then a perfect life. Congratulations
SEE MORE: Wedding Wishes for the Couple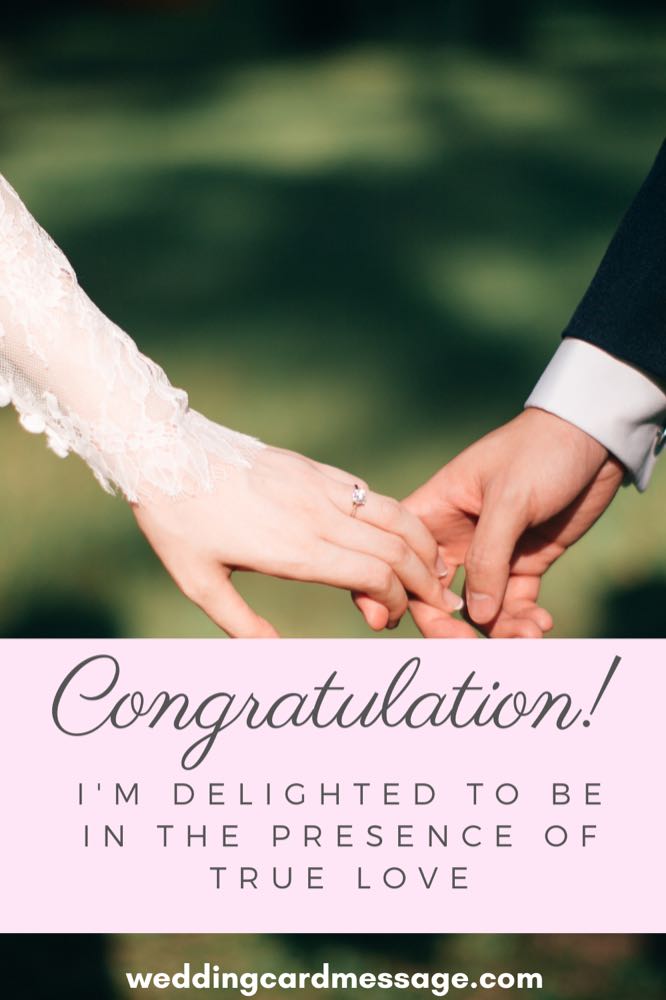 Wedding Wishes For a Friend
When it's a friends wedding it's extra exciting and fun. We want to see them in love and finding happiness. And being there for them at their wedding is part of that.
Don't be afraid to really show how elated you are for them and to express your emotions fully in your wishes.
Congratulations to my best friend! Wishing you a lifetime of happiness together
I still can't believe someone managed to get you to settle down! Have a lovely wedding and congratulations
We've grown up side by side and even now I can't believe you're going to be married. But I'm so pleased for you and honoured to watch you walk down the aisle
Congratulations my friend! Out of all the huge moments we've shared together this is the biggest
Thank you for letting me be a part of this special day. All the best
Your friendship has meant so much throughout my life I'm hoping you've found as much happiness as it bought me
To a life filled with friendship and laughter. Best wishes
Congratulations on your wedding and marriage but I hope this doesn't mean an end to all out fun and mischief now!?
You have a new partner in crime now! Wishing you a long and happy future
Sending massive hugs to my dear friend. May all the joy you feel today last a lifetime
SEE MORE: Wedding Wishes for Friends
Wedding Messages for Parents
If your mom or dad is getting married (or remarried) you might have some mixed feelings about it. But one thing you can be sure of is you'll want to send a card. And whether you think it'll be a special occasion or aren't too keen seeing a parent find happiness with someone is an important moment that.
So use your wedding message to say how pleased you are for your mom or dad. Maybe talk about or mention a funny anecdote or how long you've been waiting for him/her to find Mr/Mrs. Right. Just as long as you show your parents how happy you are they're getting married.
Congratulations mom! I couldn't be any happier for you
I'm overjoyed to see you finding true happiness. Have a wonderful day
To see you finally settle down is remarkable – I never thought we'd get here! But I'm just delighted to see you the happiest I ever have. Congrats mom/dad
You have my full blessing and I couldn't be more pleased you've found someone to share your life with
Your happiness is my greatest wish and if you've been fortunate enough to find that one person who can provide that then I'm fully on board. Congratulations
After years of guidance and giving me advice it's my turn to repay the favour – follow your heart. I love you mom/dad, congratulations
Wishing you as much love as you've given me. Best wishes
I haven't seen you this happy in years, and that makes me overjoyed. I wish you a future of laughter, love and treasured memories
Dear Mom/Dad, on such a big day I just wanted to let you know how pleased I am for you. You deserve all the happiness in the world
To the best mom/dad in the world and his/her new husband/wife. Have an amazing day and enjoy your new lives together
SEE MORE: Wedding Messages for Family and Relatives
Wedding Messages for Son
When your son is getting married it's completely normal to feel very emotional about it. Seeing one of your children growing up and finding someone they love and want to spend their life with is a big deal. So your message should reflect that.
Expressing your love for your son and perhaps including some words of wisdom or an anecdote from his past would all be good ideas to include. Make your wedding card message heartfelt and showing how much you care.
I'm feeling an awful lot of emotions today but mainly just ecstatic to see my son having found someone incredible to share his life with. Such loving wishes to you both
You have my deepest love and I wish you and your new wife/husband all the best
I'm just overjoyed you've found that special one! I couldn't be happier for you my son
Its such an exciting day! Congratulations son and here's to years of happiness for you both
It's an amazing day for the whole family but of course especially for you son. I know you've found everlasting happiness and couldn't be more pleased for you
Have a fantastic wedding and I know you're destined for years of a blissful married life
I hope a little of my advice helped you find that perfect person. Congratulations son
I can't believe my son is all grown up and about to embark on his married life. I am so proud and so pleased for you
You've grown up to be a fine young man and will undoubtedly make your partner very happy. I'm so proud of you. Congratulations
To my wonderful son – enjoy your wedding day and the incredible ute you crate together
SEE MORE: Wedding Wishes for a Son
Wedding Wishes for Daughter
As with a son, your beautiful daughter getting married will be a huge event filled with such joy (and probably tears). Seeing your baby girl walking down the aisle is one of those unforgettable moments. So you will want what you say or write to her to match how important the day is.
To see my baby girl all grown up and getting married is unbelievable. I'm thrilled you've found such happiness
To my darling daughter, you're going to make the most beautiful bride the world has ever seen. Congratulations my love
I can't express how amazing it is to see my little girl on her wedding day. You deserve so much happiness
Just to war you there are definitely going to be tears and a lot of emotions today! Congratulations to my wonderful daughter
You have found the love of your life and now get to share that love forever more. Enjoy a truly special day
You are the light of my life and to see you get married brings me so much joy. I love you little girl
I'd be lying if I said I wasn't going to miss you. You've been my baby girl for years and now you're all grown up and getting married. But I know you're to be so happy, and that's all that matters. Congratulations
Our relationship has had it's ups and downs but I am elated to see my daughter so happy. You have my blessing and best wishes
We're delighted to be able to welcome a new member to the family. Best wishes my beautiful daughter and have an amazing day
My biggest congratulations and fondest wishes for your wedding day
SEE MORE: Wedding Wishes for your Daughter
Wedding Wishes for Brother
Siblings often have very special relationships that are unlike others. So if you're close to your brother then seeing him get married will be a great day.
In your wedding card you'll want to really emphasise how pleased for him you are and maybe reflect on your childhood together – saying how far you've both come. But the main thing should be to wish him all the best and say how delighted you are for him and his new wife.
Congrats bro! I still can't believe you found someone willing to marry you
My baby bro is settling down and I'm delighted for you. Have a fantastic day
Congratulations big brother, you deserve a lifetime of happiness
To see my brother getting married to the woman he loves is going to be such a special moment. Congratulations!
We often fought but you know how much I love you really. And I'm so pleased to be here today to witness you marrying the love of your life. Best wishes bro
It only seems like yesterday you were my annoying little brother and now you're one of the most impressive men I know and about to get married. We've come a long way! Congratulations my dearest brother
Your wild days are behind you bro! It's all dinner parties and picking the kids up from school now. Congratulations and enjoy your big day
Take this advice from your big sister – after today, she's always right! Congratulations bro and enjoy married life!
You've always been a pain my backside (to put it nicely) but I couldn't be happier for you today. Congrats!
To the best brother in the world, wishing you an incredible day and the life of pure happiness you richly deserve
SEE MORE: Wedding Wishes for Brother
Wedding Card Messages for Sister
Your sister's wedding should be cause for celebration. You may be that overprotective brother who's always looking out for his sis, but on her wedding day you will want to put that aside and just be happy to see her finding true love.
A wedding message for your sister should talk about her future and how much she has to love ok forward to.
Congratulations sis! All my love on today and for the future
I know I haven't said it much but I love you sis and am thrilled to see you finding such joy. Congratulations
As your bigger brother I'm suppose to look out for you but you've done pretty well on your own! Wishing all my love and best for a happy wedding and marriage
To see my big sister getting married is an absolute joy and I can't wait to celebrate with you and the whole family
You have been blessed with finding that special person who makes you complete. Congratulations sis and enjoy the big day you deserve
To my loving sister, I feel so proud to see you getting married. I hope your wedding is everything you dreamed of
I feel like I should be teasing you as I'm your brother but instead I'm just really happy for you. Congratulations
Wishing you a day of unbridled joy and happy memories, sis!
SEE MORE: Wedding Wishes for Sister
Wedding Messages for a Coworker
There's a good chance you'll be invited to a wedding from a colleague or coworker. Writing a wedding card for them can be a little testing though, especially if you don't know them that well. Much of what you say will depend on your relationship with them.
If you aren't particularly close then avoid any phrases or wording that is too emotional or express 'love', as that could be inappropriate. Stick to more formal and general wording. If they're a close colleague that you know we'll then you can treat the writing a message similarly to one for a regular friend.
Thank you ever so much for inviting me/us. Have a wonderful day
Its been a pleasure to get to know you at work and it's now an honour to be invited to your wedding. My best wishes
Looking forward to celebrating your happiness and love. Congratulations
To a colleague and friend – congratulations on your marriage and all the best for the future
So pleased to be invited and get to celebrate your wedding. I'm sure it's going to be a lovely occasion and I'm wishing you all the best
Wishing you years of happy wedded life together
Congrats! Although I'm not too pleased at having to do your work as well as mine whilst your off on your honeymoon!
Enjoy a spectacular day and all my best wishes for a loving future as man and wife
SEE MORE: Wedding Wishes for a Coworker
We hope this guide has given you the inspiration or help to write a moving wedding card message to the bride and groom. Remember to speak from the heart and with sincerity. If you do this then whatever you write or say your wedding message will be appreciated with warmth and love.