A wedding is all about one thing – the couple. So you're going to want your wedding card message to reflect this.
But it can be tough knowing how to really express your feelings. How do you show them just how pleased you are they're getting married?
Be it through writing a wedding card message or just wishing them congratulations in person it's hard to know what to say.
How do you Congratulate a Wedding Couple
The best way is to have a thoughtful or heartfelt message directly aimed at the happy couple. This can be very personal, depending on how well you know them, or it can be more formal if you aren't quite as close, but still remain caring and congratulatory.
We understand that this can be a little tricky though. So if you're struggling to find the right words for the couple then take a look at our selection of messages below:
Congratulations! May you share many precious moments together. You're such a lovely couple!
It is beautiful to tie the knot, but even more joyous is the wonderful memories of your love shared as one and how it will endure for all time. Congratulations!
Always keep in mind that you are two special beings brought together as a perfect pair to enjoy a union of imperishable love, laughter and everlasting joy. Congratulations!
May everyday of your marriage be filled with joy, good luck and good health. Wishing you all the best as man and wife.
Congratulations and may the joy of your wedding be just the start in your incredible journey. You are perfect for each other and can look forward to a life of happiness by each other's side.
May your journey together be filled with wonderful moments. Congratulations on your wedding day!
Wishing you all the best for your married life! May your lives be filled with blessings and hapiness. Congratulations.
Wishing both of you all the best for today and always. May God bless you with all the love and happiness in the world.
I have never seen a couple so perfect for one another. Wishing you a very happy and joyful married life.
Have a truly wonderful life together and enjoy every moment of it. You both deserve such happiness. Congratulations.
My best wishes and lots of love to this newly married couple. May God shower you with all His blessings.
SEE MORE: Wedding Wishes for Friends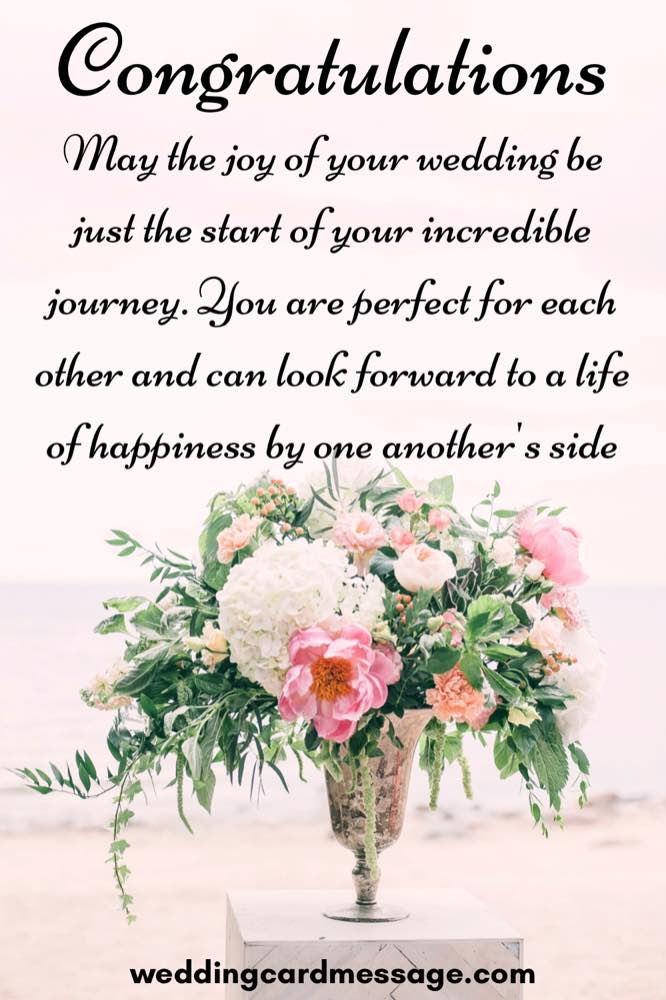 Wedding Wishes for a Newly Married Couple
Congratulations and all my best for a marriage filled with everlasting love.
To my friends, the newlyweds – you have found a love like no other and can now look forward to spending the rest of your lives living happily ever after. All my love.
I know love when I see it – and I've been looking at it for years whenever I saw the pair of you. Congratulations on your marriage and may you enjoy every second of married life.
To the happy couple – congratulations on a lovely day and here's to this being the start of the most fantastic journey you could ever imagine.
You were made for each other and make the most adorable couple in the world. I was so happy to be able to share in this wonderful day.
As couples go you two are as strong as I've ever seen. This marriage was your destiny and I am so delighted to see you finally tying the knot. Congratulations.
When I think of love, I think of you two. You are a couple like no other and seeing you get married is such a thrill. All my best for an amazing day.
My congratulations to the happy couple and my best wishes for years to come.
Sending my love and congratulations to you both. As a couple you compliment each other perfectly. Enjoy your life together.
It's been one of the joys of my life to see you both fall in love. And now, on your wedding day, I am beyond thrilled to witness that love reach its conclusion. Congratulations!
Love works in mysterious ways but with you it's obvious for all to see. You are absolutely perfect for each other. Here's to an amazing wedding and a life blessed with happiness and laugher.
It's been delightful to witness true love coming together. You're union is long overdue and will stand the test of time without any problems. All the best in your married life.
Sending you my best wishes for the big day. It's going to be such an occasion and I bet you can't wait to be man and wife! You make a lovely couple and I hope your dress come true with one another.
Warm wishes and congratulations to a truly special couple. I hope you have a brilliant day surrounded by friends and family.
Congratulations and all my best for a beautiful wedding and ceremony. You're a lovely couple.
SEE MORE: 51 Wedding Congratulations Messages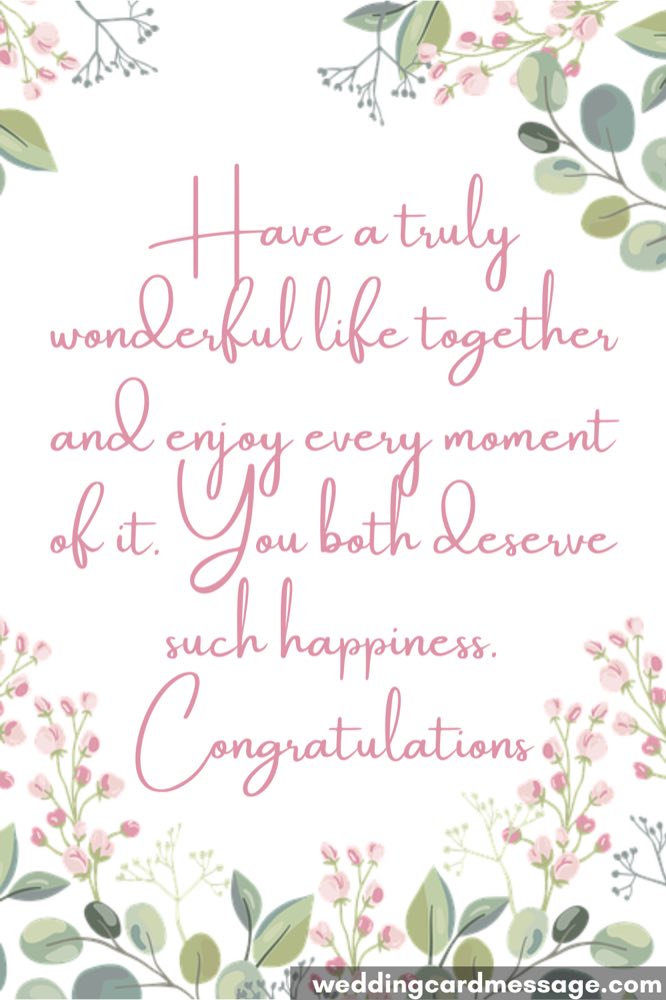 Perfect Couple Wishes for the Wedding
You two make the perfect couple and I'm so happy to see you've found such love with each other.
To a spectacular couple – congratulations and have a great day!
You're my favorite couple I know and it makes me so pleased to see you settling down and getting married. You will be eternally happy with each other.
Neither of you could have found anyone more perfectly suited than each other. Congratulations on finding a love so pure.
To be so perfect for each other is more than just chance or luck. It can only have been fate. And now you're going to spend the rest of your lives in happiness as man and wife. Congratulations.
To the beautiful, perfect couple – have a wonderful day.

You were made for only one another and will bring a happiness to each other's lives like you couldn't imagine.
There couldn't be two people on this planet more prefect for one another. So I'm delighted to be sharing this moment with you both as you get married. All my best.
To my beloved friends and the most amazing couple I've ever known, I am so happy for you and am thrilled to be a part of your wedding. Congrats and best wishes
Couple's like you don't come along very often. You are blessed to have found the one another and how you compliment each other so perfectly. Congratulations and enjoy your big day.
Call it date or destiny, but whatever it was you two were leats going to end together. Sending my love and for you to have the perfect wedding.
Couples don't come anymore amazing than you! Congratulations my friends and here's to your years of happiness.
All my warmest congratulations to such lovely couple. You are what getting married is all about.
You have stolen each other's hearts and now can enjoy a blissful live as man and wife. Congratulations to the most perfect couple.
Wishing you a lifetime of happiness with one another. You are such a lovely couple and really deserve it.

SEE MORE: Wedding Messages for Coworkers
We hope these wedding messages for the couple have give you inspiration and ideas. It can be tricky knowing what to say or write in a wedding card for the couple but hopefully you know feel a lot more comfortable with wishing them a happy wedding.