Your brother getting married is such a big and special day. You have watched him grow up, maybe looked up to him if he was older, and now he's settling down with his true love.
But what do you write or say in a wedding message for your brother?
Your wedding wishes should come from the heart and show just how happy you are. You can follow these few tips if you want to write your own wedding message for your brother, rather than using the examples below.
Be honest and genuine. Let your brother know how much he means to you and how happy you are for him on this wonderful day.
Make it clear how important a part of your life he has been and what being his sibling has meant to you.
Say how you have felt honored to be a part of his life
Talk about how beautiful the wedding was and how pleased you were to be there
Wish the happy couple a lifetime of joy and all the best for an amazing future together
That should get you started with your own wedding wishes for your brother. How close you are, how often you see each other etc. will affect what you say though, so take everything into consideration. But that's a good place to begin.
If you would like to use a prewritten message then the example wedding wishes below will be ideal. They can be changed to fit your circumstances and edited in any way you need or see fit.
Wedding Wishes for a Brother
Use the wedding wishes here to let your brother know exactly how pleased you are for him on such a special day.
To my amazing brother, it's incredible to see you getting married. Wishing you so much happiness for today and always
It blows my mind to see my little brother actually getting married! To me you're still the person who did nothing but annoy me. But I'm really happy for you and know this will be the start of a long and wonderful life with your new bride
It fills me with such joy to witness your wedding today. Seeing you grow and become the man you are, I'm just delighted that you've found such happiness. All my love and best wishes bro
Try not to be nervous bro – today is the start of your new life. It's going to bring you more happiness than you can imagine. Enjoy it
Wishing you a life of love and happiness as man and wife. Have a wonderful day
To my brother, we've been through so much together but today you begin a life with the woman you love. I know she is going to bring you untold happiness, and I couldn't be more pleased for the both of you
Here's to my brother having a wedding that is everything he ever dreamed of. Enjoy married life
I never thought you'd find anyone willing to marry you, bro! Only joking. I'm delighted for you and so pleased I will be at the wedding to see you tie the knot. All my love
You've had some ups and downs but it's all done together today. You're settling down, growing up and becoming a husband. I never thought I'd see the day! Best wishes to my brother on his wedding
SEE MORE: Wedding Messages from Parents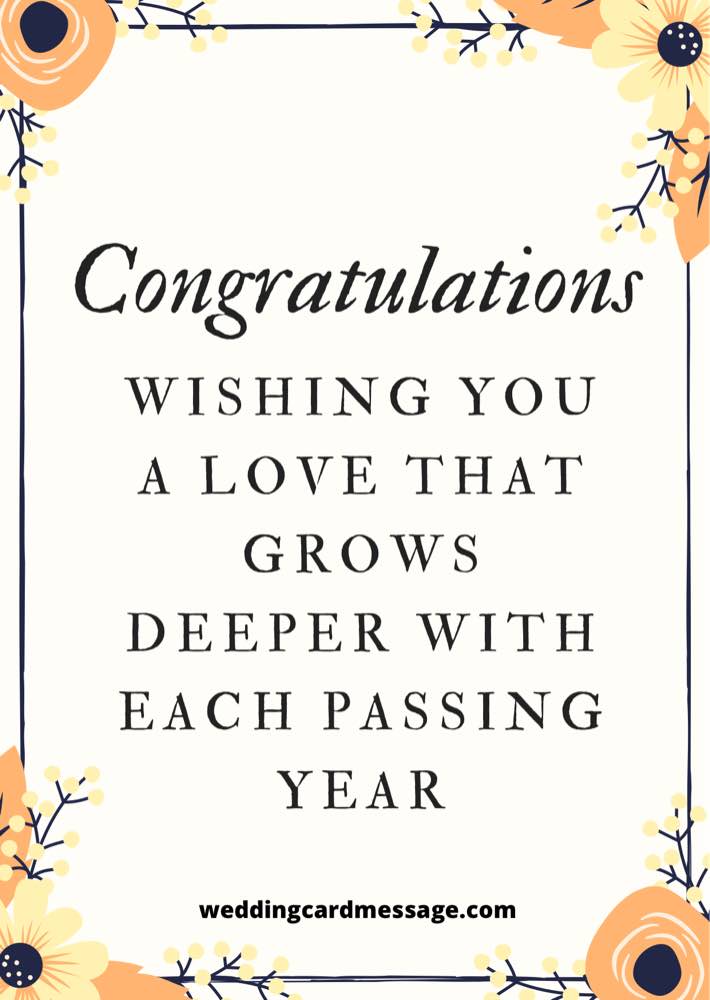 All my best and loving wishes to you my brother. To find that one person who you can call your soulmate is like hitting the jackpot. You deserve it though, have a great day!
Wishing you years of love that grows deeper with each passing year. All my love to my brother on his wedding day
To my brother and the woman he's fallen madly in love with – I hope you will be deliriously happy together
May this exciting journey you're embarking on as a couple be nothing but joy. My best for a happy life and marriage
Wishing you a happy and long marriage with the person you love more than anything. Enjoy today bro
Raising my glass to my brother and his soulmate. My wish is for you to have a happy and blessed marriage that brings you nothing but joy
You've found that perfect person, bro. Enjoy your life with each other and all the love it will bring
I knew you were perfect for one another from the minute I saw you together. All this time later and it's finally your wedding. I'm just so pleased for you both. Congratulations and all my love
SEE MORE: Wedding Wishes for Son in Law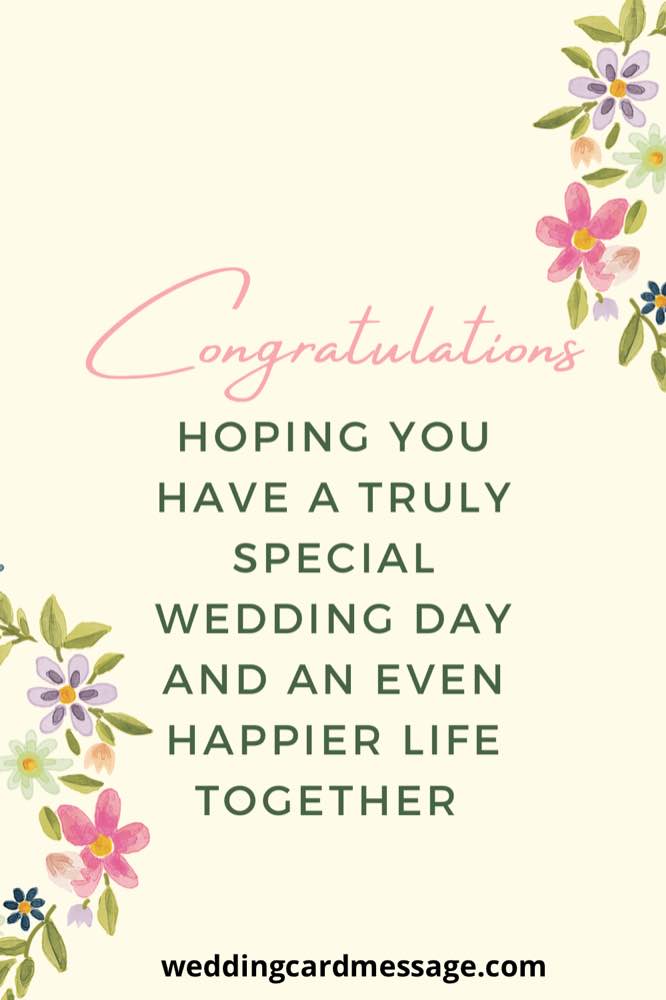 Wedding Congratulations for your Brother
Show your brother how happy you for him on his wedding day by wishing him congratulations with these messages.
Congratulations to my brother on getting married! Here's to you having found happiness with the woman you love
I know that today will leave you with memories that last forever. Congratulations bro
May your low grow stronger and your bond deeper with every passing minute. Congratulations to my brother on his wedding day
There is no one I know who deserves to have found love like you, my brother. Congratulations and enjoy every second of today
All the wonderful memories you make today will be cherished for a lifetime, and you can look back on when you're old and grey with your beloved wife. Congratulations
I raise my glass to you my brother and wishing you all the best for a perfect wedding and truly happy marriage. Congratulations
Congratulations my loving brother. The whole family is just so pleased to see you go on this exciting journey with your soulmate. We wish you all the best
Congratulations bro, my best wishes for a great day. You've found that one person who makes you truly happy, count yourself so lucky!
Enjoy today, but enjoy every day after with your partner. Congratulations from your little sister
All my love and congratulations to my brother. To find a woman who we all like but more importantly actually liked you is almost a miracle!!
May today be everything you have ever dreamed of. Congratulations
Congratulations! You're getting married!! I can't quite believe it, well done bro!
Congratulations, I can't wait to celebrate your wedding with you. To see my little brother tying the knot is sneaking and I am so happy for you
Congratulations and blessings for a perfect wedding and marriage
SEE MORE: Wedding Messages for Family and Relatives
Hopefully these wedding messages will have helped you tell your brother just how delighted you are to see him get married.
It can be difficult being completely open with family, especially a sibling, but try to say what's in your heart and your brother will no doubt appreciated the support of his family.