Wishing a newly engaged or married couple congratulations is a must, especially if you've been invited to their special day. No matter the relation you have to the couple, be it friend, neighbour or relative, taking the time to congratulate them on something so momentous will show you care and be appreciated.
Here is a selection of wedding congratulations messages you can use to wish the couple well in your card, or inspire you to come up with your own congratulations.
Wedding Congratulations Messages
Wishing the both of you all the love and happiness in the world and congratulations on your marriage.
Just a note to say how happy we are for you. Wishing you a lifetime of the greatest joy, love, and happiness. Congratulations to a wonderful couple!
A warm embrace of congratulations and wishes of happiness for the rest of your lives.
Your wedding day may come and go, but may your love forever grow. Congratulations to the perfect couple!
Congratulations to you on this special day, as you become united as husband and wife! Here's wishing you all the happiness in the world.
Congratulations, wishing you both the best life can give you.
SEE MORE: What to Write a Wedding Card: The Ultimate Guide
Wishing the bride and groom lots of joy and happiness on their wedding day.
Wishing you many years of joy and happiness.
Congratulations to a beautiful couple. Wishing you a wonderful journey as you build your new life together.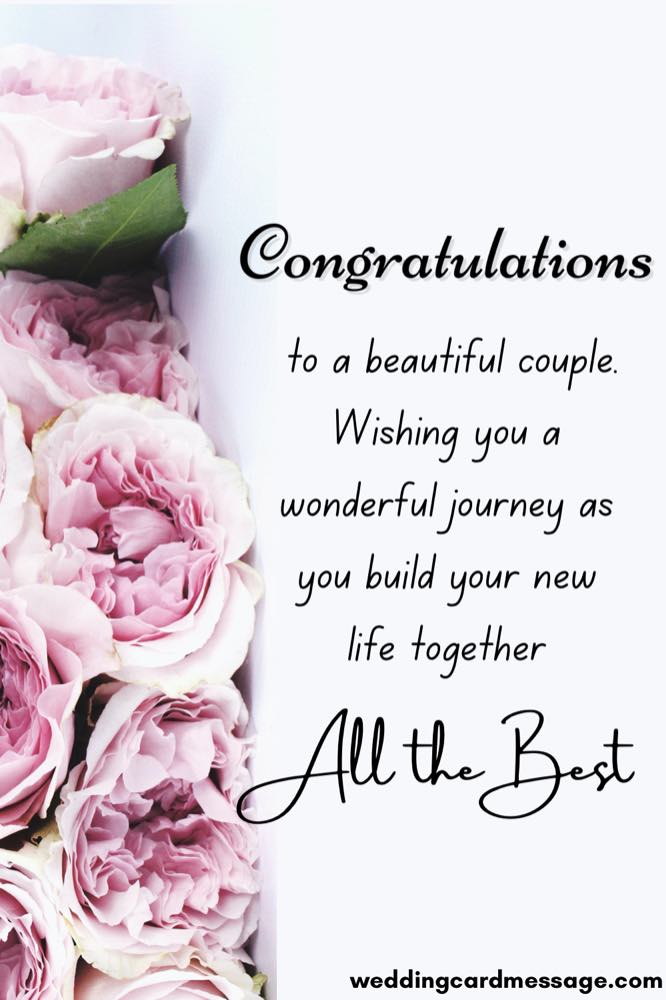 Congratulations. I wish you all the happiness in the world.
Finding someone to share your life with is an amazing thing. Congratulations to both of you.
We/I hope from this moment on your lives will be filled with love and laughter. Congratulations to you both.
Congratulations on your wedding. When I first saw you together I knew you were meant for each other, and I was right. My best wishes for the future and may you have happiness and lots of love.
May every day that you spend together in your new life hold wonderful surprises for you. Congratulations on your wedding.
I hope that your love grows day by day. Congratulations on your marriage.
With warm congratulations to a very special pair. May you always find in each other the love, laughter and happiness that only partners in life share!
A wedding day is to be cherished as you begin your new life together as a couple. I am so proud of you.
Congratulations on your union as life partners! I'm so happy that the two of you have found love with each other. May the Lord bless you and keep you
May your married life be full of laughter, and that you will love each other forever after! Congratulations to the Newlyweds!
You suit each other perfectly! Congratulations! May your every day together be a joyous ride
Congratulations on your marriage and best wishes for your future together. Enjoy every moment of your life as one
A romantic journey begins with marriage. Congratulations and best wishes always!
Congratulations and best wishes on your wedding day. May you never have to take your hands apart!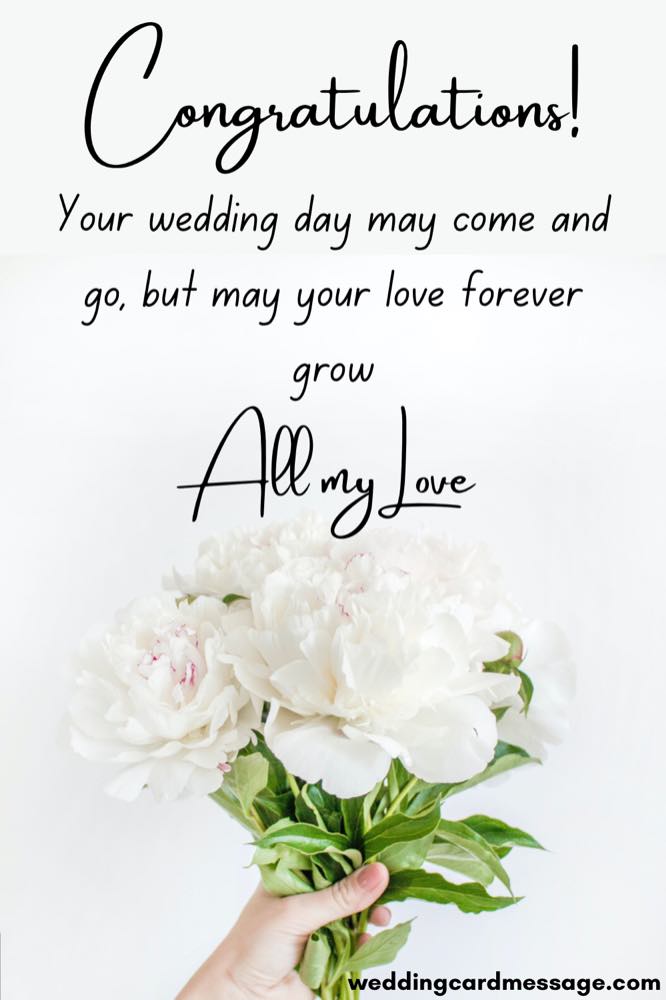 To very special friends, we wish a joy that never ends. You are such a perfect pair! All our love to you both
As you unite today in love and in friendship, I wish you happiness that reaches every corner of your heart!
SEE MORE: Wedding Wishes for the Bride and Groom
Congratulations to the Newlyweds
Congratulations to the happy newlyweds. May you enjoy years of happiness by one another's side

You have found a love so pure it will last for eternity. Congratulations to the both of you

We are so delighted to see two wonderful people getting married. Enjoy your lives together and congratulations

You personify love. It is clear for everyone to see, and your wedding is both the end of a journey and the beginning of a new one. Congratulations and have a wonderful day

Congratulations! Wishing you a truly happy life together, forever

May your life be filled with overwhelming love, joy and happiness from now on. Congratulations

Congratulations and may your love and relationship only grow and get stronger with each passing year

May your wedding be the most special of days and one you cherish forever. Congratulations and here's to you living happily ever after!

You have found true love in each other and now you get to spend your life embraced and wrapped in that love. All my best and big congratulations

I'm so pleased you have both found each other. You can now look forward to a marriage of love and excitement that lasts through the ages. Congratulations to the both of you

May the delight and joy you've felt today last for all time. Congratulations

Hoping that today is just the start of all your dreams coming true. All my love

May marriage bring you the happiness you both so richly deserve. Best wishes to you both

Congratulations on your wedding and wishing you a truly happy married life

Congratulations on finally tying the knot! Here's to a blessed life as man and wife

No couple comes close to being as perfect for each other as you two! Big hugs and warm congratulations on your marriage

You look adorable as a couple and I was so happy to be a part of the big day. Congratulations!

You're about embark and a crazy and exciting journey filled with love and adventure. Enjoy every moment of it!

SEE MORE: Wedding Wishes for Coworkers
Wedding Congratulations Quotes
Congratulations to the most beautiful couple I've ever seen. Your love will stand the rest of time and only grow greater

You have been blessed with a love like no other. Enjoy your new life together as husband and wife. My warmest wishes of congratulations on your wedding day

Today marks the beginning of a brand new chapter of your lives. One that I know will bring you the happiness and love you have dreamed of

Seeing you two getting married brings the biggest smile to my face. Congratulations and all the best for your wonderful life together

Whether it is luck or fate, you have found one another. Now you can spend the rest of your lives as one. All my love

Sending my heartfelt wishes to you on this truly special day. You were made for one another!

What a beautiful ceremony only outdone by such a perfect couple. Congratulations

May you grow old and happy together. Congratulations and happy wedding day

SEE MORE: Wedding Shower Wishes and Messages
Wedding Congratulations Images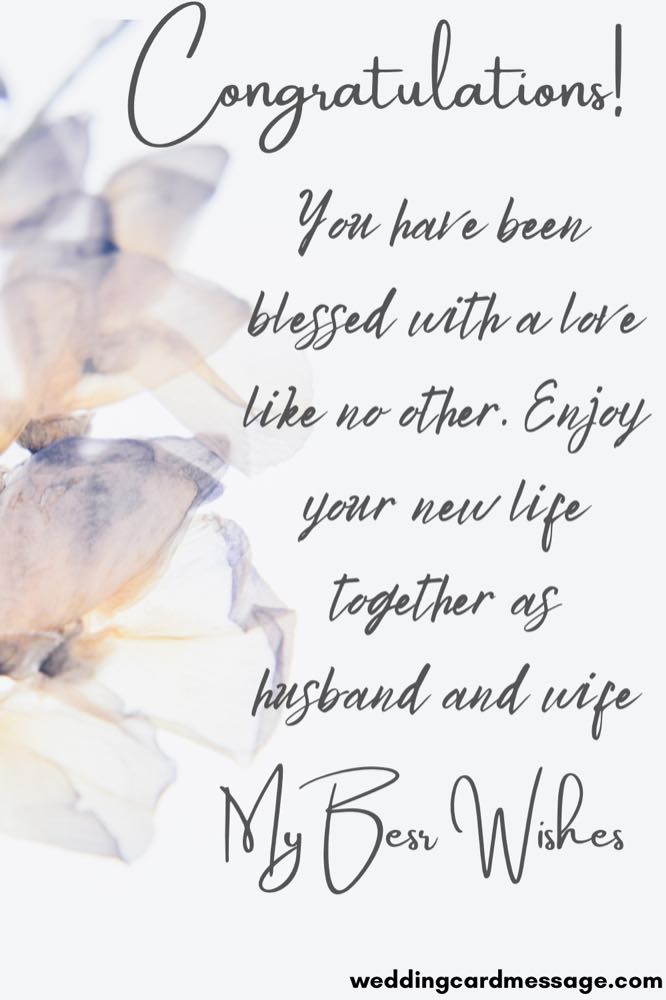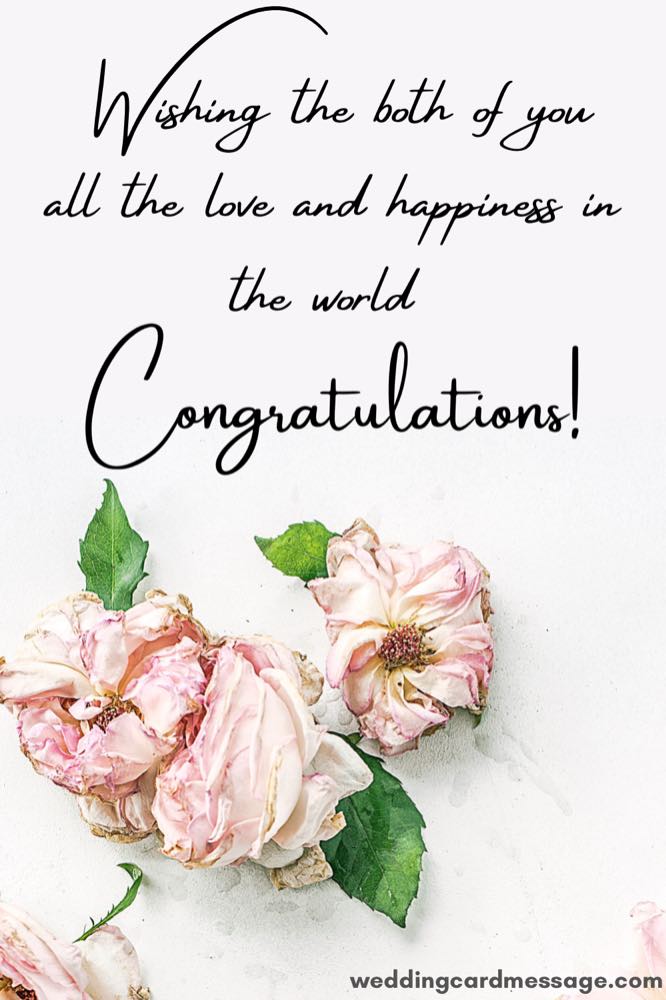 Hopefully these wedding congratulations messages and wishes will have helped you wish the happy couple all the best for their marriage. Remember to speak from your heart and be sincere with what you say.
If your words are genuine and heartfelt, and you truly mean what you say then that's more than enough. If you've done that then you can be confident you've wished the newlyweds a happy marriage in the best way possible.