Seeing your daughter get married is one of the greatest joys in life. You've watched her grow up, fall in love with someone who makes her truly happy and now you get to witness the coming together of the happy couple.
So you are going to be wishing her all the best and congratulating her on the biggest day of her life. But what do you say or write in a wedding message for your daughter?
Finding the words for a friend or coworker may still be tricky but doesn't have nearly as much significance as your own daughter.
How can you express just how happy you are for her in just a few words?
Well hopefully this guide will help. We'll look at some tips for writing a wedding message for your daughter so you can come up with your own before going through some moving example wishes.
Speak from your heart. She is your daughter and you know her better than anyone else. Just let her know how happy you are for her and what seeing her find a love that will last forever means to you
You can talk about how special it has been to be a part of her life as she has grown, and the joy it's brought you
Don't forget to mention how beautiful the wedding was!
Finish by wishing her and her new husband a life of happiness and love together
That's a very basic idea of the sort of thing you could say or write to your daughter on her wedding day. You can use that as a starting point for your own message.
If you would like a prewritten message then the example wedding wishes below are perfect for letting your daughter know how excited and happy for her you are.
Wedding Wishes for a Daughter
Use these wedding wishes to show your daughter that her wedding means the world to you.
To my wonderful daughter, I am overjoyed to see my little girl getting married. I hope your wedding day is all your dreams coming true
As your parents we are wishing you every happiness in the world today. Congratulations to our daughter and the man who has won her heart
I cannot believe my daughter is getting married! It only feels like yesterday you were still a little girl and now you're this amazing young woman. I hope you have a wonderful day and a life of happiness and love
Watching you grow into such an impressive young woman has been the joy of my life. To now see you find someone to share your life with and who makes you truly happy is just the icing on the cake. All our love our darling daughter
Happy wedding day to my perfect daughter! I think I'm more nervous than you are! But don't be – you have found the man who makes you happy and treats you like a princess. You are about to start an amazing new life together and you should be so excited
Nothing is more important to a parent than their child's happiness. So for us to see you so in love has been a joy like no other. We are absolutely overjoyed to see you get married and we will be shedding a tear as you walk up that aisle. All our love
Wishing my daughter a happy life with her new partner and that you gave the best wedding imaginable
I know this is just the beginning of you and your partner having a life that is filled with love and laughter. Congratulations
Here's to my daughter enjoying a truly fantastic wedding day and then a life happier than she could ever imagine. All my love to you my baby
Wishing you every ounce of my love on this special day. I am so excited to see my daughter settle down and get married, and that this will be the start of such a happy life with the person you love. Congratulations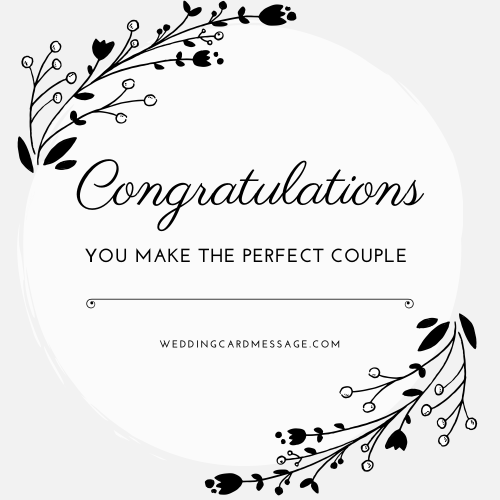 SEE MORE: Wedding Wishes for Daughter in Law
Words fail to express just how delighted I am to see you get married. You're new life begins today and I will be crying with joy to see you waking then the aisle. Congratulations my sweet daughter
I love you my darling and wish you so much happiness as you get married. May today be the most joyous of occasions
To a daughter that has brought us such joy. It's your turn now to have that love and happiness we've had from you. Enjoy your day and the amazing life that will follow it. Congratulations from your mom and dad
Here's to you my daughter, having found a love that will only grow stronger as the days and years pass. Congratulations on your wedding
I am honored to see my daughter get married to the man of her dreams. I will sob like a child I know but it will only be because of how proud and happy for you I am
May you experience a lifetime of happy memories and wonderful moments together. All my love on your wedding day
Wishing you, my daughter, all the love and happiness in the world. I know you've found true love and will have the most amazing life
You are my world, the most precious thing to me, and today I can't contain my excitement to see you walking down the aisle. I know it will be the starting point to your new life and bring you a love you deserve
You've found that special person who will love you for eternity. Here's to a magical wedding. Congratulations my daughter
It is destiny that you two were meant to be together. From the first day you met the whole family could see it. And now you're on the verge of getting married, and it makes me so happy to see you happier than you've been before. Have an absolutely magical day my little girl
SEE MORE: Wedding Wishes for a Best Friend
Wedding Congratulations for your Daughter
Wish your daughter congratulations on her wedding day with these moving and heartfelt messages and wishes.
Congratulations and all the love from your family on your big wedding day. Here's to a lifetime of amazing memories and true happiness
Congratulations to my daughter on her wedding day. I hope, and know, that the love you've found is as strong as my love for you
This will be the start of a truly beautiful life for you. Congratulations to my daughter
It's the greatest joy in my life to see you finding love. You, more than anyone else, deserves it. Congratulations my daughter
Congratulations to my one and only daughter. You mean so much to me, I hope your wedding brings you so many in drunks memories you can cherish forever
We will forever remember today, the day when our beloved daughter gets married. It will be a day of celebration and the coming together of so many people to celebrate your love. Congratulations and enjoy every minute of it. Love your mom and dad
Today we will raise a glass to you, our daughter, and wish you all the best for your life as a married woman. Congratulations
Congratulations my beautiful daughter. I know today will start your journey of pure happiness and love. I am so thrilled to be there to see it and want you to know just how much I love you
Congratulations to our wonderful daughter. We wish you a day that you will Newberry forget and can treasure forever
Enjoy today and the memories you make. It will be a glorious occasion and will bring you the happiness you so richly deserve. Congratulations from your loving parents
You have earned every minute of happiness you find today. We want you to have as special a day as you can. All our love and congratulations to our perfect daughter from your mom and dad
May your wedding be a joyous event and everything you have ever dreamed of. Congratulations, love mom and dad
Congrats our angel. To have found a love as perfect as yours is a blessing and you can now enjoy your life with someone as special as [grooms name]. We are delighted to see you get married, congratulations
You have found your soul mate and the one person who was destined for you. To now share your life with them is a blessing and as your parents we are just overwhelmed to see our baby girl getting married. Congratulations
Congratulations, and may your marriage be blessed with a love that never dies. All our best will wishes, love mom and dad
To a daughter like no other – congratulations on your marriage. Love your parents
To our daughter and her husband to be – we wish you an eternity of love and happiness. Congratulations from your parents and in laws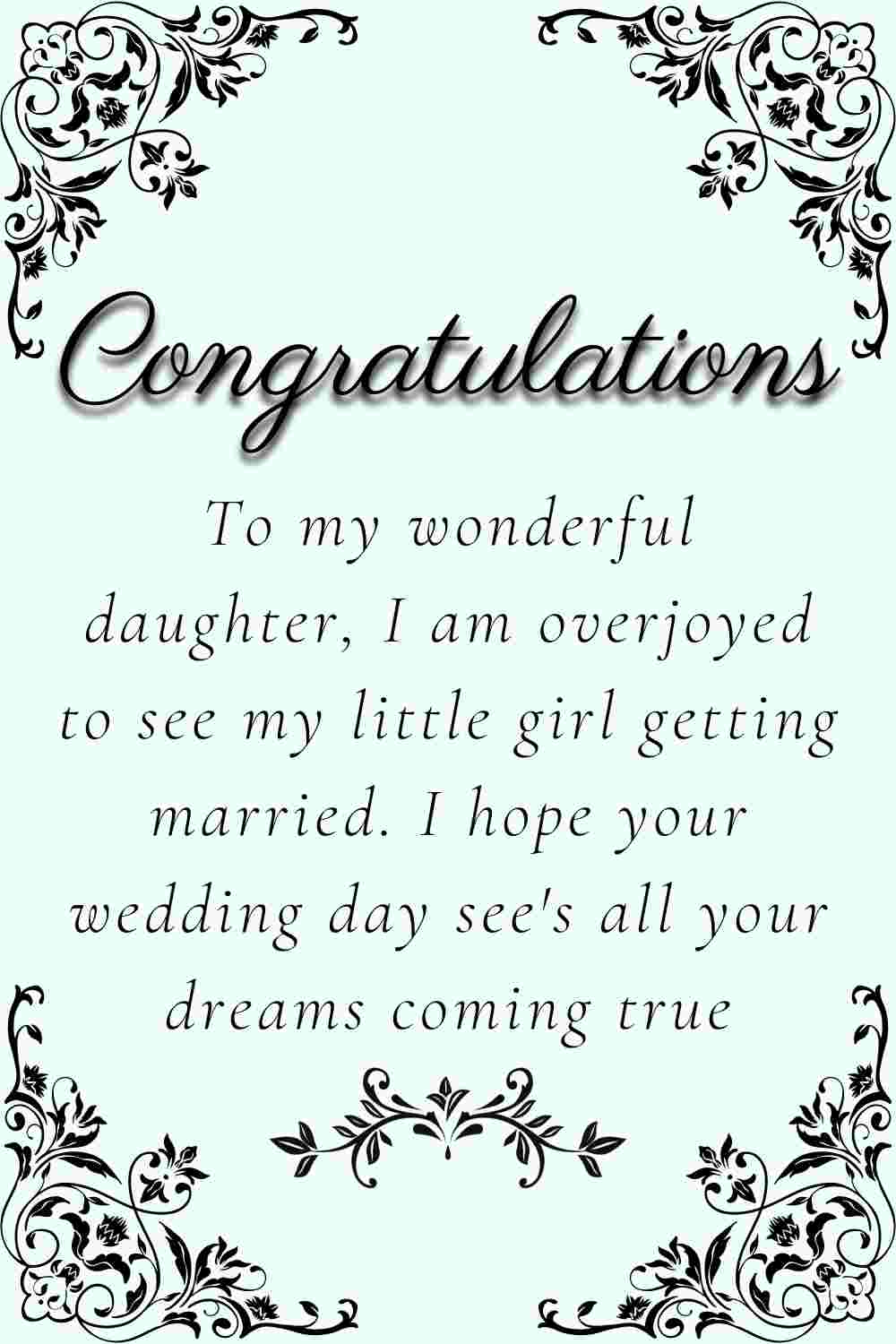 SEE MORE: Wedding Congratulations Messages
We hope these wedding messages for your daughter will have shown you what sort of things to say or write to her on her big day. Just speak from the heart and say how happy you are she's found love and she will appreciate your kind words.