Your cousins wedding is a day to be celebrated. Whilst a cousin may not be the closest relative it doesn't mean that you don't have a special bond or relationship. So their wedding may well mean an awful lot to you.
So on their big day you will want to say just how happy you are for them. But how do you express those feelings?
What's the best way to show just how pleased you are your cousin is getting married? Be that telling them in person or writing a message in a wedding card.
Well if you're struggling with what to say to your cousin then try the example messages and wedding wishes below.
There should be some good wording ideas that will reflect how you feel on your cousins wedding day. As well as allowing you to congratulate them on getting married.
They can be used as a wedding card message or as best wishes to be said at the wedding.
Wedding Messages for Cousin
Use these wedding wishes to show your cousins just how happy you are for them on their wedding day.
To my favorite cousin, have a lovely wedding. I'm so pleased see you finding your true happiness
It only seems like yesterday you were my baby cousin, now you're getting married! I'm delighted you've fallen in love with the person who makes you truly happy. My best wishes for a lifetime of joy together
I've been lucky enough to watch your love blossom over time and I can see how happy you're going to be. All my love and wishes for a wonderful wedding
Happy wedding day to my amazing cousin! Enjoy it as much as you can and try not to be nervous – you're marrying the love of your life
Send my best wishes for a happy life as husband and wife and a lovely day
May this see the start of a life filled with nothing but laugher and love. All my love and wishes
Here's to my cousin having a really special day and an even more amazing life as a happy couple
Wishing you all my love on this incredible day. You have a whole life together to look forward to and can be sure it is just the beginning of the happiness you have dreamed of
I'm going to be there to see the start of the happiest marriage I can imagine. It's going to be an honor and a joy to see you wed
May your wedding day and marriage be blessed with love and good health for years to come
You will find your love only grows stronger as time passes and you can be happy in the knowledge you have found that true love to spend your life with
I am honored to be there to witness you getting married. All my love and best wishes for you to have a happy life
Wishing you and your partner have only happy memories of today and every day going forward. All my love
Wishing my cousin a happy and long marriage. Here's to a fantastic day
May you begin your new life in the greater way possible – with friends, family and a day of joy
You deserve every bit of happiness today and the years ahead have to offer you. My best wishes
You are the perfect couple and were meant to be together. Have a truly Amazing day
Best wishes on this memorable day. You will always remember today as the start of your new life and the joy it brings you
SEE MORE: Wedding Wishes for Sister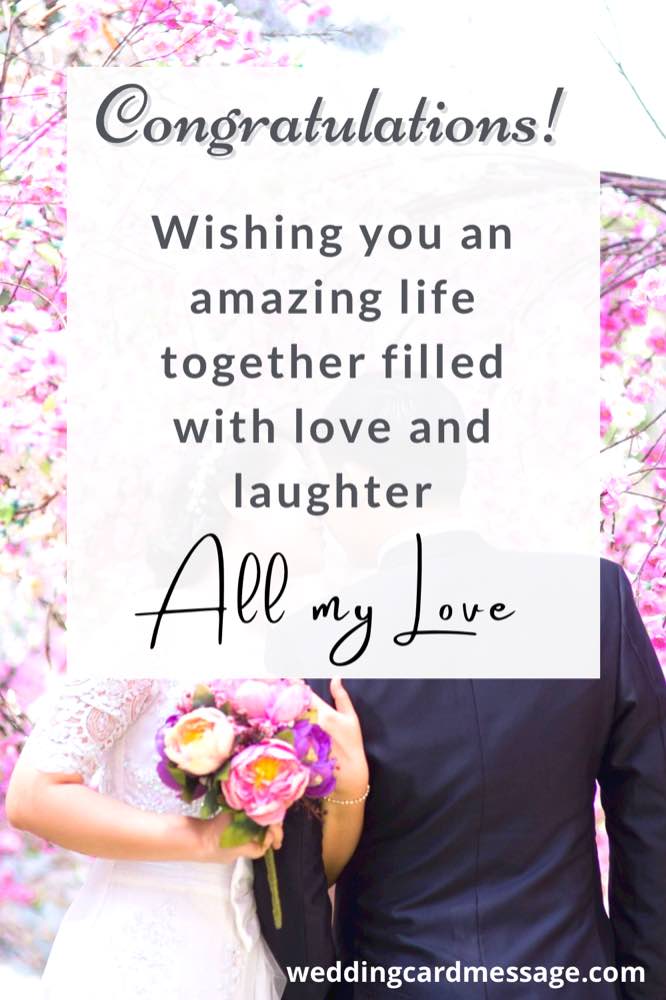 Wedding Congratulations Wishes for Cousin
Wish your cousins congratulations on their wedding day with these moving messages and best wishes.
Congratulations and my best wishes on your wedding day. Here's to so many brilliant memories made today and a life of wedded bliss together
Congratulations to my cousin on their wedding day. May your bond only strengthen over time and your love blossom
Congratulations to my cousin, May this be the start of your perfect live together
I'm absolutely delighted you have found the love you were looking for. Congratulations and have a wonderful day
May all the memories you make today last for eternity. Congratulations and enjoy the big day
We will raise our glasses to you today as you finally get married. Congratulations
Congratulations to you, my cousin. You make a lovely couple and the journey you're both about to embark on will be filled with pure love and so much happiness
Congratulations and all my love for a day that you will treasure forever
Cherish each magical moment today. Congratulations on your marriage and may you love happily ever after!
Congratulations and may today be eve thing you ever dreamed of. Enjoy it and savour all the love and affection that comes your way
SEE MORE: 31 Wedding Wishes for Brother
Congrats to you and your partner. Sending my best wishes for you to have a great day and life of happiness by each other's side
You have found your soul mate and the person who you can spend the rest of your life with. Congratulations and all the best for a wonderful life together
Congratulations on your special day. I'm sure it's going be brilliant! Happy wedding!
Congratulations and blessings for your wedding. I hope it's as special as you hoped for
You are going to have a great day with friends and family there to see you get married. Congratulations
May your married life be nothing but excitement and love. Congrats
Today we celebrate your wedding and send our congratulations to you for years and years of unending love
Enjoy today and the happiness you have richly deserved and found with your new husband/wife. Congratulations
Hopefully the wedding wishes for your cousin found here will have given you an idea of what to say or how to congratulate them on their wedding day.
As long as you are genuine that sincerity will shine through. Just be honest and genuine with what you say and whichever words you choose will no doubt be appreciated by your cousin.