Is one of your friends getting married and you want some beautiful wedding wishes for a friend to write in a card? Need some help finding the right words for a wedding messages to friends?
You aren't alone!
A friends wedding is a wonderful time. To see someone you love getting married is just special.
That's why you should do all you can to let them know how happy you are for them. So in order to make things easier and find the right words we've put together some of the best wedding wishes for a friend to help you out.
Writing wedding messages are harder than they might first seem. Getting out those emotions is tough. It can be hard to express how you feel to a friend.
We share such bonds with our friends, so when we see them doing something as momentous as getting married it can stir up strong feelings. And so if you're giving them a wedding card or gift then deciding on what to say in your message can be tough.
So use the friend wedding messages and quotes below to help inspire you to let a friend know how happy you are for them!
Wedding Wishes for Friends
The love which has brought you together may cement you forever. May you grow old together and enjoy a long and happy life with each other
Congratulations on this special day of your life! Best of luck for a happy and prosperous married life!
We're so happy to see the two of you so happy. Congratulations!
You guys are great together! So happy for you!
You two are living proof that life brings the best people together
It gives me pleasure in knowing that your happiness is here in one another. Big congratulations on your wedding
Finding that someone that you have a a true bond with is something that only comes around once in your life and it is amazing to see that you have that one special person in each other. Congratulations
Just a little note to let you know that I am sending you all my best wishes not only for your big day but also for the rest of your lives together as husband and wife
With love to you both on this special day and wishing you only happiness as you travel life's journey together
May the coming years fill your lives with love and happiness. Enjoy your big day
SEE MORE: Wedding Wishes for a Best Friend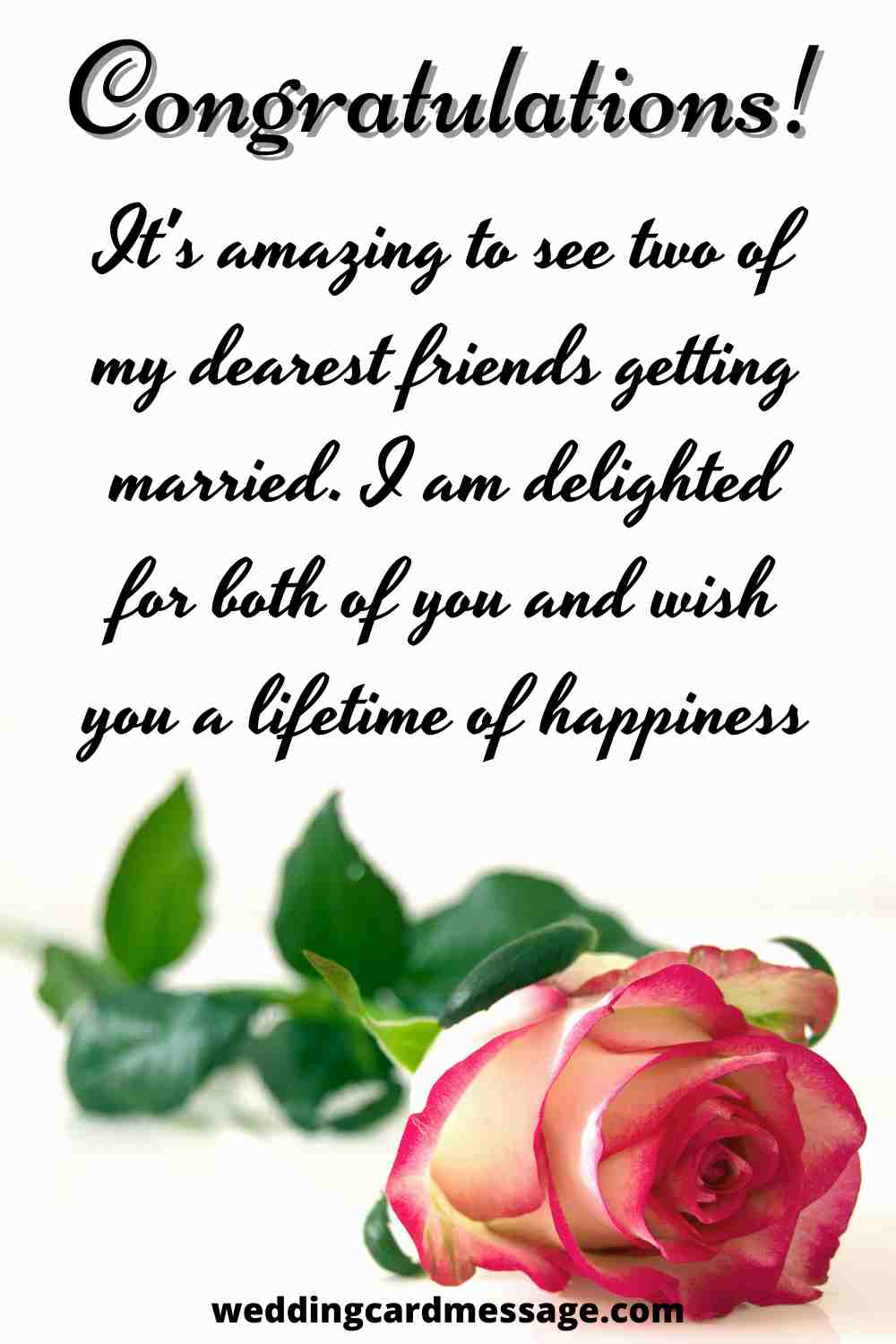 Funny Wedding Messages for Friends
Marriage is like 'I accept the terms and conditions' without actually reading them. Happy Wedding Day!
I know being in love and cherishing each other is important but I'd make sure he promises to protect you from spiders.. otherwise I'd think about calling the whole thing off!
Marriage-the only day people cheerfully escort you to your sufferings ahead. Have a nice married life!
I now pronounce you husband and wife. You may now update your Facebook status
Never forget these two powerful sentences that can spell the difference between war and peace. Those are "You're right, dear" and "Okay, buy it". Congratulations!
Just a little tip now you're getting married – get used to saying "you're right, dear" – you're going to be saying it a lot!
I'm only here for the cake…
Tomorrow you'll just be somebody's wife! Happy wedding day!
SEE MORE: Funny Wedding Card Messages
Wedding Wishes for a Childhood Friend
We've known each other since we were both so young it's unbelievable to see you getting married. Where did all the time go? Congratulations and all my best wishes for a happy marriage
To my closest and oldest friend – I'm so happy to see you find love. Congratulations pal!
Congratulations my friend! Sending all my best wishes to you on your wedding day
We've been through so much as friends over the years it's crazy to see you finally settling down. I'm really happy for you though! Congratulations
We have been friends forever and I will always love you. You deserve such happiness and I know you've found it with the one you're marrying
Even after all these years we're still as close as we ever were. And that's why I'm going to be in the front row to see you marrying the person who makes you happier than anyone else. Congratulations my friend
I'm honored to call you my friend and honored to see you get married. Have a wonderful day and happy life forever after
Since we were kids you've always dreamed of a big wedding and your day had finally come! I'm so happy for you and wishing you all my love and best wishes for today and your life together
SEE MORE: Wedding Messages for the Couple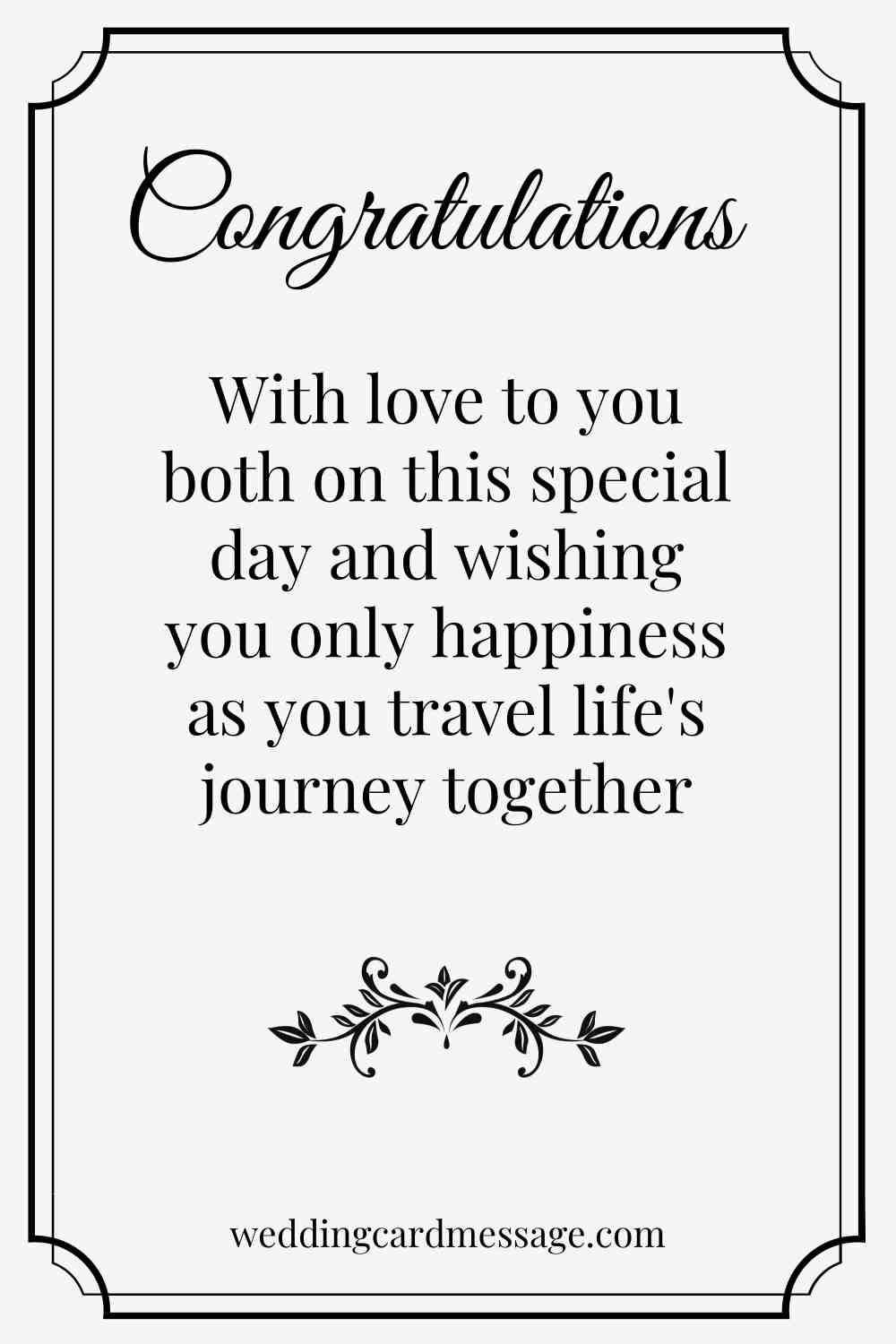 Best Wishes for a Happy Marriage
May you have a long and loving life together
All my best for a marriage that brings you an abundance of happiness
Wishing you and your husband/wife a long and very happy marriage
I wish you and your partner a happy marriage and life together
May you enjoy years and years of wedded bliss
I just know you've found that person who will light up your life abs bring you a happiness like no other
Congratulations and best wishes for your life together. May it be filled with laughter and love
Your marriage is going to bring you happiness like you have never experienced before. I just know your love will last forever
SEE MORE: Wedding Wishes for Colleagues
Friends Wedding Greetings
Seeing such a good friend get married is a joy. Wishing you my love and congratulations
To my best pal – enjoy today and all the excitement of your wedding. And then look forward to spending your life with the one person who makes everything better
Love each other without limits and for eternity. Congratulations
I hope today is everything you dreamed of and you have a wonderfully happy life together
It's amazing to see two of my dearest friends getting married. I am delighted for both of you and wish you a lifetime of happiness
You are perfect for each other and have a truly blissful life together to look forward to
May you fall in love with each again and again day after day. Congratulations my friends
All the best for today and wishing you a love that grows deeper and stronger with each passing year
SEE MORE: Inspirational Quotes about Marriage
Have a Happy Married Life Friend
Wishing you both all the joy in the world and a happy married life together
You have my best wishes for a life of happiness and joy with your new husband/wife
Congratulations on such a special day! You two deserve the best and I just know you're going to be messed with a long and happy marriage
My warmest wishes to you on your wedding day, my friends. I am hoping for a fantastic day that is just the beginning of a life filled with love, happiness and laughter
You have found a happiness and love in each other's arms that will last forever. Congratulations and here's to your very happy married life
You are going to grow old by each other's side and enjoy the love and friendship of a marriage that is pure perfection
To start your new life off by having a wedding in front of your most loved ones is the best way possible. I will raise my glass to you enjoying an eternity of happiness with one another. Congrats
You are embarking on a truly amazing adventure today, one that will last until the end of time. Strap yourself in for a happiness you couldn't begin to imagine
Destiny bought you two together and now you can spend your lives as man and wife, happy and content to be with the person you love more than anyone else. All my best for the wedding today and thereafter
SEE MORE: Belated Wedding Messages
We hope these wedding wishes for friends will have helped you to let your close friends know how happy you are for them as they get married.
Don't be afraid to really express how pleased you are to see them finding their true love. On their wedding day your friends will appreciate their nearest and dearest letting them know how they feel and celebrating their love.