The wedding of your nephew is a day you should be really excited about. Getting to watch the young man you've known and see grow up get married is going to amazing.
That means you're going to want to congratulate and send your best wishes for such a special day. But that's easier said than done.
Knowing what to write or say in a wedding message for your nephew is tricky.
Of course you want your wedding wishes to heartfelt and express how you feel. If you want to try write them yourself then you can follow the few tips below:
Try to make your message be both honest, genuine and heartfelt. Say how happy you are for him and how glad you are to be a part of the wedding.
Talk about how much you have loved being a part of his life, and what that has meant to you. It's all the more significant on his wedding day.
Mention how lovely or great the wedding itself was.
Finish by wishing him love and happiness in this exciting new chapter of his life.
Those are just a few ideas of the sorts of things to say or write to your nephew on his wedding day. Obviously your situation and how close you are will also play a part but the outline above is a good place to start if you need some help.
Alternatively you can use the example messages below that can be changed or rewritten to fit your circumstances.
Wedding Wishes for a Nephew
These wedding wishes should be ideal for letting your nephew know just how pleased you are for him to be getting married.
To my amazing nephew, I hope you have a wonderful day. I'm absolutely thrilled to see you find a love as pure as you have
You have grown up faster than I could have imagined, and so I still can't quite believe your getting married. I'm so happy for you though
All my love for you today as you get married. Seeing you turn into such an impressive young man has been one of the joys of my life and I'm delighted to see you find love and happiness
Happy wedding day to my wonderful nephew! Enjoy every second of it
Wishing you a happy life as man and wife and a truly perfect wedding. All my love and best wishes to my nephew
May today be the start of an amazing new journey with the one you love. Enjoy a perfect day
Here's to you my lovely nephew having a truly amazing wedding and a life full of love and laughter forever more!
Sending my biggest wishes and love to you on such a special day. I just know this is the beginning of an amazing life together that will be full of love and laughter
I am beyond happy to see my little nephew getting married. Your wedding marks the start of a life that will be nothing but happiness
Wishing you so much love as you take that big step into married life. May it be blessed with good health, good times and an abundance of love
Here's to you having years and years of love that only grows stronger as each of those years passes. All my best to my adorable nephew and the woman you love
SEE MORE: Wedding Wishes for a Niece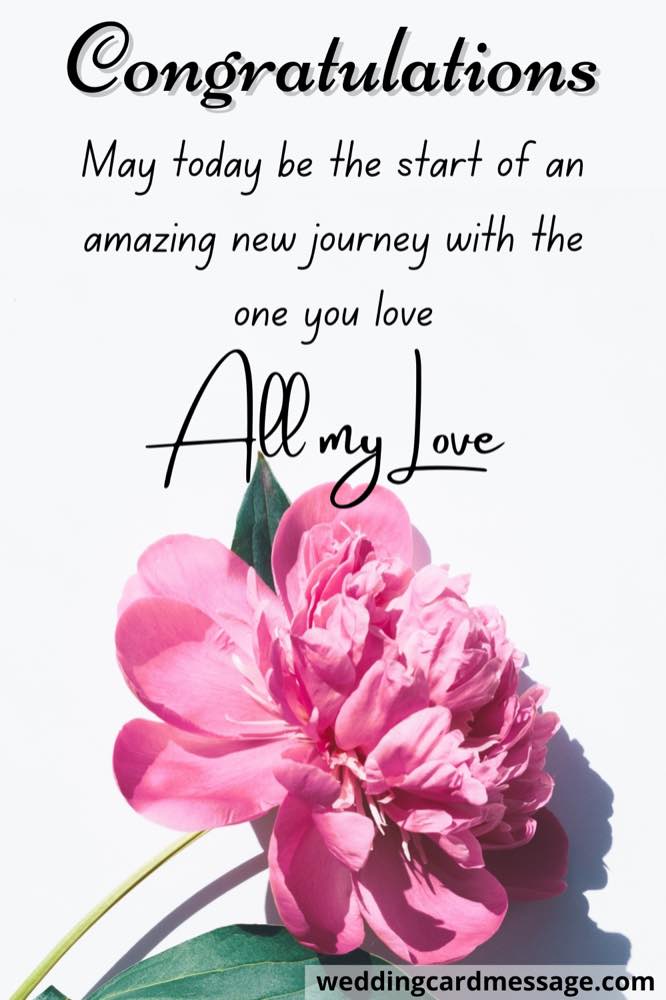 I am honored to be at your wedding to witness the vies you take and cannot say how pleased I am to see you begin you life together as man and wife
May you embark on a journey together that is nothing short of perfect. Make the most wonderful memories and have such an amazing time as man and wife. All my love my nephew
Wishing my nephew a happy and long marriage with the woman you love. Have a truly spectacular day
I know that today will start your new life and it will be filled with fun, laughter and most of all love
You've been lucky enough to find that perfect person that makes you happy like no other. You can now look forward to years of happiness and love, and I could not be more pleased for my nephew
It was clear to see from the first day that you were both meant for each other. Congratulations and all my love for a great day and wonderful life together
My best wishes for your wedding day. As your aunt I should have some words of wisdom for you but instead I will just say enjoy every second and let love be your guide
Best wishes for your wedding day. Your love will blossom from now on and give you a joy you never knew existed
SEE MORE: What to Write in a Bridal Shower Card: 68 Wedding Shower Wishes and Messages
Wedding Congratulations for your Nephew
Wish your nephew congratulations on his marriage and the wedding day with the moving wishes below.
Congratulations on your wedding and wishing you special memories that will last a lifetime
Congratulations to my nephew on his wedding day. I know that the bond and love you have will grow and bring you even closer as each day passes
May this only be the start of your perfect life together. Congratulations to my nephew
Seeing you get married will be a joy like no other. I'm so happy you've found that one person to love forever. Congratulations and enjoy the day
Congratulations! You will remember today for the rest of your life and those incredible memories will never fade. You make a truly special couple
Today I raise a glass and wish my nephew a life that is everything he ever wanted with his new partner. Congratulations
SEE MORE: Wedding Messages for Family and Relatives
Congratulations to my gorgeous nephew. I'm so thrilled to see you get married to the woman you love. May you be blessed with nothing but pure happiness
I've no doubt you will treasure the memories you make today. A wedding is like nothing else and I can only congratulate you for finding your true love
Enjoy today and hold onto those memories. You will remember them for as long as you love. Congratulations from your auntie/uncle
Congratulations to my nephew who gets married today! You deserve so much happiness and so to see you find it is such a joy for us all. All my love
May your wedding day be an occasion of joy and love. I am over the moon to be able to see you walk down the aisle and cannot wait. Congratulations to my nephew
Congrats to my nephew. Sending big hugs and wishes your way for today to be eve thing you have ever dreamed of
Congratulations, you have found your soul mate and the person who you can share every moment with forever more. There is noting better than that
Congratulations and may your wedding and marriage be blessed for eternity. You make the perfect couple and deserve such happiness
As someone who has experienced a wedding and marriage I can only say how much you have to look forward to and the joy it brings ring with that person you love above all else. Congratulations nephew
Congratulations to you on your wedding day! Wishing you all the best for today and the future
SEE MORE: Inspirational Quotes about Marriage
We hope that the wedding messages for your nephew that you've just seen will have helped you find the perfect things to say or write to him on his wedding day.
If you're genuine and sincere with your words and their come from a place of love then whatever it is you write/say will be appreciated.