A wedding anniversary is a special day. From the 1st to a 60th, an anniversary should be celebrated as an amazing achievement and loving expression of two peoples commitment to another.
If it's your own anniversary then you may be planning something special, or as a couple be happy with keeping it low key. Either way it never hurts to reflect on the time you've spent together and the love you I share.
One of the ways to let your husband or wife, or friends know how much they mean to you and that you want to celebrate their special day is to send a wedding anniversary card. However, finding the right words for the card can be extremely challenging.
Expressing what you feel towards or about them is often a daunting task. So if you're struggling with what to write in an anniversary card, fear not – we have a fantastic selection of wedding anniversary quotes and wishes to help you make sure your card says precisely what you want and expresses your feelings accurately.
So whether you want to wish a friend a happy anniversary, need some wording ideas for an anniversary message for your partner or maybe even anniversary wishes for your parents you're in the right place. Just select from the categories below and either use the messages exactly or as a starting point and inspiration for writing your own message and wishes.
Romantic Wedding Anniversary Quotes
"Chains do not hold a marriage together. It is threads, hundreds of tiny threads, which sew people together through the years" – Simone Signoret
"Love grows more tremendously full, swift, poignant, as the years multiply" – Zane Grey
"Love is not about how many days, months, or years you have been together. Love is about how much you love each other every single day" – Unknown
"Life is a journey, and love is what makes that journey worthwhile" – Unknown
"You know you are in love when you don't want to fall asleep because reality is finally better than your dreams" – Dr. Seuss
"The secret of a happy marriage is finding the right person. You know they're right if you love to be with them all the time" – Julia Child
"Our anniversary is just a momentary celebration, but our marriage is a timeless one" – Unknown
"The greatest happiness of life is the conviction that we are loved; loved for ourselves, or rather, loved in spite of ourselves" – Victor Hugo
"The minute I heard my first love story I started looking for you, not knowing how blind that was. Lovers don't finally meet somewhere. They're in each other all along" – Jalal ad-Din Rumi
"Real love stories never have endings" – Richard Bach
"Immature love says: 'I love you because I need you.' Mature love says 'I need you because I love you" – Erich Fromm
"Success in marriage does not come merely through finding the right mate, but through being the right mate" – Barnette R. Brickner
"A successful marriage requires falling in love many times, always with the same person" – Mignon McLaughlin
"An anniversary is a time to celebrate the joys of today, the memories of yesterday, and the hopes of tomorrow" – Anonymous
"It is an absolute human certainty that no one can know his own beauty or perceive a sense of his own worth until it has been reflected back to him in the mirror of another loving, caring human being" – John Joseph Powell
"All, everything that I understand, I understand only because I love" – Leo Tolstoy
"We loved with a love that was more than love" – Edgar Allan Poe
"Grow old with me, the best is yet to be" – Robert Browning
"The highest happiness on earth is marriage" – William Lyon Phelps
"Two souls with but a single thought; two hearts that beat as one" – John Keats
Wedding Anniversary Quotes for Husband
Its not uncommon for a wife or spouse to be thinking 'what should I write in my husband's anniversary card?'. Men are often more difficult to write romantic or loving words for. Romance is traditionally more focused on men to women (flowers, chocolates etc), rather than the other way round. But a sweet and heartfelt message to your husband doesn't have to be tricky. Take a look at the anniversary quotes and wishes below for some great ideas of how to tell your man just how much you love him.
"You've a place in my heart no one else could have" – F. Scott Fitzgerald
"Meeting you was fate, becoming your friend was a choice, but falling in love with you I had no control over" – Unknown
"In case you ever foolishly forget: I am never not thinking of you" – Virginia Woolf
"As we grow older together, As we continue to change with age, There is one thing that will never change, I will always keep falling in love with you" – Karen Clodfelder
"I love you, and I will love you until I die, and if there's a life after that, I'll love you then" – Cassandra Clare
"If you live to be a hundred, I want to live to be a hundred minus one day so I never have to live without you" – A. A. Milne
"For the two of us, home isn't a place. It is a person. And we are finally home" – Stephanie Perkins
"For it was not into my ear you whispered, but into my heart. It was not my lips you kissed, but my soul" – Judy Garland
"I saw that you were perfect and so I loved you. I saw that you were not perfect and I loved you even more" – Angelita Lim
"In all the world, there is no heart for me like yours. In all the world, there is no love for you like mine" – Maya Angelou
SEE MORE: Happy Anniversary Wishes for Husband
Wedding Anniversary Wishes for Husband
You know me better than anyone else in the world, and you love me more than anyone else in the world. You are simply amazing! Happy anniversary, darling
You are tough at the right times and sensitive in the right ways. Thank you for being my rock.
You have been better than any blessing I could have asked for from God. Thanks for being my spouse, playmate, and support
To my dearest husband – Thank you for the wonderful years we've shared together, for the happy memories, for giving me a chance to be the mother of your child, but mostly for making me
happier than I ever thought I could be. I love you more and more through the years. Happy Anniversary!
You are the sweetest, kindest and most wonderful person I've ever known. I am the luckiest girl in the world to have you as my husband. Happy anniversary, hubby!
You mean more to me than words can say. You're my lover, soulmate, and best friend. I can't imagine my life without, and thank the stars for every second we're together. Happy anniversary
I never knew it was possible to love someone as much as I love you. Thank you for choosing me and making me happier than I could ever imagine. Happy anniversary, I love you my dearest
You're not just that exciting, gorgeous, funny guy I married, but also a dependable, loving husband who never lets me down. I am so thankful for every happy year with you
Each year with you is like a dream come true. I can't wait to see what the future holds for us and the many years ahead. Happy anniversary
You are my confidant, my best friend and my source of inspiration. You stole my heart, and there isn't a day that goes by that I don't love you for it. Thank you for everything. Happy anniversary
Wedding Anniversary Quotes for Wife
If you're honest your wife probably puts up with a lot, right? Our spouses tend to have to deal with our less positive traits, and it's usually the wife who ends up picking up the slack. So the least you can do is remember your anniversary! Use these happy anniversary wishes and quotes to show your long suffering wife that you truly appreciate and love her.
"Forever is a measure of time used by people who share an ordinary love. Our extraordinary love is immeasurable.. for us, forever just won't do" – Steve Maraboli
"I never loved you any more than I do, right this second. And I'll never love you any less than I do, right this second" – Kami Garcia
"You are my today and all of my tomorrows" – Lee Christopher
"The best love is the kind that awakens the soul; that makes us reach for more, that plants the fire in our hearts and brings peace to our minds. That's what I hope to give you forever" – Nicholas Sparks
"You are the finest, loveliest, tenderest, and most beautiful person I have ever known and even that is an understatement" – F. Scott Fitzgerald
"I love you more than I have ever found a way to say to you" – Ben Folds
"I love you because the entire universe conspired to help me find you" – Paulo Coelho
"Because of you, I laugh a little harder, cry a little less, and smile a lot more" – Anonymous
"I love you not only for what you are, but for what I am when I am with you. I love you not only for what you have made of yourself, but for what you are making of me. I love you for the part of me that you bring out" – Roy Croft
"If I know what love is, it is because of you" – Herman Hesse
Wedding Anniversary Wishes for Wife
My love for you only grows stronger by the day. I will always feel the luckiest guy in the world that you chose me. Happy anniversary my darling
Here's to many more years of happiness, excitement and romance. I'm blessed to have found you. Happy anniversary my love
I wish we had married earlier, just so that I could be married a little longer to such an amazing wife.
Each year surprises me again that I could be even more in love with you.
Our love keeps getting more beautiful each year that passes, just like you.
Thank you for making my life complete and showing me a happiness I could never have dreamed was possible
It may sometimes seem like I take you for granted but never forget I love you beyond words and will always be there for you. Thank you for everything and happy anniversary
You brought a joy and excitement to my world that is indescribable. Every day with you is like all my dreams come true. Happy anniversary
You're not just my wife but my best friend, and there is no one else I would rather share my life with. Thank you for making me so happy
Our love is stronger than any disagreement or fight. It doesn't matter what happens, please know – I will always love you
Your kindness and spirit are just a couple of the things that make you the most amazing person I've met. It is an honour and a privilege to call you my wife
Wedding Anniversary Quotes for a Couple
If a couple you know are celebrating their anniversary then you may want to send a card or offer your congratulations. The quotes and wishes below are perfectly written for an anniversary card, email or any other way you decide to let them know how pleased you are they're celebrating another year together.
"The couples that are 'meant to be' are the ones who go through everything that is meant to tear them apart and come out even stronger than they were before" – Unknown
"The best thing to hold onto in life is each other" – Audrey Hepburn
"Whatever our souls are made of, his and mine are the same" – Emily Bronte
"The heart wants what it wants. There's no logic to these things. You meet someone and you fall in love and that's that" – Woody Allen
"Being someone's first love may be great, but to be their last is beyond perfect" – Anonymous
"A perfect marriage is just two imperfect people who refuse to give up on each other" – Anonymous
"Love isn't finding a perfect person. It's seeing an imperfect person perfectly" – Sam Keen
"Marriage is the golden ring in a chain whose beginning is a glance and whose ending is Eternity" – Kahlil Gibran
"A happy marriage is a long conversation which always seems too short" – Andre Marois
"Love does not consist of gazing at each other, but in looking outward together in the same direction" – Antoine de Saint-Exupery
SEE MORE: Wedding Messages for the Couple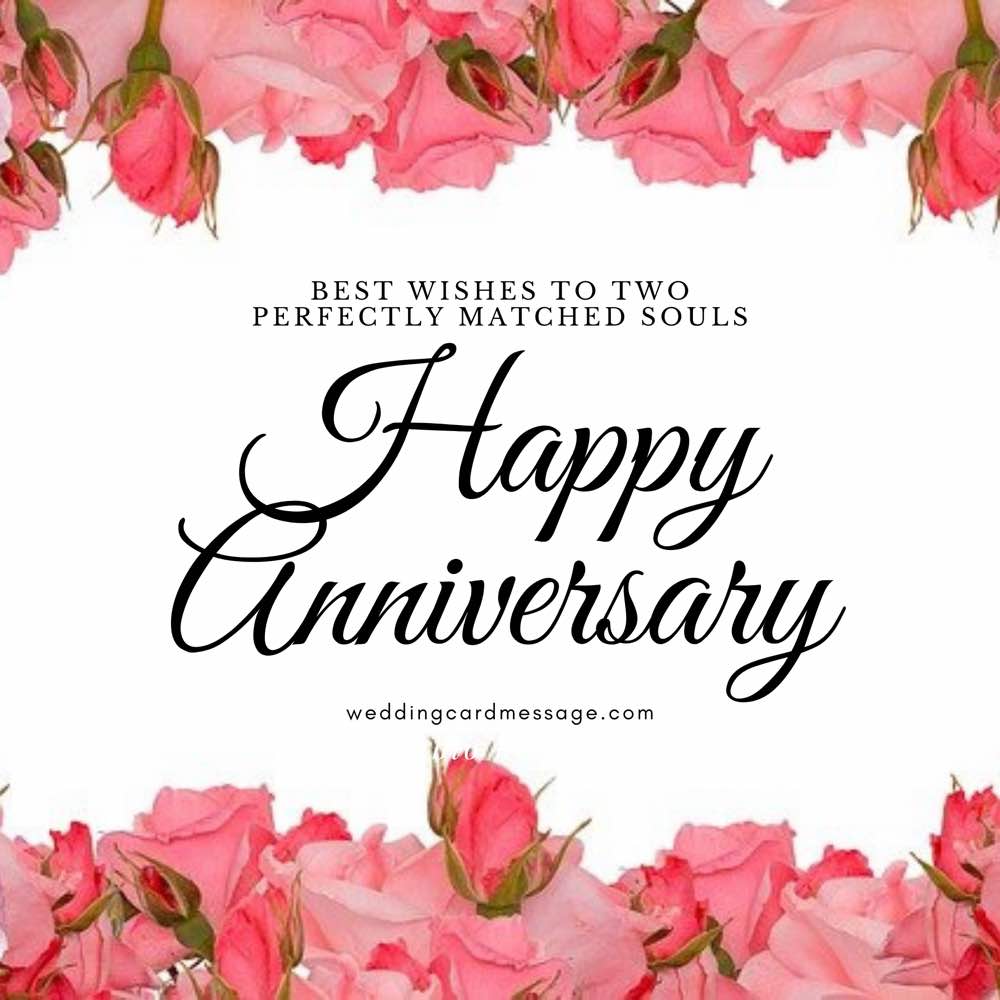 Wedding Anniversary Wishes for the Couple
Another year has gone by and we hope you have many more.
Hoping you two are blessed with many more happy years together.
You're a fantastic role model for married couples! Happy Anniversary!
Your love and commitment is an inspiration to all of us that know you. Happy anniversary
Best wishes to two perfectly matched souls. Have a wonderful anniversary
Congratulations on another year together. Here's to many more of happiness and laughter
Wishing you many years of continued love and happy memories. Enjoy your anniversary
Keeping that flame burning is not easy. Your unbreakable bond is testament to your love. Happy anniversary
Wishing my favourite couple a truly special anniversary
U couldn't imagine a better matched pair than you two. Never forget what you mean to one another. Happy anniversary
Happy Wedding Anniversary Quotes for Friends
It maybe that very close friends of yours are celebrating their anniversary, or even just an acquaintance you don't know that well. Either way you will still want to offer your best wishes for their milestone.
It doesn't have to be anything elaborate, but if you aren't sure of what to say or write then try these wedding anniversary sayings and quotes as inspiration.
"True love isn't found, it is built" – Anonymous
"True love doesn't come to you, it has to be inside you" – Julia Roberts
"A wedding is an event. Marriage is a lifetime. Invest more in your marriage than your wedding and success is inevitable" – Anonymous
"To love is nothing. To be loved is something. But to love and be loved, that's everything" – T. Tolis
"Love one another and you will be happy. It's as simple and as difficult as that" – Michael Leunig
"They say a person needs just three things to be truly happy in this world: someone to love, something to do, and something to hope for" – Tom Bodett
"Being deeply loved by someone gives you strength, while loving someone deeply gives you courage" – Lao-Tzu
"Sharing a life together is sharing steps in time. The music is different for each of us, but how beautiful the dance" – Anonymous
"The best and most beautiful things in this world cannot be seen or even heard, but must be felt with the heart" – Helen Keller
"Always strive to give your spouse the very best of yourself; not what's left over after you have given your best to everyone else" – Dave Willis
SEE MORE: 50+ Wedding Wishes for Friends
Happy Wedding Anniversary Wishes for Friends
Happy Anniversary to a great pair of people who belong together. You are an inspiration to those who know you.
Happy Anniversary to one of the best couples in the world.
Wishing you both another great year together.
No matter how old you get, you always seem to have young love.
Congratulations on this wonderful milestone. May you continue to cherish each other for many years
Even after all these years the love and affection you have for one another is clear for all to see. Happy anniversary!
As friends and as husband and wife your relationship has been rock solid. You are an inspiration to all those that believe in love
May your ever lasting love continue to fill your life with joy and happiness. Happy anniversary
It takes time and effort for a love like yours to last. I'm just so pleased I got to see such wonderful people find true happiness with each other
As another year passes we see your love only grow and the joy you bring each other intensify. You are so lucky to have each other. Happy anniversary
SEE MORE: Wedding Wishes for a Best Friend
Wedding Anniversary Quotes for Parents
As a child we see our parents going through years of marriage. We have probably put it under about if strain too!
But love endures and you may now be at the point where you want to congratulate your parents on another impressive milestone. Try one of these touching and heartfelt anniversary messages and quotes to let your parents know how inspiring their love and life together is.
"Love seems the swiftest but it is the slowest of all growths. No man or woman really knows what perfect love is until they have been married a quarter of a century" – Mark Twain
"He felt now that he was not simply close to her, but that he did not know where she ended and he began" – Leo Tolstoy
"There is no more lovely, friendly and charming relationship, communion or company than a good marriage" – Martin Luther
"Love at first sight is easy to understand; it's when two people have been looking at each other for a lifetime that it becomes a miracle" – Sam Levenson
"True love doesn't happen right away; it's an ever-growing process. It develops after you've gone through many ups and downs, when you've suffered together, cried together, laughed together" – Ricardo Montalban
"At the touch of love everyone becomes a poet" – Plato
"Love is something eternal; the aspect may change, but not the essence" – Vincent Van Gogh
"There's no substitute for a great love who says, "No matter what's wrong with you, you're welcome at this table" – Tom Hanks
Wedding Anniversary Wishes for Parents
Your love is an inspiration and one day I hope to find someone who will share my life with them like you two have. Happy anniversary Mom and Dad
I've watched first hand as you've overcome every obstacle life has thrown at you and come out the other side together and stronger. I love you both – Happy anniversary!
You still bring each other as much as happiness as the day you met. That's the kind of love we all want. Happy anniversary
To the couple who showed me what it means truly be in love – have an amazing anniversary
I've been lucky enough to grow up in a family that has shared love constantly. Your example and commitment has been a shining light for me. Thank you and happy anniversary
To the best parents in the world – happy anniversary!
As each year passes your bond only grows stronger, and those ties will last a lifetime. Happy anniversary to the two people who personify love/li>
I know how happy you make each other, and it never fails to make me smile when I think of that connection you have. All my love and congratulations on your anniversary Mom and Dad
I'm indebted to you for being such incredible parents. I feel so blessed to have had two people who loved and respected each other bring me up. Have a fantastic anniversary as you deserve it
You've brought each other laughter and happiness for many years, and I know there are many, many more to come. Happy anniversary Mom and Dad
SEE MORE: Wedding Messages from Parents
Funny Wedding Anniversary Quotes
Wedding anniversaries don't always have to be very formal and feature somewhat cliched declarations of love. They have their place, but marriage should also be about laughter and fun.
That's why an amusing quote or message can be the perfect antidote to a slightly stuffy and boring celebration. If you think the couple would appreciate a bit of joke on their big day then try one of the funny anniversary quotes below.
"I'll love you even when you're old and wrinkly" – Anonymous
"It's so great to find that one special person you want to annoy for the rest of your life" – Rita Rudner
"Marriage is a relationship in which one person is always right and the other one is the husband" – Unknown
"A wedding band is the smallest handcuff ever made, I'm glad I chose my cellmate wisely" – Unknown
"A good marriage is like a casserole – only those responsible for it really knows what goes in it" – Unknown
"Some people ask the secret of our long marriage. We take time to go to a restaurant two times a week. A little candlelight, dinner, soft music and dancing. She goes Tuesdays, I go Fridays" – Henny Youngman
"A marriage anniversary is the celebration of love, trust, partnership, tolerance and tenacity. The order varies for any given year" – Anonymous
"Marriage is not just spiritual communion, it is also remembering to take out the trash" – Joyce Brothers
"For marriage to be a success, every woman and every man should have her and his own bathroom. The end" – Catherine Zeta-Jones
SEE MORE: Funny Wedding Anniversary Quotes
Funny Wedding Anniversary Wishes
You two weirdos are perfect for each other! Happy anniversary
I'm yours! No refunds.
Happy anniversary! We've been through so much together and most of it was your fault. Still love you though
Congratulations on getting through another year without killing each other!
Sometimes I get jealous of you. After all, you did marry the world's most beautiful and brilliant woman. Happy anniversary, dearest husband!
It's pretty amazing that we've been together for however long we've been together. Happy anniversary
You're my favorite husband.
Whenever they tell you I'm crazy, just remember who agreed to marry me. Happy anniversary!
Wow, so we're actually still together!?
Sometimes I wonder how you put up with me..but then I remember that I put up with you too, so that makes us even. Love you!