Is it someone's anniversary and you need some funny anniversary quotes to write in a card? Or help with a hilarious message to friends or family on their anniversary?
Then keep reading!
An anniversary is a time of celebration. Two people sharing their love and the time they've spent together. Often with their closest friends and loved ones.
And an anniversary should be filled with happiness and laughter. That's why finding the fun in it – a joke, a funny story, a bit of sarcasm at the expense of the couple – is so important.
And in order to help find the right words we've put together some of the best funny anniversary quotes to help you out.
Coming up with funny anniversary messages is harder than you might expect. It's difficult to be witty and humorous. Not all of us have the gift.
And with family or friends anniversaries it can sometimes feel a bit awkward to express how we truly feel. Humor is a good way of dealing with this.
So use the funny anniversary quotes and wishes below to help you find the perfect words to put a smile on whoever's anniversary it is.
Funny Anniversary Quotes
These sample funny quotes are ideal for putting a smile on the happy couples face. Use term in an anniversary card, with a gift or you could even share them on Facebook.
"On our anniversary, let's celebrate being one year closer to death do us part" – Anonymous
"It is remarkable how long we have tolerated each other for" – Anonymous
"When someone is murdered, the police investigate the spouse first. That tells you everything you need to know about marriage" – Katherine Hepburn
"Sorry, no refunds! Happy anniversary!" – Anonymous
"A marriage anniversary is the celebration of love, trust, partnership, tolerance, and tenacity. The order varies for any given year" – Anonymous
"Marriage is just texting each other – "do we need anything from the grocery store?" – until one of you dies" – Anonymous
"Unless you want to forget about your marriage, it's a good idea to remember your anniversary" – Melanie White
"Drug stores understand life. That's why the anniversary cards and sympathy cards are right next to each other" – Anonymous
"Happy anniversary! Just imagine if our marriage was functional as you make it appear on Facebook" – Anonymous
"I love you. Thanks for killing all the spiders this year" – Anonymous
"I never knew what real happiness was until I got married; by then it was too late" – Anonymous
"Being married is like having a best friend who doesn't remember anything you say" – Anonymous
"God proved two things when he brought us together: his genius and his sense of humor" – Anonymous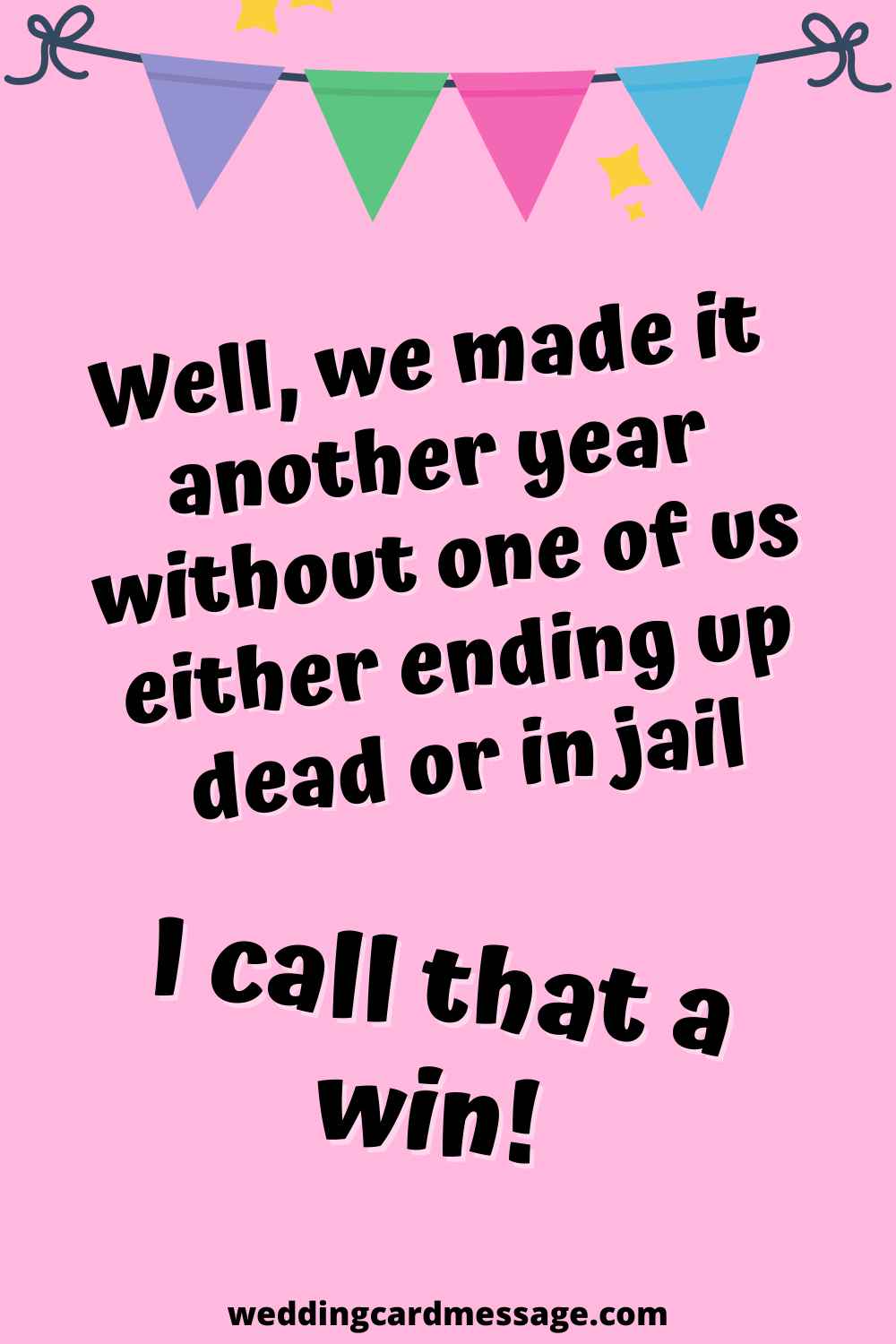 SEE MORE: Happy 1st Wedding Anniversary Quotes
Funny Anniversary Messages to Parents
Sometimes a funny quote is the best way to wish someone a happy anniversary. These messages do that perfectly – making your parents laugh as they celebrate their anniversary.
"Never laugh at your wife's choices. You are one of them" – Anonymous
"Being married is like having a best friend who doesn't remember a single thing that you say" – Anonymous
"You make it look so easy annoying someone for eternity!" – Anonymous
"The four most important words in any marriage: I'll do the dishes" – Anonymous
"Marriage lets you annoy one special person for the rest of your life" – Anonymous
"I couldn't imagine where I'd be without you two… literally!" – Anonymous
"You've been together so long you should be granted an honorary P.H.D in EACH OTHER" – Anonymous
"The longer two people stay together, the more they look like each other" – Anonymous
"The secret of a happy marriage remains a secret. But, whatever you two are doing is working" – Anonymous
SEE MORE: Funny Wedding Card Messages, Wishes and Quotes
Funny Anniversary Quotes for Friends
If you're close to your friend or they are the type then a funny message making fun of their anniversary is a great option. Enjoy a laugh with your friend as you celebrate.
"For marriage to be a success, every woman and every man should have her and his own bathroom. The end" – Catherine Zeta-Jones
"Marriage: when dating goes too far" – Anonymous
"Marriage is a lot like the army. Everyone complains, but you'd be surprised at the large number that re-enlists" – James Garner
"Marriage has no guarantees. If that's what you are looking for, go and live with a car battery" – Erma Bombeck
"If love is an amazing dream, then marriage is the alarm clock" – Anonymous
"If two people love each other, nothing is impossible. Except deciding where to eat" – Anonymous
"99% of being married is just shouting 'WHAT?' from other rooms" – Anonymous
"Marriage is basically just whispering, 'Are you awake? I need to show you this cat video'" – Anonymous
"If we take matrimony at its lowest, we regard it as a sort of friendship recognised by the police" – Robert Louis Stevenson
"Love is blind, but marriage is a real eye-opener" – Anonymous
READ MORE: Funny Wedding Quotes: 64 Hilarious Marriage Sayings
Hilarious Anniversary Messages for your Wife
Your wife is the most important person in your life. These anniversary quotes are a gentle bit of fun at her expense but also a wry look at the relationship you have.
"In my house, I am the boss. My wife is just the decision maker" – Woody Allen
"Happy anniversary from the best thing that ever happened to you" – Anonymous
"Let's celebrate the day you gave up on finding anyone better than me. Happy anniversary!" – Anonymous
"I'll love you even when you're old and wrinkly" – Anonymous
"I love waking up next to you in the morning. Just don't breathe on me" – Anonymous
"Well, we made it another year without one of us either ending up dead or in jail. I call that a win" – Anonymous
"Marriage is like vitamins; we supplement each other's minimum daily requirements" – Anonymous
"I love you more than carbs but less than cheese!" – Anonymous
"Happy anniversary from someone that you're probably shocked knew it was our anniversary" – Anonymous
"I was thinking of going to the bakery, but I already have the sweetest thing in the world at home" – Anonymous
READ MORE: 130 Wedding Anniversary Quotes to Say 'I Love You'
Funny Anniversary Wishes for your Husband
If it's your husband you want to say happy anniversary to then try these example funny messages.
"Happy anniversary! I want to spend the rest of my money with you" – Anonymous
"An archaeologist is the best husband a woman can have: the older she gets, the more interested he is in her" – Agatha Christie
"Marrying a man is like buying something you've been admiring for a long time in a shop window. You may love it when you get it home, but it doesn't always go with everything else" – Jean Kerr
"Wedding anniversaries are a time when men pause and reflect on what it was they did before they were married: anything they wanted to" – Anonymous
"Happy Anniversary to the best first husband I'll ever have" – Anonymous
"I think men who have a pierced ear are better prepared for marriage. They have experienced pain and bought jewellery" – Rita Rudner
"I love you more than coffee, but please don't make me prove it" – Elizabeth Evans
"I shave my legs for you. It must be love" – Anonymous
"Some people ask the secret to our long marriage. We take time to go to a restaurant two times a week. A little candlelight, dinner, soft music and dancing… she goes on Tuesdays, I go on Fridays" – Henry Youngman
"I'm so privileged that you chose me to be that special woman in your life who will forever have the honor of picking up your socks and washing your underwear" – Anonymous
"And here I thought you were just a one-night stand. Happy anniversary!" – Pauline Thomason
READ MORE: Happy Anniversary Wishes for your Husband

We hope you've enjoyed these funny wedding anniversary quotes and that they've helped you to put a smile on whoever it us celebrating their anniversary.