Whilst every anniversary is a cause for happiness, a 1st wedding anniversary really is that little bit extra special.
Getting married is such a huge commitment and marks the coming together of two people who truly love one another. So reaching that first year of union is a major moment for the happy couple.
In terms of length or time it may pale in comparison to more substantial anniversaries – 20th, 40th, 60th etc. – but it doesn't diminish its importance.
So if you know of a couple celebrating their 1st anniversary you will want to wish them all the best.
But how do you and congratulate someone on their 1st anniversary? What do you say to wish them a happy 1st anniversary?
Use the example wedding anniversary wishes and quotes below to help you find the perfect words to show the couple just how pleased you are for them on their 1st anniversary.
1st Wedding Anniversary Quotes
Congratulations on your 1st anniversary together! Have a great day and all my best for many more happy years

A first anniversary is such a special time and a huge achievement. Wishing you many more anniversaries together!

It only seems like yesterday you were getting married and now it's been a whole year! Congratulations and happy anniversary

With a love as strong as yours this is just the 1st of so many more anniversaries. All my love and best wishes

Congratulations to my two best friends! You've just begun a life of happiness together and this will be the first of years and years of anniversaries

Happy paper anniversary. Hoping you both have a lovely day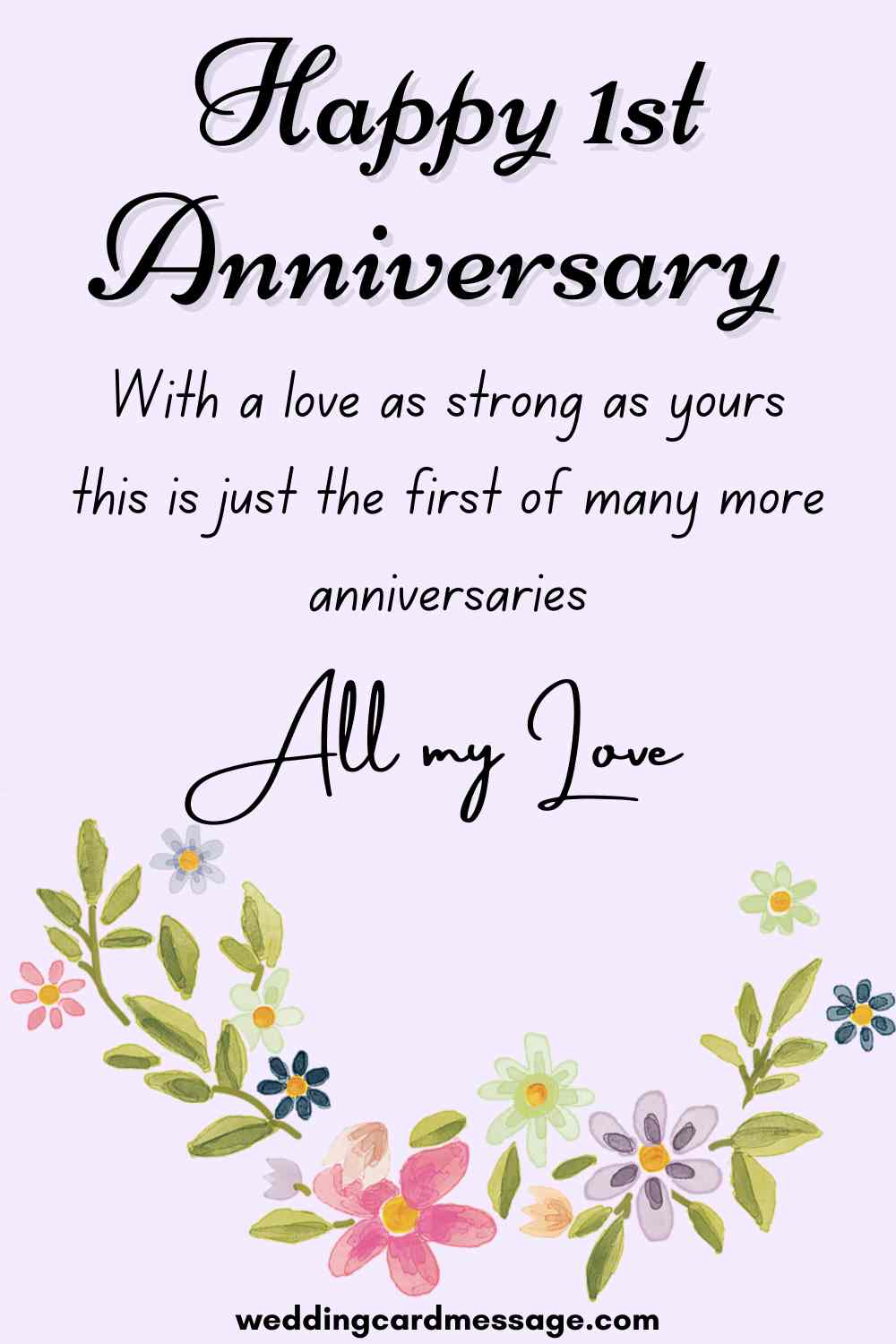 Congratulations! You exemplify what a great marriage is and I am delighted to wish you a happy 1st anniversary

Happy anniversary! You have an unbeatable bond and one that will last forever more

Congratulations on your 1st anniversary and all the best for many more years of happiness

Reaching Your 1st year together is a really big milestone and one to celebrate. Happy anniversary!

SEE MORE: Wedding Anniversary Quotes to say 'I Love You'
1st Wedding Anniversary Wishes
You deserve all the attention and excitement today! Enjoy it and have a brilliant anniversary

You two make Love look so easy. It was just meant to be with you. Have a wonderful anniversary

I hope today you make memories that last a lifetime and you smile when you look back on them in years to come. Best wishes for your anniversary

You have found your soul mates. In each other you have found your perfect half and it gives me such pleasure to see you celebrating the first of many anniversaries

We were all so happy to witness you get married and now just as happy to celebrate your first anniversary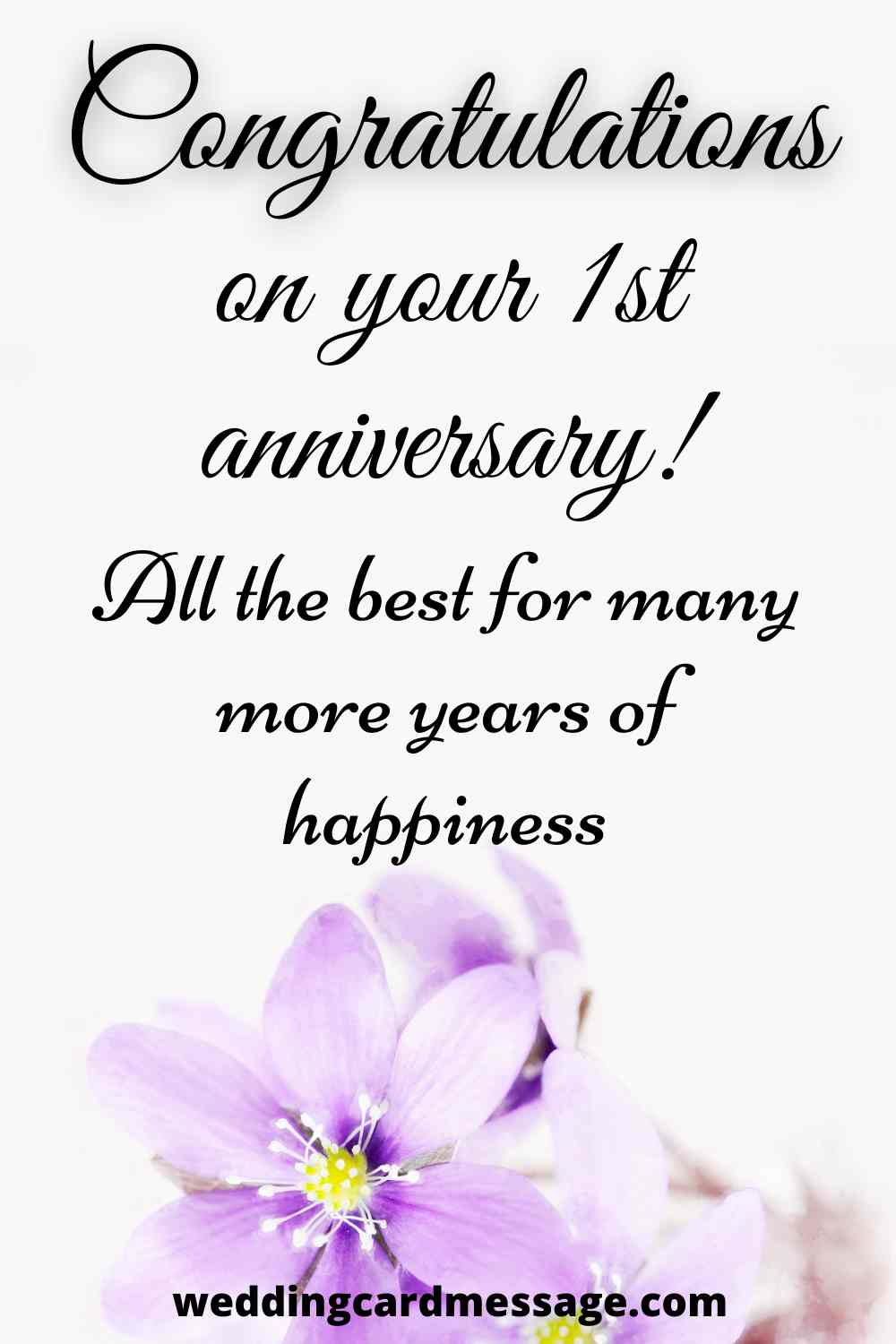 We are sending out love and best wishes on your first anniversary. Have a great day and enjoy your party!

To two of my best friends – you are the perfect couple and perfect for each other in every way. Have a magical anniversary

Wishing you a perfect first anniversary and that it's the first of years of happiness with one another

I can see just how happy you make each other and that is the foundation for a long and happy marriage. Enjoy your anniversary

Congratulations and all my love to you on your first anniversary. Be proud and enjoy today, you deserve it

SEE MORE: Happy 2nd Anniversary Wishes
Funny 1st Anniversary Quotes
Congratulations! You survived! Happy 1st anniversary

Happy anniversary! Lovely people always end up together.. so do the crazy ones!

1 year down, forever left go!

Congrats! One year together and you haven't killed each other yet

Cupid must have a great sense of humour to have matched you two up! Happy anniversary!

Congratulations on making it through one whole year. The next year will probably now feel like deja vu

You'd be the most amazing and normal couple.. if you both weren't so weird! Happy first anniversary

It may sound cheesy but somehow I knew you'd always brie together

I think congratulations are in order… to me for actually remembering your anniversary

Happy 1st anniversary! You can both stop holding your farts in now!

SEE MORE: Funny Wedding Anniversary Quotes
For Husband
I'm still as madly in love with as the first day we met. The past year has been the happiest of my life and I love you more than anything in this world. Happy anniversary darling

This year has passed by in the blink of an eye and every single second I've spent with you had been like a dream. I am forever grateful for the love and happiness you've bought to my life

It may only be a year but it's the start of our life of happiness. I cannot wait to spend so many year with you. Happy anniversary and I love you so much

I know just how lucky I am to have found that one special person I want to spend my life with. I treasure every day with you and am forever thankful for the love you give. Happy anniversary my man

Happy 1st anniversary to the most important person in my life. I would be lost without you and can't contemplate more than a second of us not being together. You have filled my life with a joy I never could have imagined. Thank you for everything

Happy 1st wedding anniversary to my world. I couldn't love anyone as much as I love you. I can't wait for all the years we're going to spend together

The last year only confirms what I already knew – marrying you was the smartest thing I've ever done. I will always be by your side and love you more than these words can explain. Happy anniversary my love

SEE MORE: Happy Anniversary Wishes for Husband
For Wife
You are my rock and my soulmate. I will never love anyone like I love you. Thank for this year of happiness and for the many more I can look forward to

I will always cherish this first year with you my wife and I can't wait for all the happy years we have to look forward to. Happy anniversary

I feel so blessed to have found a love as pure as the one we share. Today we celebrate a year as man and wife and I am overwhelmed with how happy you have made me. Happy anniversary

Never could I have dreamed that I would find someone as perfect as you. Every second we spend as man as wife makes me happier than I thought possible. Here's to so many more anniversaries we have to come

True love always seemed like a dream to be until I met you. I now know just how powerful and real it is. To my wife on our first anniversary – thank you for making the luckiest man in the world

You are my best friend and my soulmate. One year with you would never be enough. Thankfully we have so many more years to enjoy being married. Happy anniversary

To my darling wife – happy anniversary. A year ago I would never have believed how happy marriage could make me. I am forever grateful to have someone as special as you are in my life. I won't ever forget it or take you for granted

Hopefully these 1st anniversary quotes and wishes will have helped you to wish a friend, family or partner happy anniversary on their big day.
A first year is a huge milestone and one that should be celebrated. So try to make it clear just how pleased you are for the couple that they have reached one year of marriage and reach out with an anniversary card, greeting or gift.