Struggling with what to say in a bridal shower card? Need help finding the perfect words for a wedding shower message. Fear not! Keep reading for a huge selection of bridal shower wishes and quotes that are ideal for congratulating the bride-to-be or couple.
A bridal shower is now a very common tradition that most brides have. It is a chance for friends and family to gather and celebrate the upcoming wedding and 'shower' the soon-to-be married with gifts.
It's also a nice break from the often hectic wedding preparations that are going on! So if you're a fairly close friend or relative of the bride it's likely you'll be invited to the shower (assuming there is one). But that means you're probably going to want to bring a gift and card.
That's where things can get tricky. Knowing what to say in a bridal shower card and what gift to bring isn't easy.
The type of shower will play a role – is it solely for the bride or is it a couples wedding shower – and then what sort of celebration is it. Relaxed? More formal? Do your research with the planner first so you can tailor your card/gifts properly.
As for what to say – congratulate her or them, give your best wishes for a wonderful day and happy life together, maybe include a compliment about the wedding or dress as well as a few words of encouragement for a potentially nervous bride.
Reminiscing on good times you've shared with both or one half of the couple is always a good choice for a written message, and if you're close enough and know their sense of humour then something funny or a small joke should be received well. Just generally be positive about the big day and the love that will be celebrated.
For a whole range of examples for every scenario, from heartfelt and funny to religious and sentimental, have a look at the wedding shower wishes below.
Short Bridal Shower Wishes
These simple shower messages are a great way to write a quick message in your card for the bride.
Best wishes for today and your wedding day!
Wishing you all the love and happiness in the world
It's getting close now! Are you as excited as I am!
Enjoy the break from all that planning. Best wishes
All my love and congratulations
Have a wonderful wedding shower
Hope you have a special day and enjoy all the fun
Showering you with warm wishes! Enjoy
Happy wedding shower! Here's to lots of fun (and gifts!)
Hoping you have a lovely day and get spoilt rotten!
Happy shower. Happy couple. Happy wishes!
I wouldn't have missed your bridal shower for the world
So happy to have been invited and to share in the celebrations
Just a card to shower you with happy wishes!
Congrats and here's to many happy years
SEE MORE: Wedding Wishes for Sister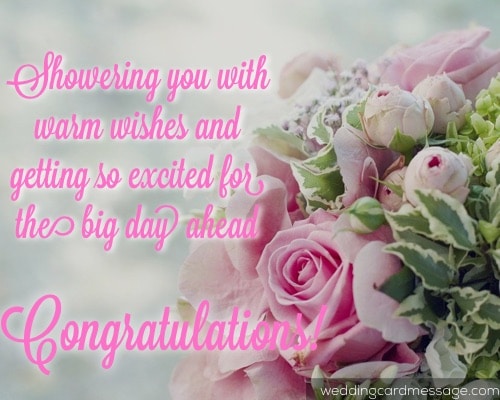 Funny Bridal Shower Messages
A funny message or bridal shower saying can be a great way to give the bride or couple a bit of a chuckle. However, be careful that you don't cross a line or use anything that could be offensive.
If you're certain you know the recipients sense of humour well enough then go for it but if in doubt stick to a standard message.
Congratulations! Keep this card to show to your hubbie though so that he remembers if he doesn't treat you right he'll have to answer to me!
Have an awesome bridal shower, and don't forget – you still have time to run!
I can't decide if I'm more jealous of the fact that you're getting married, or of all the amazing gifts you're about to get. (Only joking.. it's definitely the gifts)
Congratulations on finding the one person you want to annoy for the rest of your life!
Congratulations! I'm so happy for you! (you can't see jealousy in writing, right?)
I've never been so happy buying someone a food processor!
Best wishes for a lifetime full of love, trust, and shared dishwashing duties!
Even though it's your bridal shower, which means you'll be married soon, I still expect you to be on call to listen to my dating horror stories
Congratulations! I've only come for the free food and alcohol
SEE MORE: Funny Wedding Quotes: 64 Hilarious Marriage Sayings
Bridal Shower Wishes for Daughter
If it's your daughters bridal shower then your message doesn't have to be too emotional or verbose. Let's face it, you'll be telling her how proud and happy you are for her on the big day itself. But you can still write a nice message offering your congratulations.
I'm so happy my baby daughter is about to get married. Have a wonderful shower!
I hope you have a special day and enjoy your bridal shower
Get ready because there are going to be tears! Mainly from me!
Congratulations to my beautiful daughter. Enjoy your shower before the scary big day!
Lets enjoy one last party before it's all nerves and stress before the wedding. Cut loose and have some fun today
I know you've dreamed of marriage for such a long time and it's finally coming true. Try not to get nervous and instead enjoy your shower!
You are the most amazing daughter any parent could wish for and I'm so happy to see you so happy
To my loving daughter, it brings me untold joy to see you've found such happiness and I hope you have a wonderful bridal shower
The ingredients for a happy marriage are trust, patience and communication. Their combination creates a love that will last for years to come. Wishing you all the happiness in the world
My daughter, you've brought us an endless source of love and joy and I'm filled with a indescribable warmth when I see the love you've found
SEE MORE: Wedding Wishes for your Daughter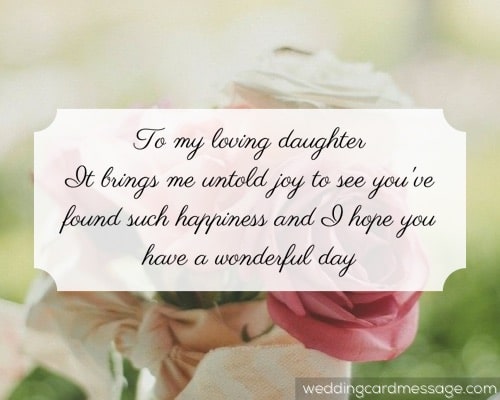 Wedding Shower Messages for Daughter in Law
You can show how pleased you are to have your new daughter in law as part of the family with a touching bridal shower card message. Welcome her with open arms and make it clear how delighted you are she's marrying your son.
We're delighted you're joining the family and so pleased to have you
I'm thrilled to have an amazing new daughter in law
My son is a lucky man to have found a bride like you
I know my son will be in good hands with you. Have a lovely day
Welcome to the family! You'll get used to us, I promise!
This party is the perfect way to introduce you fully to the family. Everyone will love you just as much as we do
Thank you for inviting me to your bridal shower. It's been great getting to know you so well
The love I feel for you is so strong already. You're going to be such an incredible addition to the family
We look forward to many more years of having you as part of our little family. You're a welcome addition and we all extend our love and wishes to you
We feel so blessed that our son has chosen such a special person to be his partner. We welcome you with open arms and can't wait see where life takes the two of you
SEE MORE: Wedding Wishes for Daughter in Law
Bridal Shower Wishes for Niece
If you've been lucky enough to be invited to your nieces shower then try one of these messages in your card to show her how thankful you are and delighted to be celebrating her big day.
Wishing my baby niece all the best on your wedding day and the many blissful years to come
It seems like only yesterday you were just a little girl, now I'm at your bridal shower. Here's to a long and love filled marriage
I know you're going to radiate beauty on your big day because you're beautiful all the time! Have an awesome shower and loads of fun
You deserve all the happiness in the world and I know you've found it. Have an epic bridal shower
To my favourite (and only!) niece – wishing you a great bridal shower and lifetime of joy and laughter in the years to come
Even though you're only my niece we've always felt like sisters, and as a big sis I'm just so pleased to see you this happy. Have a wonderful shower and enjoy the big day
SEE MORE: Wedding Wishes for a Niece
Bridal Shower Quotes for a Friend
A good or best friends bridal shower will be a time of happiness and excitement so your message should reflect that. Maybe talk about your history or a funny anecdote from your past. Above all else make it happy and fun though.
Congratulations! Now let's celebrate your shower and party like we used to!
I'm so happy for you! You're going to such a beautiful bride!
The big day is almost here and I'm so excited for you. Congratulations!
After the "Yes," before the "I do," happy shower to you!
Congratulations! I'm delighted for you both and ecstatic to share in all the fun
Thank you for inviting me to the shower and if you need any help with wedding – just ask!
We spent years hoping to find the right man and settle down and you finally have! I'm so happy for you and wish you both all the best
To my bestie – we've know each other practically all our lives and this is the happiest I've ever sent you. It's just so amazing to see the joy getting married has brought to you. Congratulations!
Congratulations on a special partnership and the many happy years to come! I can't wait to celebrate with you on the big day!
The best is yet to come my friend. Cherish each moment along this truly special journey
SEE MORE: 50+ Wedding Wishes for Friends
What to Write in a Religious Bridal Shower Card
Many couples will have strong religious beliefs, and if so it may well be appropriate for your card to reflect this. Try these example religious bridal shower wishes for a faith based message.
However, it's important to keep in mind that if you aren't absolutely sure of the couples faith then it's better to stick to a standard worded message to avoid any offence.
May your marriage be blessed with the love of God
May the love of God guide you and help your love grow stronger as each day passes
I pray you're bridal shower and wedding are built on a strong foundation of love and faith
Keep the Lord in your heart at all times and your marriage is will be blessed with love and happiness
Mazel Tov! Here's to a life of laughter and good times by each other's side
The Lord will grant you joy and a life of happiness together. Stay strong in your faith
Congratulations! May God always be at the centre if your lives and bind you relationship together
SEE MORE: 78 Religious Wedding Wishes and Messages
How to Sign a Bridal Shower Card
You will want to finish your card with a sweet and warm closing. Use these examples of the best way to sign your card:
Best wishes and congratulations
All the best and wishing you a happy life together
With all my love
Warmest wishes
With so much love
Blessings
Big hugs and huge congratulations
Lots of love
God bless you both