Are you struggling with deciding what to write in a wedding thank you card? Do you need some helpful wedding thank you card wording examples? Just to get you started or for inspiration?
Then read on!
After the highs of a wedding you can soon find yourself brought back down to earth. Why? You have to write your wedding thank cards to everyone.
That sounds a bit mean but it's often a lot of people, and a lot of work. On top of that you have to think of what to say to everyone, which can be tricky. So wouldn't it be great if there were a selection of wedding thank you card wording examples to save you some of the hassle?
Well what luck! We've produced just such a guide to help if you're find it hard deciding what to write in a wedding thank you card.
From thank you messages for gifts to notes for your family, the thank you wordings you'll find here are ideal for showing you the sort of things to say.
They can be copied directly as they are or just used as inspiration and ideas for writing your own.
So don't let your wedding thank you's be such a chore. Free up some time and make the whole process easier with our wedding thank you wordings.
Generic Thank You Wording Examples
These example wedding thank you notes are generic and easily customisable. So they can be used to say thank you in a general way and should be suitable for most situations.
Dear _______,
Thank you so much for [attending the wedding/your gift/the gift you sent]. We really appreciate [you being there/such a lovely gift]. It was a magical day and we couldn't be happier. Thank you for help make it so special.
Kind regards,
_______
**********************
Dear _______,
We were so thrilled to [have you at our wedding/receive your gift/for being a bridesmaid/groomsman]. It was a fantastic day made even more memorable by [you/your generosity/all your help]. We just wanted to reach out with our thanks.
Best wishes,
_______
SEE MORE: Wedding Thank You Card Messages
Thank You Wording for Attending the Wedding
You will probably want to send everyone who came a note or card saying thank you for attending our wedding. Try these quick thank you messages to let them know how pleased you were they could make it.
Dear _____,
We wanted to thank you so much for coming to our wedding. It was a wonderful day that we will remember and treasure for the rest of our lives. Being able to share that with you meant the world to us. We hope you enjoyed it and had a good time.
With love,
_______
**********************
Dear _______,
It was just great to have you with us on such a big day. Being able to share our love with friends feels so important and the memories we made will last forever. We hope you had a blast and look forward to seeing you again real soon.
Kindest regards,
_______
SEE MORE: 49 Wedding Wishes for the Bride and Groom
Wedding Thank You Wording for a Gift
You will most likely have received a lot of gifts. Send a thank you message with these wording examples and express how grateful you are for those gifts and presents.
Dear ______,
Just wanted to say thank you for the lovely gift. We will be getting a lot of use out of the bakeware set for many years. It was wonderful to have you at our wedding. It was everything we could have wished for.
Many thanks,
_______
**********************
Dear _______,
Thank you ever so much for the coffee machine. It's going to get an awful lot of use, especially if we decide to start a family soon! We'll have to have you over and share a cuppa! Thanks again for being part of the wedding day.
Our best wishes,
_______
SEE MORE: Inspirational Quotes about Marriage
Thank You Card Wording for a Cash Gift
A monetary gift is also a common present given to newlyweds. If you received cash then send a note or message of thanks for your wedding gift with the examples below.
Dear ______,
We were delighted you could make the wedding and were so pleased to have you there. Your gift was also wonderful and such a thoughtful gesture. We can't tell you how much we appreciate it.
All our love,
_______
**********************
Dear _______,
Big thanks for celebrating with us on our wedding day. Your gift of [amount here] was incredibly generous! It will be such a help with the honeymoon. We looking forward to catching up with you when we get back.
All the best,
_______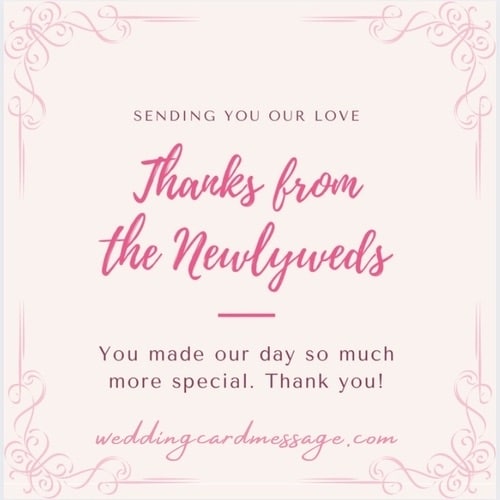 Wedding Thank You Wording for Family
Chances are your parents were at your wedding. If so you may want to send a thank you message to them too. If you aren't sure what to say then the following example wedding thank you card wording for family should help.
Dear Mom,
Thank you making our wedding day so special. It wouldn't have been nearly the same without you there. It was just as we'd imagined and hoped for. Having family there to share in that joy was essential and we won't forget it.
Lots of love,
________
**********************
Dear Mom and Dad,
The wedding was more amazing than I could have dreamed of. To have you both there, with dad walking me down the aisle – it brings a tear to my eye even now. We are both so happy and it wouldn't have been quite so special without you there.
Love,
________
Saying Thanks for a Gift When Someone Could Not Attend
Some guests won't have been able to make your big day. You can still send a thank you to those who sent gifts anyway. Use the wedding thank you wordings here to show your appreciation to those unable to attend.
Dear ______,
We are very sorry you couldn't make the wedding. You were sorely missed. We were touched to find the gift you sent. It was so thoughtful and we really do appreciate it.
Our kindest regards,
_______
**********************
Dear _______,
Thank you for sending such a thoughtful gift even though you couldn't make the ceremony. It wasn't the same without you there. I'm sure we'll catch up soon though.
Many thanks again,
________
For a group Gift
You may have received a group gift from some of your friends. In which case you can thank them all with the example notes below.
Dear _______,
Thank you all so much for the wonderful gift. We feel so grateful to have a truly generous bunch of friends. Hoping you had a great time at the wedding and we will try to catch up with every single one of you very soon.
Much Love,
[your name]
Tips
Here's a few tips to help you with your wedding thank you cards. Follow these to make the whole process a lot smoother.
Prepare Before the Wedding
If you've already had your wedding then this will obviously not apply. But if you're the forward thinking type you can get a head start.
Pick out the thank you cards or notes you want to use.
Make a list or spreadsheet of who you need to send your thank you's too and the gift they sent/bought.
Pick a date to write them. It will be after your wedding, obviously, and set aside a weekend to get them all done.
Get yourself a really good pen! Blue or black ink though. No funny colors.
Who to Send to?
There will be quite a few different groups of people you will need to say thank you to.
Parents – assuming they came to the wedding. Parents are very special and should be thanked for all they've done for you.
Guests – all guests, even the ones who didn't bring a gift. Just attending deserves thanks.
Gift Givers – if they've taken the time to give or send a gift then you need to thank them.
Hosts – whoever it was that hosted your wedding is absolutely key to thank.
Planners & Vendors – All the people who helped make the wedding special – florists, caterers, lighting etc. should be thanked. If you used a planner then they will need a thank you card too.
When to Send Them?
As soon as you can after your wedding and honeymoon. Within 3 months of the wedding is seen as the norm and acceptable. No longer though. You can also write some before the wedding if gifts arrive early.
Final Thoughts
Hopefully you're now all set to write your wedding thank you cards. The wording examples here should have given you some ideas of what to say or write.
Just remember to take your time, speak from the heart and say how much it or they meant to you. Do that and your thank you's can't go wrong.