If you're daughter or son is getting married then emotions are probably running high. It's a huge day. For them as well as you!
But as parents it can be tricky to know what to say to your children on their wedding day or in a card.
How can, on arguably the biggest day of their lives, you truly express what you're feeling? To see your baby daughter or son walking down the aisle is going to be overwhelming.
What words can you use to fully reflect those emotions and how proud for them you are?
Well if you're struggling then these wedding wishes should be just what you've been looking for. We've put together a great selection of wedding messages from parents that will help you find the perfect thing to say or write in a card.
Wedding Messages From Parents to Couple
We couldn't be any happier or more thrilled to see you get married. Congratulations and wishing you both a wonderful live together
Congratulations to you both! Wishing you endless happiness and love that will last a lifetime
Here's to you both on your wedding day. May your love only grow stronger as each day passed
We are delighted to be there to witness two people so in love get married. May you live happily ever after
Best wishes from your parents as you begin an amazing new life together. This is just the start of a truly magical future as man and wife
May all the years you have to look forward to be filled with love and happiness. Congratulations!
We are wishing you all the best for your married life. May you bring each other untold joy and love
Just to see our darling son/daughter get married is the greatest gift we could imagine. You make the perfect couple and we are so happy for you both
Thank you for letting us share in the magic of today. We wish you every bit of happiness for your wedding and lives together as man and wife
Congratulations and thank you for letting us share in this joyous day
SEE MORE: Wedding Messages for the Couple
From Parents to Son
We can't express the joy we feel to see our son getting married. Congratulations and all our best wishes for your big day
We have been looking forward to this for years. You have grown into such an incredible young man and we are delighted to see you get married
May you enjoy a special day that you remember forever and your marriage brings you a joy you never though possible. Congratulations
We have watched you grow, seen you fall and get up again, and now we get to see you find true happiness with the love of your life. To our son – congratulations and all our love on your wedding day
You have found that one person who makes you happier than anyone else, and as your parents we are so happy to share in your love today. Congratulations son and we will be raising our glasses to you and your partner
We wish you a spectacular day and all the love in the world for the future. Congratulations
We know this is just the beginning of an exciting future that will bring you such happiness. With all our love
To our son, may you make memories that last a lifetime and you can treasure forever. Have a wonderful day
To witness your wedding is going to be so special for us. Congratulations and all the best from your loving parents
From mom and dad, we are wishing you a life that is filled with love and laughter with the person you care about more than anyone
READ MORE: Heartfelt Wedding wishes for your son
From Parents to Daughter
We are so happy to see our little princess get married. We hope you have the wedding of your dreams and enjoy all the magic of the day
To our daughter on her wedding day – you have made us more proud than any other parent and we can't express how happy we for you. Have a blessed and wonderful day and life with your new husband
Our loving Best wish to our daughter on this amazing day. You will be the most beautiful bride and we can't promise there won't be tears when we see you walking down that aisle!
Wishing you our blessings and love on such a happy day. You deserve all the happiness in the world and we know you've found it with your husband-to-be. Congratulations
There is nothing more important to us than your happiness and today we get to see you take those first steps to a future of such joy and love. Congratulations from your parents and wishing you all our love today and always
Sending our love and best wishes to you our daughter on your wedding day. May it bring you a happiness that lasts forever
It's hard for us to really believe you're getting married. Life goes by so fast and it feels like only yesterday you were that little girl who we could pick up and hold in our arms. But you're a grown, beautiful woman now who deserves an incredible day and future to look forward to. Congratulations
You have found the person to share your life with and we are overjoyed for you both. With all our love and blessings have a magical wedding
On this truly joyous day we celebrate you, our daughter, and the love you have found. May all your dreams come true
Congratulations to our daughter and the man who has stolen your heart. May every day be filled with love and laughter from now on
READ MORE: Wedding Wishes for your Daughter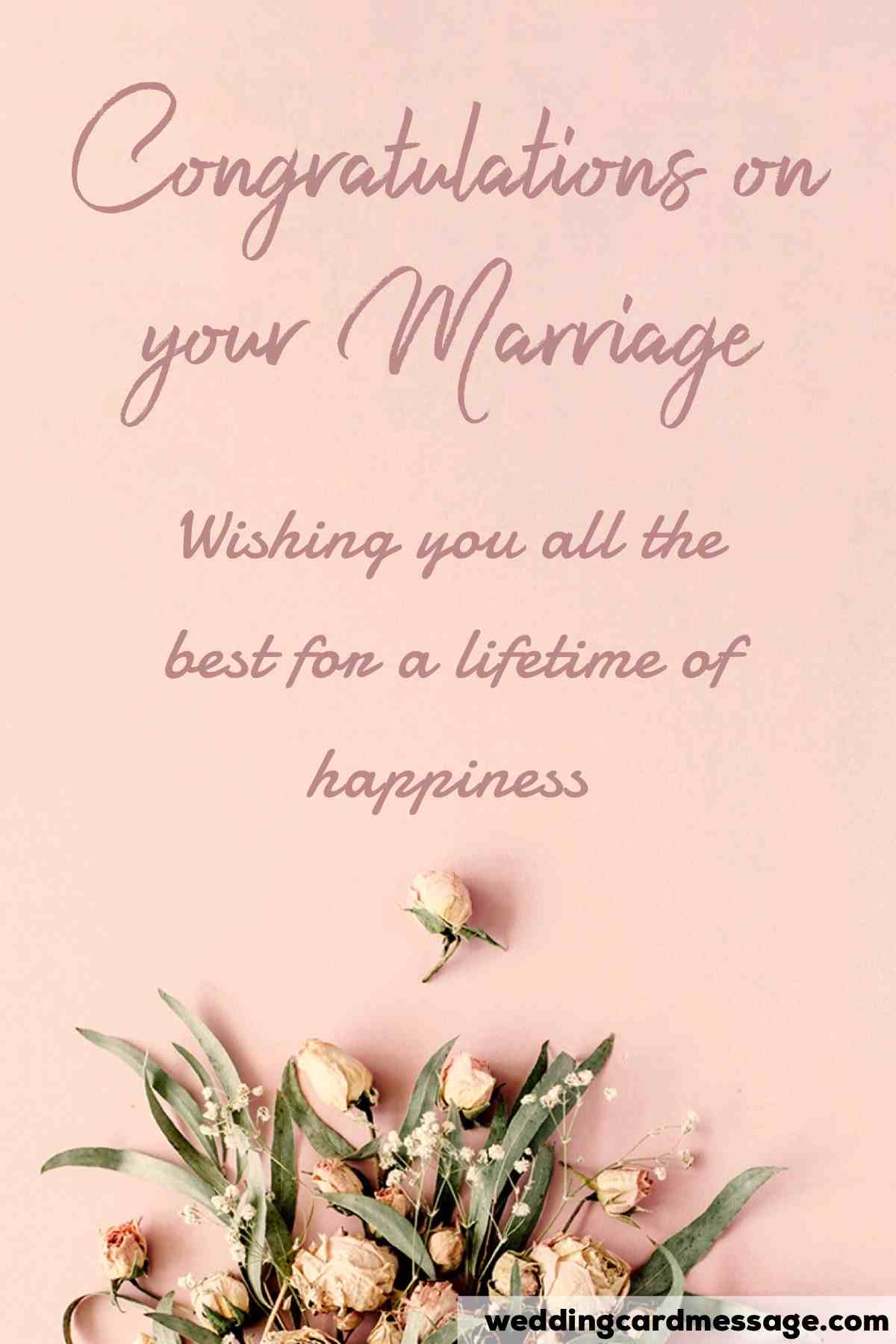 From Parents to Son in Law
We welcome our new son in law and know that you will make our daughter very happy
We are thrilled our daughter has fund such a wonderful partner and we couldn't be happier to have you as our son in law. Congratulations
We can see just how happy you make our daughter and the love between you both. You have our blessings and our best wishes for your marriage
You were meant for each other from the first moment you met. And now you're making an honest woman out of our daughter. Congratulations son, and make sure you treat her right!
We wish you and our daughter a truly wonderful wedding. May your love conquer all and last through the ages
I know you will bring my daughter true happiness. You have proven what a fantastic man you are and I am delighted to see you marrying my baby. Congratulations and all my love
May today mark the first day in your life as man and wife and be the beginning of such a happy time together. We are thankful to have such a great son in law
Wishing you and our daughter a love that never dies and only gets more powerful. You are such a perfect couple – congratulations!
READ MORE: Wedding Wishes for Son in Law
From Parents to Daughter in Law
We are over the moon to welcome our new daughter in law to the family! Congratulations and sending our love
We have never seen our son as happy as he is with you. You've brighten his world and we are thrilled to see you two becoming husband and wife
Its been a pleasure to see our sons and your love grow and how you've become such a strong couple. So to witness you becoming husband and wife is a real joy. May your happiness last for all time
We wish you and our son a life that is filled with only the best. May you laugh, love and always make each other smile. Congratulations
Here's to you becoming part of our little family! We welcome you with open arms and look forward to spending lots time together after the wedding
We are absolutely ecstatic you are marrying our son. We know you will make him so happy. All our love and best wishes
It will be an honor for us to witness you marrying our son. You make the perfect couple and bring each other so much happiness
Wishing you a long and happy life with my son. You making him so happy makes us almost as happy! All our blessings for the wedding
READ MORE: Wedding Wishes for Daughter in Law
We hope these wedding messages will have helped you to wish your children a happy wedding.
On the most important day of their lives they are going to want their parents to be wishing them all the best. So use these wishes and messages to show just how happy for them you are.