Weddings are always exciting. But when it's your best friends wedding then that excitement goes through the roof.
But one thing you might be worrying about is what do you say to your best friend on their wedding day? Or what do you write in a best friends wedding card?
Even when it's someone you know really well it can still be hard to find the right words to express how happy you are for them. Trying to sum up years of friendship in a sentence or two isn't easy.
So if you're struggling with a wedding message for your best friend then try using the example wishes below.
Wedding Wishes for Best Friend
Huge congratulations to my best friend! Wishing you such happiness as you get married
To my best friend forever – have a wonderful wedding day. With all my love
Wishing you a marriage that brings you joy and love for a lifetime. Congratulations my best friend
We have been best friends for as long as I can remember and so it is with such delight I get to wish you all the best on your wedding day
Enjoy today bestie! You deserve all the happiness in the world! Congratulations on your wedding
Wishing you do much love on your wedding day. After all the good times and bad we've been through you deserve your happy ever after. I love you, congratulations
To my best friend on her wedding day – I wanted to say how happy for you I am and how I know this marriage is going to bring you the life you deserve. Enjoy every second of today
There is no one else's wedding I could be happier to witness than yours. You're the best friend anyone could ever have and I want you the rest of your life to be filled with a love so strong and pure. My best wishes today and always
I've been so lucky to have a friend like you and on your wedding day I will be thinking back on all the wonderful memories we've made. A new we stare today though and I want you and your new husband/wife to be as happy as you can be. Congratulations and all my love
I'm honored to see a friend as amazing as you are get married. May you have found a happiness that lasts a lifetime
SEE MORE: 50+ Wedding Wishes for Friends
Short Wedding Greetings for a Best Friend
Congratulations to my bestie!
I'm so happy for you. Congratulations
To my best friend – all my love on your wedding day
You deserve to be happy today. Love you lots
You're my best friend and you deserve the best. Happy wedding day!
Wishing you so much happiness my friend
I'm delighted to see you getting married. Congratulations
Dear best friend – I'm so pleased you've found your soulmate
READ MORE: Top 100 Wedding Wishes & Sayings
Funny Wedding Messages for Best Friend
Keep calm and don't do it!
Look, I know a good travel agent if either of you changes your mind. If not, have a wonderful wedding!
Marriage lets you annoy one special person for the rest of your life
I cancelled all my appointments and an important meeting just so that I could make it to your wedding. After all, free food and booze was just too good to miss. Congratulations
You will have moments when you really love each other… then there will be the rest of the time
I know I am going to have an awesome time attending your wedding because I will be reminded of all the money I will be saving by not getting married. Congratulations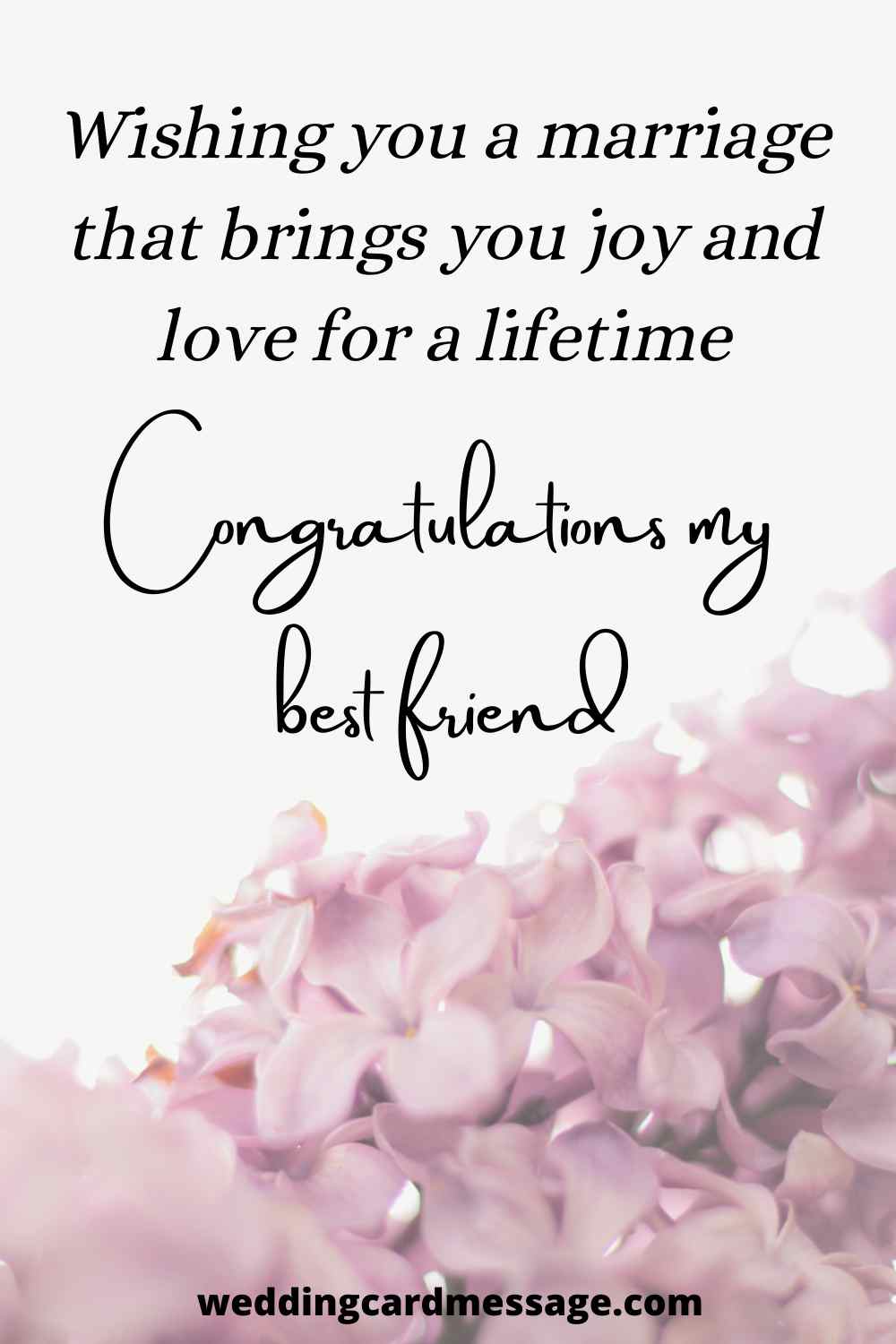 SEE MORE: Funny Wedding Card Messages, Wishes and Quotes
Emotional Messages for Best Friend Getting Married
It's going to be so emotional seeing my best friend in the world get married. I am just so happy for you
I won't lie, when I see you walking down the aisle I'm going to shed more than a few tears! Congratulations!
To witness my bestie getting married is going to be so moving. I've known you forever and now as we're growing up it's all just hitting me. I'm so pleased for you, congratulations
There are going to a lot of emotions flying around today and most of them mine! I'm just so happy for you!
I can't describe how I'm feeling about your wedding day. It's going to be such a great day but I can't help but worry I'm losing my best friend. I know it's stupid but promise we'll still hang out after your living your happy married life
We have been each other's supports, confidants and best friends for more years than I can remember. I want only the best for you and so as you are about to walk down the aisle and get married I need to say how much you mean to me. Congratulations my true friend
I'm welling up now just thinking about you get married. It's going to be such a wonderful day, congratulations my friend
My emotions will probably get the better of me but I just wanted to wish you all the best for your wedding. I know you're about to begin an amazing journey of love and happiness
SEE MORE: Inspirational Quotes about Marriage
Advance Wedding Wishes for Best Friend
Just to say in advance how happy I am for you and wishing you the best for your wedding day
Sending my advanced wishes for your wedding. I hope it's a fantastic day
Congratulations in advance my friend! Hoping your wedding is a truly brilliant day
Wishing you much love for your wedding. I know it's going to be Eve thing you have wanted and more
I'm a little early but can't contain myself! Enjoy your wedding and all the attention and excitement that comes with it
My best wishes for your upcoming wedding. I will be there to see you exchange vows and congratulate you in person of course but this is just a little note to say how excited I am
Wishing you congratulations for your big day in advance. May it be a glorious moment that you cherish forever
Before you take that big step on your wedding day I wanted to let you know how much I love you. Congrats
SEE MORE: Belated Wedding Wishes
Wishing your best friend congratulations on their wedding is vital to your friendship. For someone as important as your best friend to be getting married means you need to be supporting them all the way.
Hopefully these examples wishes and messages will help you to decide what to say and how to wish your best friend the best wedding they could hope to have.