Wedding anniversaries are always special. They represent the strength and longevity of the love of two people.
But a 60th wedding anniversary (also called a Diamond anniversary) is extra special! Very few couples last 60 years together.
It really is an amazing achievement.
So it deserves to be celebrated. That could mean a party, perhaps? Cake? Definitely a few gifts and anniversary cards.
But what do you say to congratulate someone on their 60th anniversary? How do you wish them a happy 60th anniversary?
It can be hard to find the perfect words to capture how special it really is.
So if you're struggling then the happy 60th wedding anniversary quotes and wishes below should help to express how you feel.
60th Wedding Anniversary Quotes
Congratulations on your 60th anniversary! Wishing you a wonderful day

Reaching 60 years together is amazing and a real special achievement. Wishing you all the best for another 60 more!

I can't believe it's been 60 years! The time has just flown by. Congratulations

You both epitomise love, and you have 60 years of evidence to prove it. Best wishes for your anniversary

Congratulations on your anniversary. Sixty years of love and happiness and still going strong

Happy diamond anniversary. Here's going you have a lovely day and maybe get a diamond or two!

You are the perfect example of a happy marriage. Congratulations and best wishes on your 60th anniversary

You've been through thick and thin together and weathered every storm. Now, after sixty years that bond is still as strong as ever. Congratulations and happy 60th anniversary!

Very few reach 60 years together, you should be proud. Congratulations and all my best for many more happy anniversaries to come

Congrats and big hugs for reaching a huge milestone. 60 years is a long time! Happy diamond anniversary

SEE MORE: Wedding Anniversary Quotes to say 'I Love You'
60th Wedding Anniversary Wishes
Best wishes for your 60th anniversary. Hope you have a great day and enjoy all the fuss and attention

What's your secret!? We are all dying to know because 60 years of marriage is no mean feat! All the best for a lovely anniversary

I hope you make some wonderful memories today and look back on the many that have gone before them. My best wishes on your anniversary

Even after all these years you're still the best of friends. What an incredible couple you are and I'm so pleased to be able to wish you a very happy 60th wedding anniversary

My best wishes for a happy diamond anniversary. It's a special achievement and one we are all so impressed by

You are the couple we all look up to, the ones we hope to be like after 60 years. It's a truly amazing accomplishment to reach a diamond anniversary, congratulations and all the best

To have made it through 60 years together is just incredible. My best wishes for a great anniversary

Wishing you a fantastic diamond anniversary and hoping you have many more happy years as loving husband and wife

Sending my happy and best wishes for your diamond anniversary. 60 years of marriage is long enough for anyone!

Congratulations and my best wishes on reaching such an impressive milestone. I hope you have a wonderful day

SEE MORE: Wedding Anniversary Wishes and Messages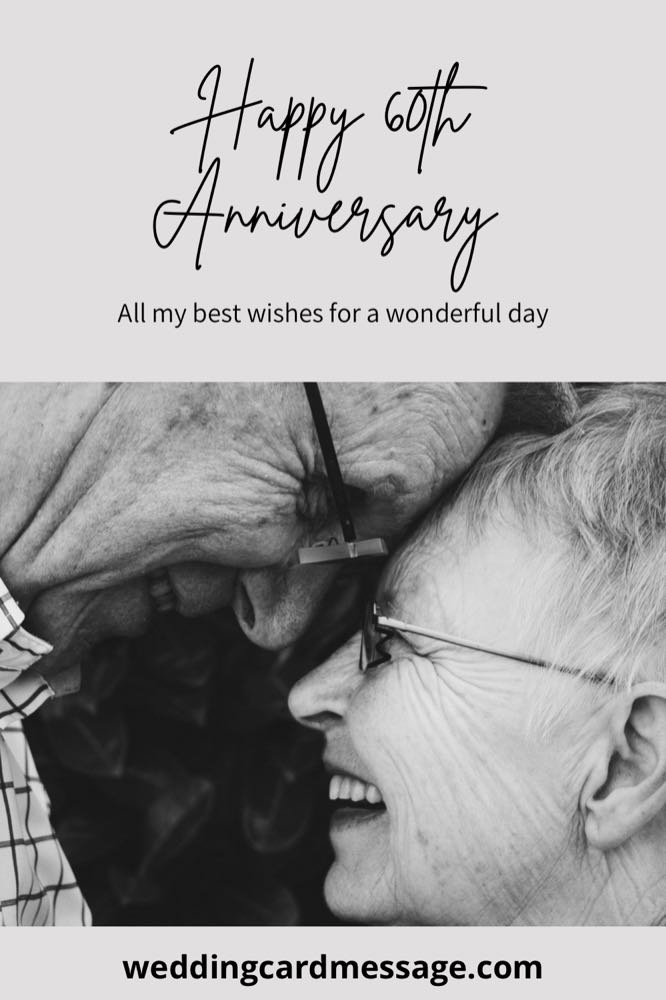 For Parents
Congratulations mom and dad. You have been each other's rock, strength and soulmates. After 60 years of happiness and love I can still see how much you adore one another. Have a fantastic diamond anniversary

To me you will always be the perfect couple who were made for only one another. Happy diamond anniversary mom and dad

You have set such an example of what love is to not just me, but everyone. I feel honored to have watched and grown up with surrounded by a love like yours. Congratulations on your 60th wedding anniversary

Congratulations to my amazing mother and father. Today you celebrate 60 years together and I'm delighted to get to see it. Have a magical day

A love like yours is beyond inspiring. I hope that I can one day find someone to love as you've loved each other. Congratulations

To my amazing parents – your relationship and marriage has been a constant in my life, and shown me what true love really is. I couldn't be happier to see you celebrate this diamond anniversary, congratulations!

You have been the inspiration for love and the example I've strived for. To be lucky enough to find your soulmate and spend 60 years together is truly amazing and you deserve all the congratulations you will receive today

SEE MORE: Happy 40th Anniversary Quotes
For Grandparents
Dear grandma and grandpa, all the best for your 60th wedding anniversary. I can only hope that one day I find love like yours

To my loving grandparents, you are everything I wish to be. You have made it to 60 years of happiness and love by each other's side and I am so proud and happy for you. Congratulations

Dear gran and grandpa, congratulations on a wonderful milestone. Wishing you lots more years together and a really great day

Congratulations on your diamond anniversary. To see the love you have for one another is so heartwarming. Have a lovely day

Congratulations to my dearest grandparents. Have a happy and enjoyable 60th anniversary!

You found true love with each other and as a result we are celebrating 60. years of that love. Congratulations and have a wonderful anniversary

Hugs and wishes on your big anniversary day. 60 years together is almost unbelievable, except when I see how happy you make each other it's easy to believe. Congratulations!

SEE MORE: Funny Wedding Anniversary Quotes
For your Partner
You have been my everything and after 60 years I'm just as in love with you as the day we first met. Happy anniversary darling

The last 60 years have flown by and every second with you has been like a dream. Thank you for making me the happiest and luckiest man alive over all those years.

I can't wait to spend another 60 years with you my love. Happy diamond anniversary and thank you for everything

I feel blessed to have found and then spent my life with someone as special as you. What I would have done otherwise I can't even begin to think about. I love and cherish every moment I get to spend with you. Happy 60th anniversary my love

Happy diamond anniversary to the shining diamond in my life. You are my world and I'd be lost without you. I thank the stars that fortunate favoured me when you came into my life. Since then every day has been filled with happiness and joy, all because of you

Happy 60th wedding anniversary to the love of my life. Even after all these years I'm still head over heels in love with only you. Here's to so many more years of our love only growing stronger

When I married you I made the greatest decision of my life. I've since been blessed with a happiness I never knew possible and will be forever grateful for having you by my side. Happy 60th anniversary my true love

SEE MORE: Happy Anniversary Wishes for Husband
These wishes and quotes for a 60th anniversary should have helped you to show a friend or relative how happy you are for them on their big day.
It's such a huge achievement and so deserves your congratulations. Do your best to let whoever it is know just how happy you are for them and send your best wishes in some way, be it a card, gift or just a few words.