Your niece getting married is a really special day. You've seen that lovely young woman grow up and now she's found happiness with the man of her dreams.
So of course you want to congratulate her on such a big day. But what do you say or write in a wedding message for your niece?
You want your wedding wishes to be loving and moving. Try following these few tips for writing the perfect wedding message for your niece (or keep reading for example messages)
Speaking from heart and letting her know just how happy you are for her is the main thing to get across.
Tell her how much it has meant for you to be a part of her life.
Say what a beautiful wedding it was.
Wish her and her husband well for the future and a lifetime of love together.
That's just a rough idea of what you could say or write to your niece on her wedding day. It will differ depending on your relationship, how close you are etc. But that should give you a starting point if you're struggling.
If you'd prefer to use some prewritten words or messages then try the example wedding wishes below. You can edit or change them to fit your situation.
Wedding Wishes for a Niece
Use these Wedding wishes to show your niece how happy you are for her on her big day.
To my wonderful niece, have a truly special wedding. It's a joy to see you find such happiness
I can't believe my little niece is getting married! You've grown up so fast. I'm delighted you've found the person you want to spend the rest of your life with. Here's to years and years of joy and happiness
I couldn't be any happier to see you getting married today. I've watched you grow and seen how you've blossomed, and it's beyond a joy to witness you begin an exciting life with such a fantastic young man. All my love my darling niece
Happy wedding day to my perfect little niece! Don't be nervous – you're with the man of your dreams and are about to begin a life of untold joy. Enjoy every second of it
Wishing you a happy life together and to have the best wedding imaginable
May this be the beginning of a life together that is filled with joy, laughter and love
Here's to my niece having a spectacular wedding day and an even better life as a happy couple!
Wishing you so much love on this special day and knowing that this is just the start of a an exciting and happy life together. All my love
I can't say how delighted I am to see my little niece getting married. You're going to have such a happy life and I'm so pleased I get to see it begun today on your wedding
Wishing you all the best for your life as one and everything that you choose to do from now on. May you be blessed with love and good health
Here's to years of love and laugher that only grows stronger as the days go by. All my best to my loving niece and her husband
I feel honored to witness your vows and be one of those to offer you my best wishes for a happy life as man and wife
May your journey as a couple be filled with nothing but happy memories and amazing times together. All my love and wishes
Wishing you, my niece, a long and happy life with the man you love. Wishing you a truly amazing day
Here's to a day filled with joy, love and fun! May it start your new life off in the best way possible!
You've found your happy ending. Here's to all the years to come that will be filled with happiness and love
I knew you two were destined to be together forever from the first day you met. And now you're about to be man and wife and I couldn't be happier for you. Have an incredible day
SEE MORE: Wedding Messages for Family and Relatives
Wedding Congratulations for your Niece
Wish your niece congratulations on her wedding day with these touching messages and best wishes.
Congratulations and all my love on getting married. Here's to a lifetime of happiness and wonderful memories
Congratulations to my niece on her wedding day. I only hope your love continues to grow and you become even closer as each year passes
May this be the beginning of a beautiful life. Congratulations to my niece
You deserve all the love in the world and I'm so pleased to see you've found it. Congratulations and enjoy your day
Congratulations and I'm hoping the amazing memories you've made today will last forever. You make a wonderful couple
Raising a glass and wishing my niece all the best for her life as a married woman. Congratulations
Congratulations my beautiful niece. I know you're about to embark on a journey of love, excitement and pure happiness
Congratulations my darling and have a day that you will remember and cherish forever. My love and wishes for your happiness together
Enjoy this day and treasure the memories you make. Congratulations from your loving aunt/uncle
You deserve every second of happiness today. It's all about you and I want to make sure you have the best wedding you can. All my love and congratulations my special little niece
Congratulations on your Wedding day. May it be a joyous occasion and everything you have dreamed of
Congrats my angel. Sending my best wishes for a truly amazing wedding and that you have a lifetime of joy with your new husband
Congratulations on finding your soul mate and sharing the rest of your life with them
Congratulations and May your marriage be blessed with more love and happiness than you could ever imagine
SEE MORE: 49 Wedding Wishes for the Bride and Groom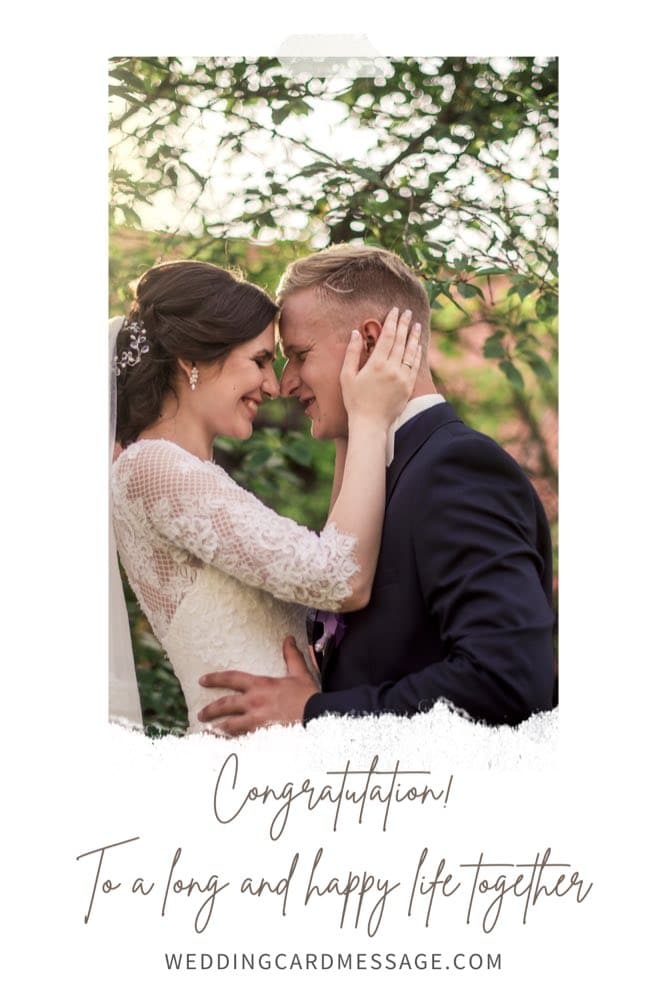 We hope these wedding messages for your niece will have shown you what set if things to say or write to her on her big day. Just speak from the heart and say how happy you are she's found love and she will appreciate your kind words.