A wedding is a day like no other. To see two people coming together and expressing their love is magical. It brings out the best in all of us and no one can fail to be moved by it.
So on such a wonderful day you will probably want to save your best wedding wishes for the bride and groom. But what do you say to the loving couple?
Knowing how to show just what it means to you to see the loving couple coming together isn't always easy. But you should always try to let them know just .
You don't have to recite an amazing speech (unless you're the best man!) or come up with a love poem. Even if you aren't that great with words you just have to make an effort.
Say or write how pleased you are for the happy couple and what a lovely wedding it was. That's enough!
But if you're still struggling and want some extra help then try the wedding wishes for the bride and groom below.
They can be used in either a wedding card or said to the couple in person at the wedding.
And feel free to edit and change them to fit your own situation. Whatever you need to do to get a really great wedding message.
Wedding Wishes for the Bride and Groom
Wishing you both a wonderful wedding and life together
May you enjoy the love and happiness of each other for eternity
My wedding wishes for a very special couple – together you are stronger than apart, and together you have found true love. Have a wonderful life as man and wife
May you have the wedding of your dreams and spend your days living happily ever after
You are two of the most perfect people for each other and I know you're going to have an amazing married life. Have a great day!
As you begin this incredible journey I'm wishing that every day together holds special new memories you can cherish forever
Have a truly amazing wedding and enjoy the rest of your lives together. You both deserve such happiness
May God bless this marriage today and always
My warmest wishes on your wedding day and sending my love
Love can be a mystery to all of us but you have figured it out – by finding each other. Have a wonderful day
May today just be the beginning of eve thing you could have ever hoped for – love, laughter and happiness by each other's side
May each day you spend as man and wife be full of surprises and joy
Here's to the happy couple and the exciting adventure they're about to embark on together
May you always cherish today and one another for the rest of your lives
To the lovely couple – my warmest wishes for a spectacular day
When I look at you together I see only one thing – pure love. You couldn't be any more perfect for each other
SEE MORE: Wedding Wishes for a Best Friend
Wedding Messages for the Couple
To my favorite couple – you are absolutely ideal for each other and I'm so happy to be able to share this amazing day with you
Wishing the perfect couple a life of wedded bliss forever more
You are two of the luckiest people to have found such love with one another. Enjoy this wonderful day and stay will be a blissful life together
Sending all my best for the perfect wedding. Enjoy your big day
Here's to a lifetime of love and years of happiness. You are a lovely couple
May today mark the start of a fairytale story. Wishing you so much happiness
I'm so pleased to be part of your big wedding day and to get the chance to share in the remarkable love you two have for one another
May today be the beginning of the most incredible journey together. Love is full of surprises and excitement and I know you two will enjoy the ride
The most heartfelt wishes to you both on this wonderful day. You are love personified
To the bride and groom – May today be just the beginning of a blessed life. I wish you nothing but happiness
Wishing you a perfect ceremony and fitting memories to cherish forever
Here's to a brilliant wedding and an even better life together. You're both too good to be true!
Here's to years of joy. The love you have for one another will burn bright and be there no matter what
Seeing you two so happy warms my heart. I can only wish you the joy and happiness you so richly deserve
Sending all my love on such a wonderful day. You will make each other happier than you could ever imagine
SEE MORE: Wedding Wishes for Colleagues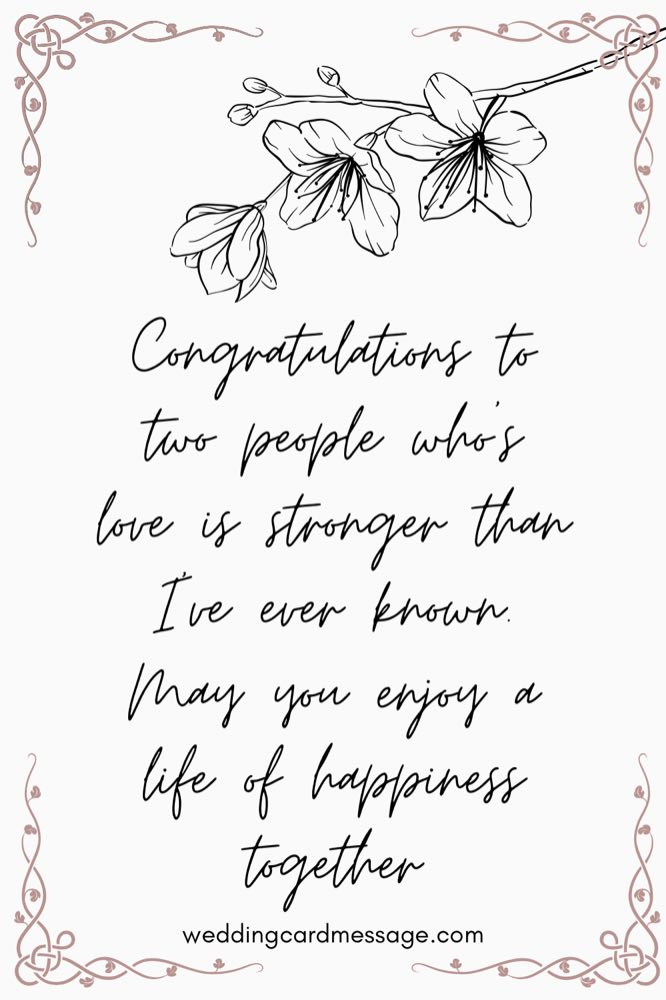 Bride and Groom Wedding Congratulations
Congratulations! You make a wonderful couple and I'm so happy to see you getting married
Congratulations to two people who's love is stronger than I've ever known. May you enjoy a life of happiness together
I know this is only the start of a wonderful journey as man and wife. You have so much to look forward to. Congratulations
On such a beautiful day I wish you two a lifetime of happy memories. Congratulations
You have a love like no other and one that will last forever more. Congratulations to you both
Congratulations! To the most lovely couple I've ever met, thank you for inviting me to share in this wonderful occasion
Wishing you so much happiness on your wedding day and thereafter. Congratulations and my best wishes
Huge congratulations to you on your wedding day! Enjoy one of the most special moments of your life
You are without the two most special people I have been lucky enough to witness falling love. So I can't put into words how delighted I am to see you getting married. Congratulations
Many congratulations on your wedding. I know you two have found a love that will last
Sending my congratulations to the bride and groom. May you enjoy untold happiness today and always
Congratulations on your union and becoming one.
May every day from now on be as joyous as today. Congratulations
Wishing you all the love in the world and one that grows with every passing day. Congratulations to the both of you
To a special couple on a special day – Congratulations!
Congrats to two who were destined for one another the second they met. What a joy it's been to see your love blossom the way it has
All I can think to say on a day like this is congratulations! You will forever treasure the memories today and look back on them as you grow old together with such fondness
Congratulations and all my love. You are blessed to have found each other and will now enjoy a life as one, with all the love in the world
SEE MORE: Inspirational Quotes about Marriage
Hopefully these wedding wishes for the bride and groom will have shown you what sort of things to say or write in a card. The loving couple will appreciate you making the effort to wish them all the best on their big day.
Just remember to speak from the heart and say how happy you are for them. If you can add anything else then don't hesitate to. But try not to feel the pressure to make it perfect.
A few kind words expressing how happy you are will be enough.