A wedding anniversary is a special day. It's celebrates a couples love and relationship that has reached a significant milestone.
A 2nd wedding anniversary is a little different to many of the bigger anniversary's though. It doesn't have quite the same meaning as a 1st, 10th, 20th etc.
That doesn't make it any less important though. You should still be wishing the couple a happy 2nd anniversary, and celebrating the day.
But how do you congratulate someone on their 2nd anniversary?
It can be tricky knowing exactly what to say to wish them a happy anniversary. You want to reflect just how big a day, and achievement it is.
So if you need some help the happy 2nd wedding anniversary wishes and quotes here should give you some examples and ideas for expressing just how you feel.
2nd Wedding Anniversary Wishes
Congratulations on your 2nd anniversary! I know you'll have many more in the future. My best wishes

It may have only been 2 years but to look at you two you would think you had been together for eternity. That's when you know it's true love. Happy anniversary

Congratulations on your 2nd year together! Hope you have a wonderful day

It may have only been 2 years but it feels like so much longer! It just shows how perfect you are for each other. Congratulations and happy anniversary

You are celebrating the 2nd of no doubt many more anniversaries. My best wishes

Congratulations to two of the most fantastic people, who make an amazing couple. 2 years of love and happiness with so many more to look forward to

Happy cotton anniversary. I hope you have a great day

Congratulations! You are the epitome of a happy marriage and I am so pleased to celebrate your 2nd anniversary with you

Happy anniversary! You are destined to be together forever and 2 years is just the beginning if your happy life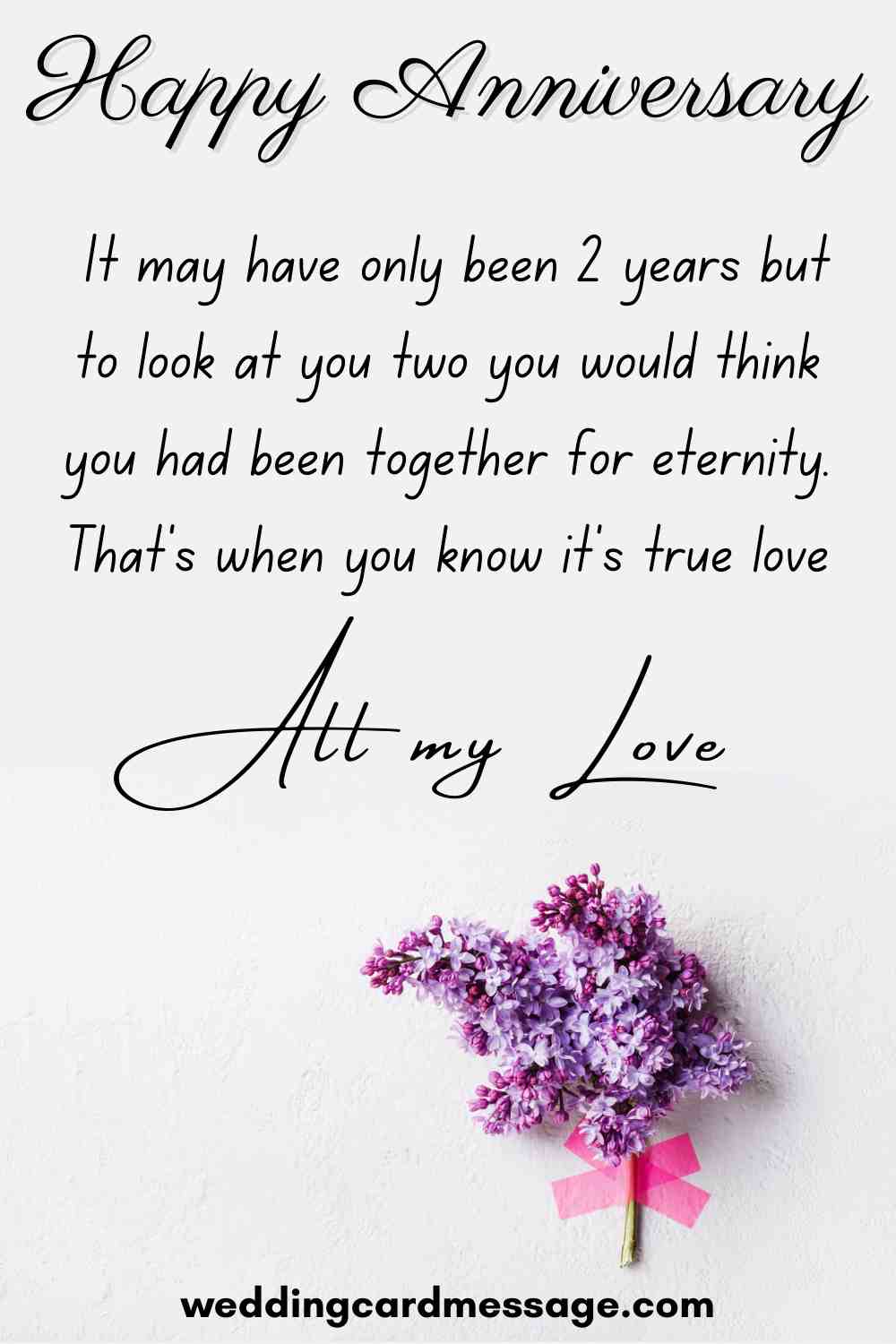 SEE MORE: Happy 5th Wedding Anniversary Quotes
Congratulations on your 2nd anniversary and I'm sending my best wishes for many more loving years

Any anniversary is such a wonderful time and in your 2nd I wish you many more year of love and joy as man and wife

A 2nd year together shouldn't be overlooked. You've had 2 years of married bliss together so let's celebrate that! Happy anniversary!

SEE MORE: Wedding Anniversary Quotes to say 'I Love You'
Happy Second Anniversary Quotes
You have earned all the attention you're going to get today! I hope you enjoy your anniversary and have a great day

No one I know is as perfect for each other as you are. Have a lovely 2nd anniversary

I hope you enjoy all the memories you will make today and treasure the day for years to come. Happy anniversary

I am so delight to see you celebrating your second anniversary. You are the perfect match and have found true love in each other's arms. Have a brilliant day

Seeing you get married was a joy and now watching you spend your lives together is even more amazing. Happy second anniversary

I am sending my love and best wishes on your second anniversary. Enjoy all the fun of the celebrations!

You are both some of the best friends I have and seeing you so happy together is just incredible. Have a truly magical second anniversary

Wishing you a perfect second anniversary and that the last 2 years is only the start of all the happiness you will have together

You make one another happier than anyone else could. You will still feel that way decades later, not just the two years we celebrate today. Happy anniversary

Congratulations and sending my love on your second anniversary. It's a wonderful milestone to reach and you should be proud of and enjoy it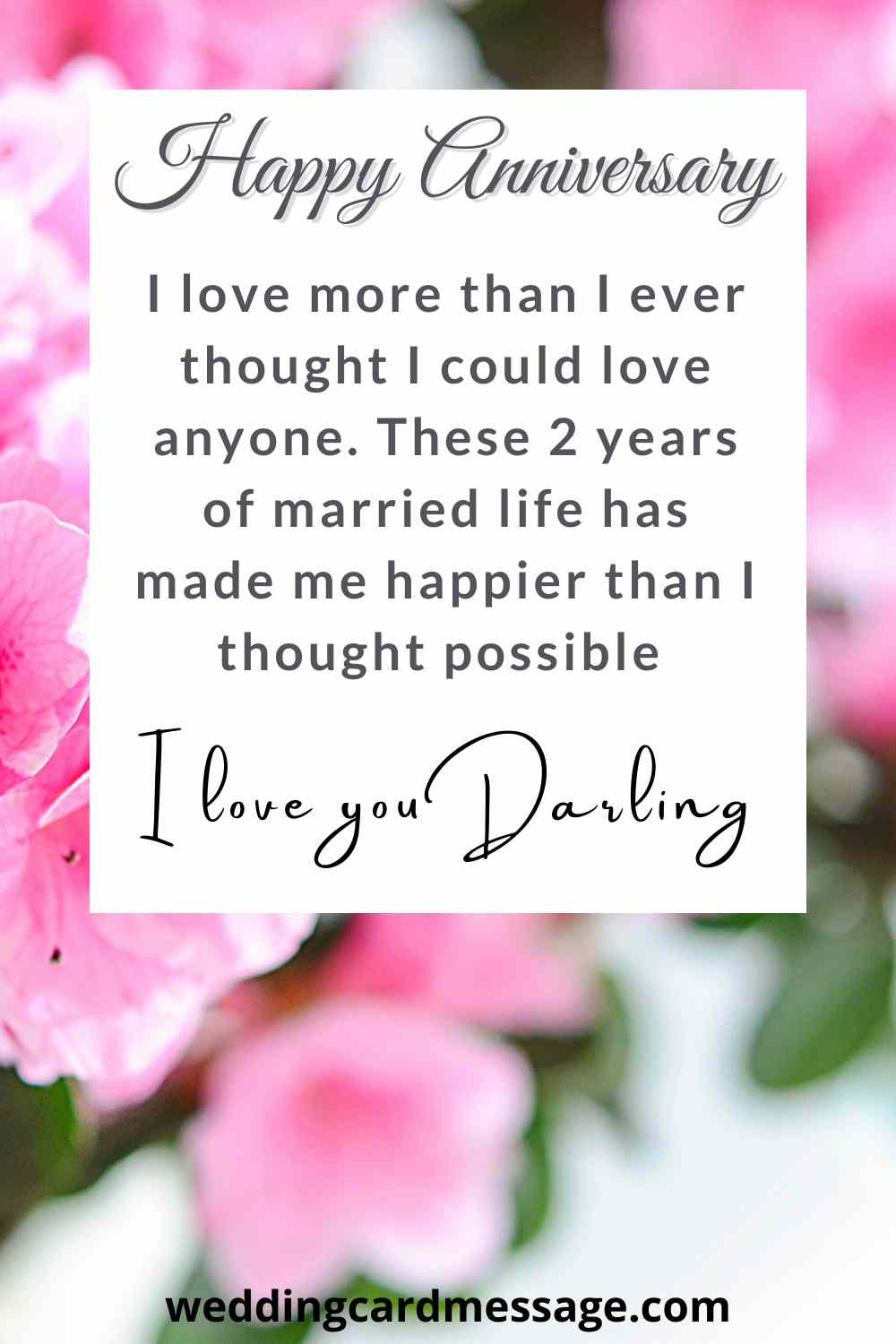 SEE MORE: 60th Wedding Anniversary Quotes
For Husband
I love more than I ever thought I could love anyone. These 2 years of married life has made me happier than I thought possible. Happy anniversary darling

2 years has gone by in no time and it has been better than I could ever have imagined. I couldn't love you anymore and will be forever grateful for making my life complete

2 years may not seem like the longest time but it indicates the beginning of our life together. After two years I am so excited at spending the rest of my life with you. Happy anniversary to my one true love

I am so lucky to have the man who makes me happier than anyone or anything else. I cherish every moment with you. Happy anniversary

Happy 2nd anniversary to my amazing husband. You have given me a happiness and love I never knew was possible. I am so grateful for everything you do.

Happy 2nd wedding anniversary to my rock. You bring me strength and security and a love like no other. I am so excited about the life we're going to have and the years we will share together

I made the smartest decision I've ever made marrying you. No one could have been more Peter t than you. Happy anniversary my husband

SEE MORE: Happy Anniversary Wishes for Husband
For Wife
You are my soulmate, the one who understands me like one else. Thank you for 2 years of utter bliss and for the years we have ahead. I love you honey

To my perfect wife – happy second anniversary. 2 years ago I married you and it was the best day of my life. Since then I've been blessed to share that life with you and it's only bought me joy and love. As we celebrate our second anniversary I am reminded just how wonderful you are and how much I love you

I will look back on these first 2 years with such happiness. To have you as my wife is like a dream. Happy anniversary

It's so strange to think that just a few years ago I had never even met you. And yet now we've celebrated two years as man and wife and I can't imagine my world without you. You make me happier than I ever thought possible. Thank you and happy second anniversary

Happy anniversary my darling wife and here's to the many more we have ahead of us. 2 years has been incredible but it's only made me want so many more with you

I never could have envisioned myself finding a true love like I have. And all I want now is to spend every moment I have with you. I am the luckiest man alive – thank you

We were destined for each other and the thought of spending so many years with my soulmate is beyond exciting. I love and cherish you more than I could ever hope to say in this short message. Happy anniversary

SEE MORE: Happy Wedding Anniversary Wishes for Cousin
Hopefully the 2nd anniversary Quotes and wishes here will have given you some ideas and inspiration for what to say to a friend or partner on a second anniversary.
Whilst a second anniversary isn't quite as big as a 1st it doesn't mean it should be overlooked. So wish your partner or friends a great day and let them know how happy you are for them to be reaching these big milestones as they journey through life together.