A 5th wedding anniversary is kind of a big deal. It may not be as exciting as the 1st or as incredible achievement as something like a 50th or 60th anniversarybut 5 years of marriage is still an impressive achievement.
Marriage can be hard, even with the person you love more than anyone else. So making it to 5 years requires hard work, cooperation and compromise.
That's why it's right to celebrate a fifth year wedding anniversary. Get the happy couple a cake, send a card, maybe even have a party?
But how do you congratulate someone on their 5th anniversary? What do you say to wish them a happy 50th anniversary?
Finding the right words to really show how happy you are for the couple can be hard.
So if you're struggling these happy 5th wedding anniversary quotes and wishes should give you all you need to really say how pleased you are for them and how truly you feel.
5th Wedding Anniversary Quotes
Congratulations on your 5th anniversary! Wishing you a wonderful day

To have spent 5 years together is a really great achievement. Wishing and knowing you'll have another 5 and then even more years ahead of you!

The last 5 years have gone by so quickly I forget you're not newlyweds! Congratulations on your anniversary

It may only be 5 years but just one look at you together and it's clear to see a love that will last forevermore. Best wishes for your anniversary

Congratulations on this anniversary. You've had 5 amazing years of happiness and love, with many more to come

Happy Wood anniversary. I hope you both have a great day with a brilliant party!

Your marriage and all you do sets a perfect example of how to be happy. Congratulations on your 5th anniversary and my best wishes

Even after 5 years of the problems most marriages face you've got through them without any issues. You're still as strong as you ever were and have a relationship that is built to last. My congratulations and happy 5th anniversary

You should be proud of getting to 5 years together, and be looking forward to the future. I hope you have lots more happy anniversaries. Congratulations

Congratulations and huge hugs on reaching your 5 year milestone. It's a big achievement and one not to be taken lightly. Happy wood anniversary!

SEE MORE: Wedding Anniversary Quotes to say 'I Love You'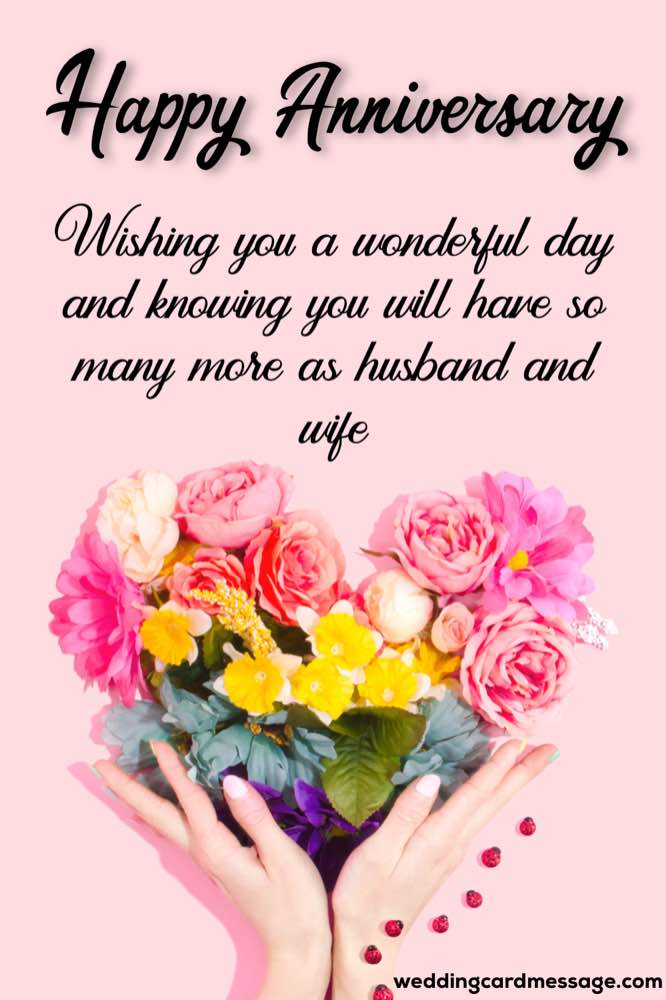 5th Wedding Anniversary Wishes
All my best for your 5th anniversary. Here's hoping it's a great day with lots of fun and celebrating

You've proved any doubters wrong. 5 years and still as madly in love as you ever were. Best wishes for a lovely anniversary

Use today to reminisce on the past 5 years and how wonderful they have been. My best wishes for your anniversary

Your marriage is built on a rock solid friendship, and that's what's seen you through 5 years. I'm delighted to wish you a happy 5th wedding anniversary

All the best for a happy wood anniversary. We are all so happy for you both

Today may mark 5 years of marriage but it is the bedrock for the next 50 years. Congratulations and my best for your anniversary

Here's to your first 5 magical years! And the many more to follow. All my loving wishes on your anniversary

Wishing you a brilliant anniversary and knowing you will have so many more as husband and wife

Sending my best and happy wishes to you both on such a lovely anniversary. 5 years of two people perfect for one another

All my love and wishes on getting to 5 years together. Have a truly wonderful day and enjoy yourselves

SEE MORE: Happy 1st Wedding Anniversary Quotes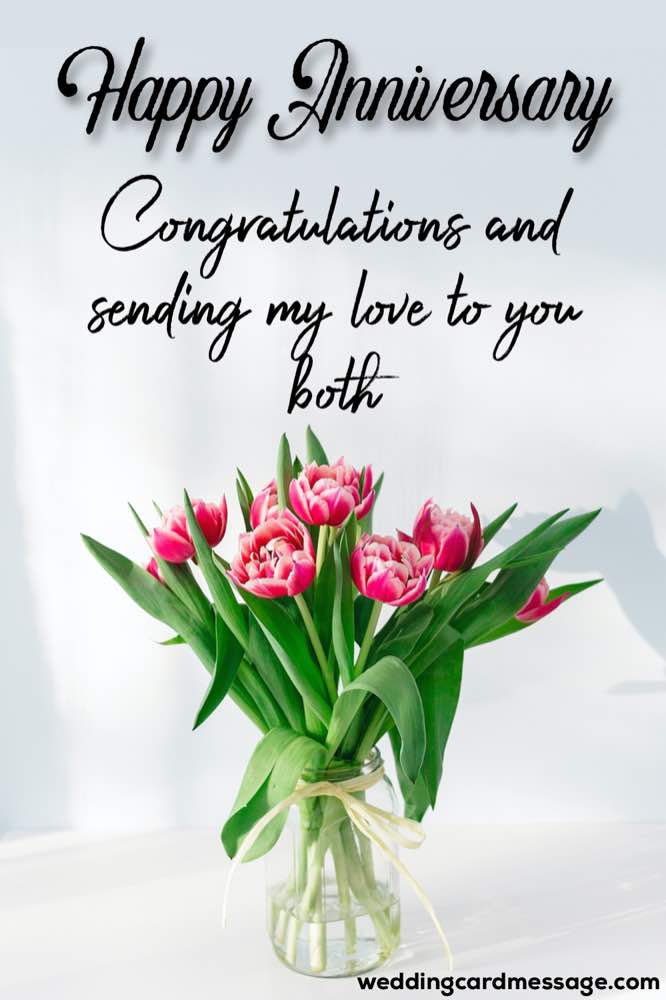 For Parents
Congratulations mom and dad. For the last 5 years you have give each other everything and just by watching I can tell just how much you care for one another. Have a great anniversary

Happy 5th anniversary mom and dad. I may be biased but there is no better couple than the two of you

I've been blessed to watch such a happy and loving couple as I've grown up. It has shown me just what true love really is – you. Congratulations on your 5th wedding anniversary

To my truly incredible mother and father – congratulations on your 5 years together and I'm so happy to have witnessed your love. Have a great day

I wish that one day I will find a love like you both have. It is inspiring and makes me want someone to hold and adore. You're both very lucky. Congratulations

I'm delighted to see you celebrating a wood anniversary. You love and marriage has been all I've known and what a joy it is to have seen. Congrats

I have used your love as an example. It's what I look for and want when it comes to a marriage. You are soulmates and know each other better than anyone else. And after 5 years your love only gets stronger. Congratulations

For Wife
I am indebted to you. I found a love like no other and each day it brings me such happiness. Thank you for everything my wonderful wife, and happy anniversary

With you by my side I feel like I can take on the world. That love you give me, it's like noting I've ever experienced. I am beyond lucky to have you as my wife. Happy 5th anniversary

Congratulations to us for 5 years of wedded bliss. I couldn't have imagined myself this happy, and it's all because of you

Even after 5 years I still find myself looking at you and wondering how I found someone so perfect. I can't wait for so many more happy years together

Happy anniversary honey. I'm going to spoil you so much today!

5 years ago today you made the happiest man alive. I will always love you, happy anniversary

You make me deliriously happy. Never could I have dreamed one person would make berthing so perfect. And yet here we are, 5 years later and every second with you is like heaven. Thank you for your love

For Husband
You are my rock and I find myself even more in love with you than 5 years ago. Happy anniversary honey

I am the luckiest woman on this planet and the last 5 years have gone by in the blink of an second. Happy anniversary

I want the next 5 years to be just the like the last – utter bliss! I am so madly in love with you it almost hurts. Thank you for being the most incredible man, and happy anniversary

I know how fortunate I am to have someone as amazing as you. Every moment I get with you I treasure like nothing else. Happy anniversary my truly special husband

I can't even think of my life before you were a part of it. You saved me and each day since I first met you has been filled with a happiness I can't begin to describe. Happy anniversary my darling

Happy 5th wedding anniversary to you hubbie. I'm more in love with you than than ever before. Here's to each year our love getting stronger and deeper

Marrying you was the most amazing day of my life. I cherish you and the life we've made so much, and can't even start to think of where I'd be without you. Happy 5th anniversary to my one and only

SEE MORE: Happy Anniversary Wishes for Husband
Hopefully the wishes and quotes found here will have helped say how happy you are for someone on their 5th anniversary.
Reaching out to friends or family on their anniversary is a lovely way to show you care. So make an effort to wish them a happy 5th anniversary and send your best wishes.