Whilst your cousin may not be the closest member of your family that doesn't mean you shouldn't celebrate and wish them a happy anniversary.
Anniversaries are magical days where you get to come together and enjoy marking a couples long standing love. And when it's one of your own family it's an even bigger deal.
So you want to express and say to your cousin just how pleased and happy you are for them on their anniversary.
But what do you say? Finding the words to wish them a happy anniversary can be hard.
You want it to be short and concise but also show just how happy for them you are. That's a lot to fit into a couple of sentences.
So if you're finding it tricky to come up with an anniversary message for your cousin try the example wishes below. They should help you to write your own or can be used
Anniversary Quotes for Cousin

Congratulations to my favorite cousin on your wedding anniversary. Hoping you have a lovely time today


Sending all my love to you both in your anniversary. Heres to many more!


Congratulations to you both! It only seems like yesterday you were getting married, and now you're celebrating a big anniversary. All my love for today and always


When I see you two I see a love as pure as can be. I wish you a great anniversary making lovely new memories together


Congratulations to my loving cousin on reaching such a big anniversary. You are the perfect couple and will be celebrating many more anniversaries for years to come


Happy anniversary to my cousin and his/her partner. Use today to think of all the good times you've had together and all the great memories you can look forward to baking in the future


All my love on this happy day. Celebrate your anniversary in style and enjoy all the fuss everyone makes you


You've made it through all the difficult times and are still standing. That shows how rock solid your relationship is. Congratulations on your anniversary


You deserve a day of joy and celebrating on this big anniversary. I'm just so pleased for you and delighted to get to enjoy it with my cousin


Congrats to you both on your anniversary. You found the perfect man/woman when you got married and I'm so happy for you. Happy anniversary cousin


You deserve a brilliant day on Your anniversary, cousin. I'm sending my best wishes and big hugs for it to be all you dreamed of


Best wishes on your anniversary cuz. Enjoy a fantastic day and remember why you fell in love in the first place


Sending all my love and best wishes to you on your anniversary. We don't get to see enough of one another but that doesn't mean I'm not thinking of you on date like today. Congratulations and enjoy


I'm sure I'm not the only one who is wishing you a happy anniversary today. There is so much support and love for you and the happiness you have found. Congratulations and the best


Congrats to my little cousin. Wishing you and your partner well in your anniversary. Here's to many more years by each other's side


You provide the ideal example of a loving relationship. Seeing you with your other half and how happy you are is so inspiring. Enjoy your anniversary


Dear cousin, all the best for your wedding anniversary. I sadly can't be there but will be thinking of and raising a glass to you

SEE MORE: Wedding Anniversary Quotes to say 'I Love You'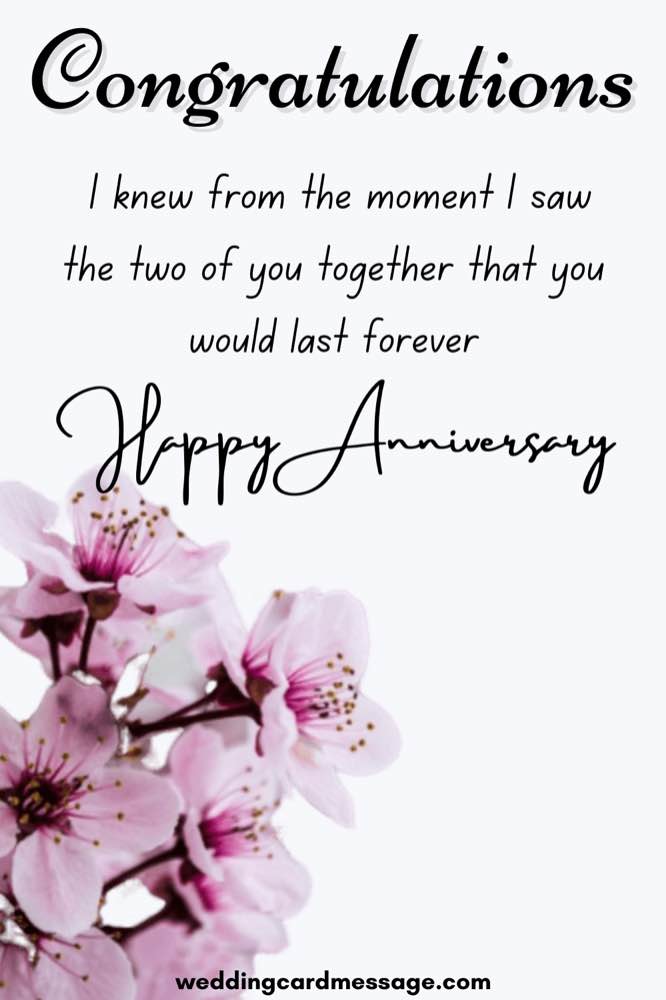 Anniversary Wishes for Cousin

Use today to create some brand new memories that will last a lifetime. All my loving best wishes in your anniversary


You're an inspirational couple and it gives me such joy to be able to celebrate Your anniversary. Best wishes for today


Reaching such a significant milestone is a really impressive achievement. Congratulations to you my cousin on this anniversary and all the best for the coming years


Hoping but really knowing that you will have even more wonderful years as husband and wife. Congratulations on today though and a have a truly happy anniversary


You make a gorgeous couple and this is the happiest I've ever seen you cousin. Sending my best wishes for your anniversary


Congratulations on hitting a big milestone. As a couple any anniversary is cause for celebration and I hope you enjoy your day


We all look up to you two as a couple that demonstrates how amazing true love can be. Congratulations on your anniversary cousin and all the best


Against all the odds you have made it through years together. My best wishes for a lovely anniversary

SEE MORE: Funny Wedding Anniversary Quotes

To see my little cousin celebrating his/her anniversary with the one they love is so heartwarming. Have a truly fabulous day


Treasure days like today. Anniversaries like this don't come around very often so enjoy every second of it


Sending you hugs and kisses on your anniversary cuz! You have found a happiness like no other, it's amazing to see


Congrats to you cousin! Cherish days like your anniversary, they're so special. I hope yours brings you much joy and laughter


All our loving best wishes on your anniversary. You have a love that is inspiring to all of us


Sending our love to a cousin who never fails to make us smile. Enjoy your anniversary with your one true love and let it be a reminder of just how important they are to you


Happy anniversary to our cousin! We look forward to celebrating with you both


You have been each other's everything and that love you have will never die. Happy anniversary


Happy anniversary to the both of you and enjoy spending even more time with each other today and in the years to come


Cherish these moments. They don't come around very often. Happy anniversary to my cousin and their wonderful partner

SEE MORE: Happy 1st Wedding Anniversary Quotes
The example wishes and messages for your cousins anniversary provided here should have helped you to say just how pleased you are for them. Anniversaries can be really momentous, and signify huge milestones for couples.
So use these best wishes to send your love and make it clear how happy you are for your cousin and his or her partner on their anniversary.