Reaching 10 years as a married couple is no small achievement. Sadly many marriages never make it that far.
So a 10th wedding anniversary, one that demonstrates the strength and love of a couple, deserves recognition and celebrating.
You should make the effort to congratulate the happy couple on getting to a milestone like 10 years together.
But what do you say to wish someone a happy 10th wedding anniversary?
Coming up with a message for a card or the right words to say can be tricky.
So if you're having trouble then use these happy 10th anniversary quotes and wishes to really show how you feel and
10th Wedding Anniversary Quotes
Congratulations on your 10th anniversary! Sending all my love for you to have a great day

To have got to 10 years as a married couple is a really incredible achievement. Sebring my best wishes for a great day and many more happy years together!

It only feels like yesterday you were getting married and now it's been 10 years! I can hardly believe it. But I'm so happy for you both, congratulations

When I look at you I see a love as pure and perfect as there can be. Best wishes for your 10th anniversary

Congratulations on making it to 10 years. All that time and you're still as strong as ever

Happy tin anniversary. Here's to a wonderful day and hopefully you get a better present than something made of tin!

You have shown us all what a happy marriage truly is. Congratulations on your 10 years together

After 10 years by each other's side you're still as strong as you've ever been. Congratulations and happy 10th anniversary!

Reaching 10 years as man and wife is something to be proud of. Congratulations and here's to many more years of love and happiness with each other

Our congratulations and best wishes to you on this amazing day. 10 years is so impressive! Happy anniversary

SEE MORE: Wedding Anniversary Quotes to say 'I Love You'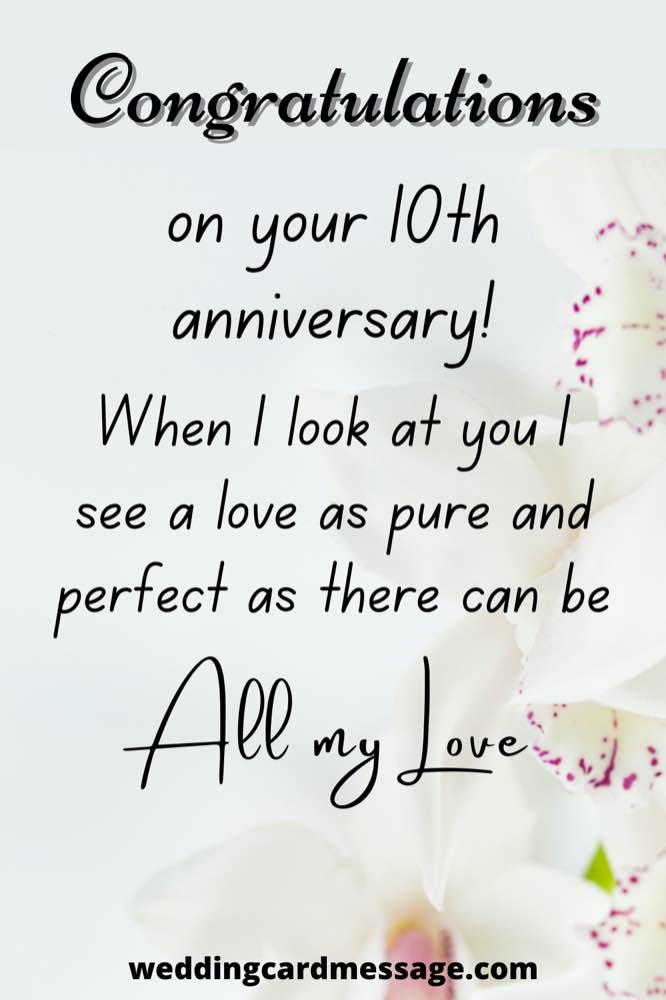 10th Wedding Anniversary Wishes
All the best for your 10th anniversary. Have a really great day and remember why you fell in love all those years ago

Wishing you lots of love on your wedding anniversary. 10 years is a big accomplishment and deserves a big celebration

Take today to look back at the amazing last 10 years you've had and remember all the best times. All the best in your anniversary

You've tensioned best friends through 10 years and never faltered. You're a truly inspiring couple and it's an honor and pleasure to wish you a happy 10th anniversary

My best wishes for you to have a happy 10th anniversary. It's such a great achievement and I know so many people are impressed by it

Happy tin anniversary. It's hard to think of any other couple that says "love" like you do. Congratulations and all the best

Making it to 10 years is incredible and you still look just as in love as when you first met. My best wishes and big hugs for a lovely anniversary

Wishing you a wonderful 10th anniversary and knowing there will be so many more years of happiness for you as a couple

Sending you lots of happy anniversary hugs and kisses. 10 years is a long time, even when you're in love!

All my love for reaching a really impressive milestone. You deserve a special day

SEE MORE: Funny Wedding Anniversary Quotes
For Parents
Congratulations to you mom and dad. After 10 years I can see you're still each other's one true loves, and that will never end. Have a great anniversary

There will never be a couple that epitomises love like you do. Happy 10th anniversary mom and dad

Watching the love you have for one another has been the best example of what a happy marriage really is. Congratulations mom and dad, have a great anniversary

I'm absolutely thrilled to be able to see my mother and father celebrate 10 happy years together. Have a wonderful day

One day I hope that I have what you have – a love so strong and perfect it could never be broken. Congratulations mom and dad

You are the best parents in the world and I'm so lucky to have you both. Happy anniversary and enjoy your day

It's your love and relationship that I've seen as I've grown up. It's my reference for what love should be and I can say with all my heart I couldn't have had a better example. You are what love is all about. Congratulations mom and dad

SEE MORE: Happy 5th Wedding Anniversary Quotes
For Wife
10 years have flown by and I can say with all honesty they've been the happiest of my life. Thank you for everything my darling and happy 10th anniversary

You are my everything, my soulmate and my best friend. After 10 years together all I want us another 100 more. Happy anniversary

I don't say it enough but you make me happier than I ever imagined I could or would be. There isn't a day that goes by where I don't consider myself the luckiest guy in the wired for finding someone as amazing as you. Happy anniversary babe

10 years ago today you made me happier than I've ever been. And each year since has just been better and better. Thank you for your love abs everything you do

I still can't believe it's been 10 years of marriage. It feels like a dream that I could have spent all this time with you as my wife. You have made my life whole and filed it with a happiness that is everlasting. Thank you and happy anniversary

We found a love that could never be matched. 10 years later and it's like a candle that never goes out. I love you with every fibre of my being, happy anniversary my sweetness

We have something so special. I can't put it into words but the way I feel with you is nothing I've ever experienced before. I just love you with all my heart

SEE MORE: 20th Wedding Anniversary Wishes
For Husband
Since the first day we met I've been madly in love with you. Even after 10 years that love hasn't wavered for a second. Happy anniversary my amazing husband

Every second with to is a dream, and one I hope I never wake up from. I'm happier than I ever thought I could possibly be. Thank you for 10 truly wonderful years

These past 10 years have been so great, I can't wait to spend many more decades with you by my side

Marrying you was the smartest choice I ever made. It has brought me a life I could only have wished for and a love that seemed unimaginable. Thank you for all you've done for me, and happy anniversary

I have been blessed with a man like you. I treasure each moment we are together and will do so forever more. Happy 10th anniversary my love

Happy anniversary to my adoring husband. I am so grateful for everything you do and all you've brought to my life. Every day with you is all my dreams come true

Happy 10th wedding anniversary to the love of my life. I am still just as in love with you as when we first met and can't wait for many more years of sharing our lives and happiness together

SEE MORE: Happy Anniversary Wishes for Husband
These messages and wishes for a happy 10th anniversary will hopefully show you the sorts of things you can say to someone on such a big day.
Anniversaries are always exciting and a time of celebrating so make the effort to show the happy couple just how pleased for them you are.