Reaching a milestone in your marriage is a big deal. A wedding anniversary marks the day you committed to one another, and is a reminder of the years you've shared as man and wife.
So a 20th wedding anniversary (also called a China anniversary) is a huge day in a couples life. 20 years together is pretty impressive!
And a big achievement like twenty years as a married couple means congratulations are in order.
But what do you say to congratulate a couple on their 20th wedding anniversary? How do you wish someone a happy 20th anniversary?
Finding the perfect words to show just special an anniversary like a twentieth is can be tricky.
So if you need some help then these happy 20th wedding anniversary quotes and wishes should give you some inspiration for a lovey anniversary greeting.
20th Wedding Anniversary Quotes
Congratulations on your 20th wedding anniversary! Hoping you have a wonderful day

Happy 20th wedding anniversary. Have a great day

Happy 20th anniversary! Reaching 20 years together is a huge accomplishment and I couldn't be happier for you both. Congratulations

Congratulations on 20 happy years of marriage. You two were and always will be perfect for one another

Wishing you a wonderful 20th anniversary filled with laughter, love and joy

Wishing you all the best for another 20 more years of happiness together! Congrats

The past 20 years seemed to have flown by! But you're as strong now as you were on that first day you got married. My congratulations on your anniversary

You are love personified and your 20 happy years together proves it. Best wishes for a lovely anniversary

Congratulations on your anniversary. Twenty years of happiness and love and you've still got a bond as strong as any other couple

Here's hoping you have a truly perfect day and enjoy all the joy your anniversary brings

SEE MORE: Wedding Anniversary Quotes to say 'I Love You'
20th Wedding Anniversary Wishes
You have set an amazing example of what a happy marriage is to all of us. Best wishes on your 20th anniversary

Even after all these years and through the good times and the bad your bond is as strong as it ever was. Congratulations and happy 20th anniversary

You should be very proud of reaching 20 years together. Long term commitment like that takes work and effort, and doesn't happen by chance. All my best for many more happy anniversaries in the future

Big hugs and wishes for getting to a massive milestone. 20 years is something to be really pleased with. Happy anniversary

Best wishes for your 20th anniversary. I hope you get lots of attention, gifts and just enjoy a great day

SEE MORE: Happy 2nd Anniversary Wishes
All our best wishes for a lovely anniversary! We are so happy to see you reach 20 years of wedded bliss

Use today to reminisce on all the wonderful moments you've had together and to look forward to all the opportunities you will have to make more in the future. My best wishes on this lovely anniversary

To two best friends whose love and friendship has endured over 20 years. It's with great pleasure I wish you a happy anniversary

We are all so impressed and happy to be wishing you a happy 20 anniversary. May your next 20 years be even more joy filled than the first

Wishing you a brilliant 20th wedding anniversary and knowing you can look forward to so more happy years as husband and wife

SEE MORE: Happy Anniversary Wishes for Husband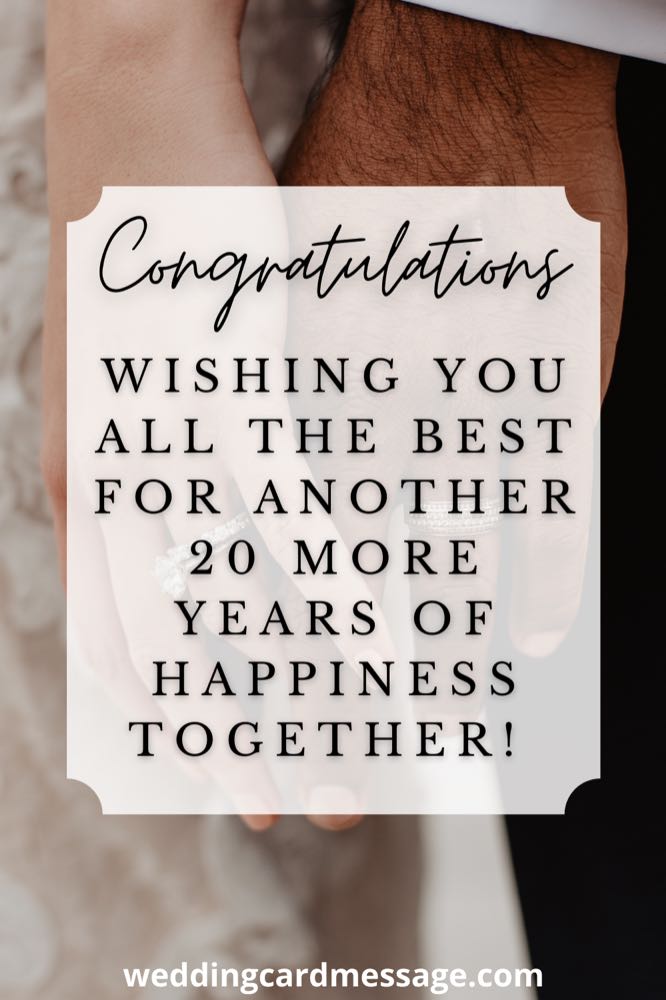 For Parents
Congratulations to my amazing parents. Together you have shown what true love really is. I am inspired and in awe of how perfect you are together. Have a truly great anniversary

You will always be the one couple I look up to, the one couple that exemplifies what a relationship should be. Happy anniversary mom and dad

Congratulations to the best parents in the world. I'm so happy to see you celebrate 20 years together. Have a special day

Your love has inspired me more than I can say. I just hope that one day I find a love that even comes close to yours. Congratulations mom and dad

In my short life I've never seen a love as strong and inspiring as yours. It's the benchmark by which I compare all other relationships to and none of them come close to what you have. Have a fantastic and well deserved 20th anniversary

Dear mom and dad, I hope you enjoy your anniversary and know just how much I admire all you've create together. Thank you for being such awesome parents

You've been a partnership for 20 years now and are only getting better together. All my best for a really brilliant anniversary

SEE MORE: Happy 40th Anniversary Quotes
For Grandparents
To my loving grandparents – have a wonderful 20th anniversary. It makes me happy to see you both so happy

To see you so happy together is everything I want. You are my guide and inspiration and I'm so happy for you both. Congratulations on your anniversary

Congratulations on 20 years and wishing you lots more happy years by each other's side

To my dearest grandparents, have a joy filled 20th anniversary!! All my biggest hugs and congratulations

Congratulations on hitting 20 years of marriage. It warms my heart to see two people so in love. Have a lovely day gran and grandpa

Today we celebrate your 20 years as man and wife. Huge congratulations are in order and all our love in such a inspiring day

My best wishes on your big day. 20 years is no small feat and yet you have both made it look so easy. Many congratulations

SEE MORE: Happy 1st Wedding Anniversary Quotes
For your Partner
To my dearest husband – thank you for the happiest twenty years of my life. I can't wait to spend the next twenty falling even more deeply in love with you

After 20 years by my side I love you even more than I thought possible. Happy anniversary my darling

20 years ago today was the happiest day of my life. To finally marry the man/woman of dreams bought me a joy that is incomparable. And these past 20 years have only made me even happier. I love you so much, happy anniversary

20 years has passed in a blink of an eye and yet it has seemed like a wonderful dream. Spending all that time with you is more than I could have ever hoped for. Thank you for making me happier than I thought I could ever be

Marrying you was the smartest choice I've made. It has blessed me with the greatest wife, friend and lover in this world or any other. You are my everything. Happy anniversary

Happy 20th anniversary to my rock. 20 years May have passed but I love you even more now than on that first day we met. We have so many more years to look forward to and knowing you'll be there by my side makes me giddy with excitement. Happy anniversary from your loving wife

I would spend not just another 20 years with you but an eternity. Your love means more to me than anything else, and I am lost without you. Happy anniversary

SEE MORE: Happy 10th Wedding Anniversary Quotes
You should now feel more confident about showing a relative or friend just pleased you are for them on their 20th anniversary.
Reaching 20 years is a massive achievement and so an anniversary gift or card with a few words of congratulations is a small gesture that can show just how happy you are for the couple.