Attending a Jewish wedding is a little different from other weddings. And one of the questions you may have is "what do I write in a Jewish wedding card?"
It's fairly straightforward when offering your best wishes at a Christian or non religious wedding, but if you aren't familiar with Jewish traditions you may be worrying about getting something wrong. Or saying the wrong thing.
So use these examples wishes and messages to let a Jewish couple know how happy you are for them on their wedding day.
Traditional Jewish Wedding Wishes
Mazel Tov! Wishing you blessings, always
May all your days be lived happily ever after and filled with love and laughter. L'Chaim!
May today's joy and love continue forever. Mazel Tov
Congratulations and may today be the start of you living all your dreams together
May your marriage be blessed with unending love and laughter
Here's to a long and happy marriage! Mazel Tov!
May God bless your wedding and bring you love and peace
Mazel Tov on your marriage! Enjoy your lives together
Mazal Tov for your Marriage! Have a wonderful life as man and wife
May God grant you a life of blessings and joy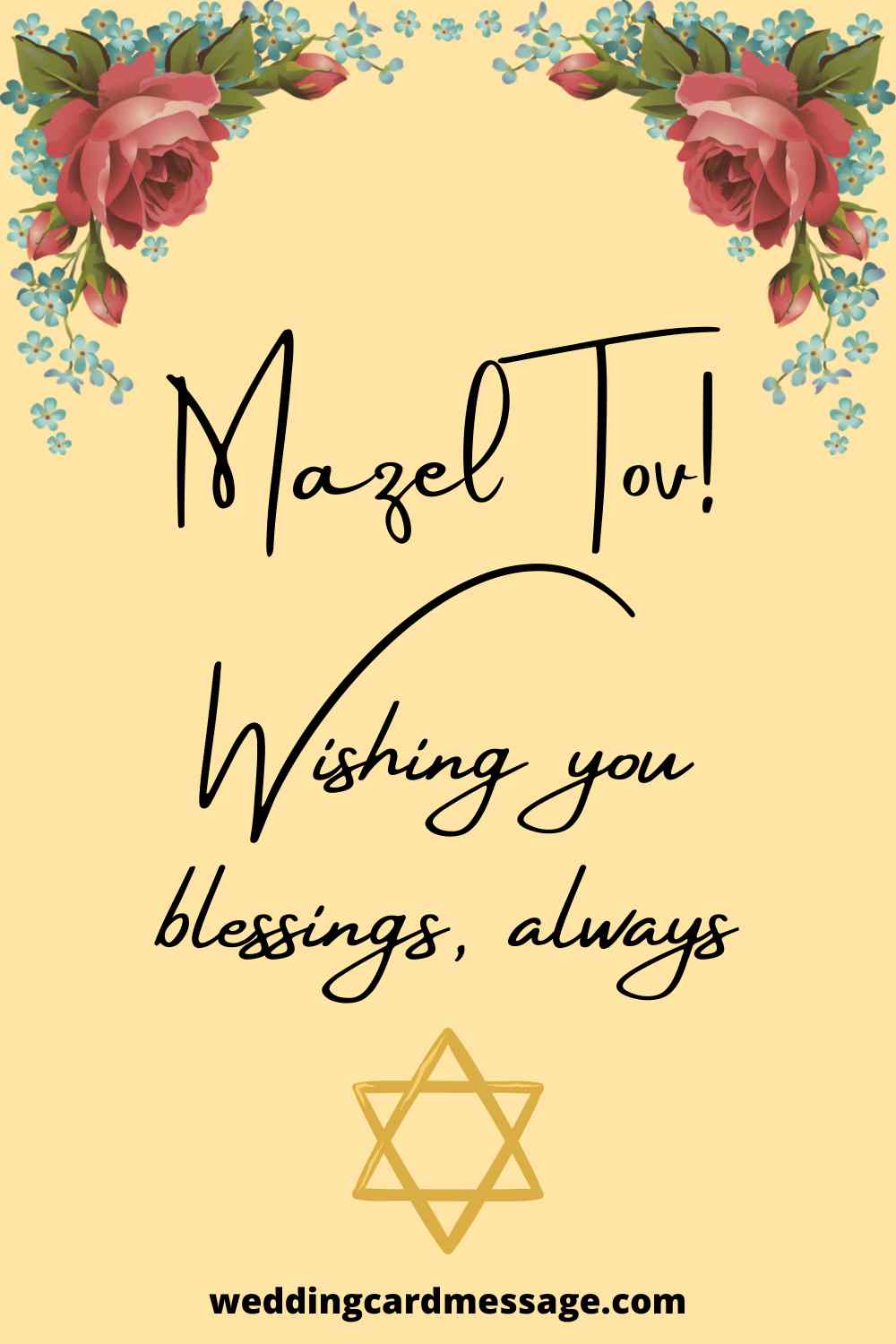 READ MORE: Top 100 Wedding Wishes for the Couple
Wedding Messages for a Jewish Couple
Whilst the traditional wishes above are perfect for a more religious wedding, many couples won't be as concerned about that aspect. So you can also use regular wedding wishes or perhaps combine abc mix the two, using the examples from here and the traditional ones.
Wishing you both a lifetime of happiness together. Congratulations
But rich or poor, quick or slow, may you know nothing but happiness from this day forward
May your lives be filled with everlasting joy
May all your hopes and dreams come true, and may the memory of this day become dearer with each passing year
We are beyond excited to be able to share in such a perfect day with you. Congratulations
Today is the start of a new chapter in your lives. Enjoy a truly special life together
May your love only grow stronger as each year passed. All my love on your big day
Wishing you both all the love and happiness you deserve on your wedding day
Hoping that the joy today brings you is only the beginning of the happiness you will have together
All our best wishes for a wonderful wedding day and then a happy life thereafter
SEE MORE: Wedding Messages for the Couple
Jewish Wedding Quotes
These quotes mainly come from the Talmund, a book of Jewish laws and writings. They are wise and profound quotes about love and marriage.
"A husband and wife are one soul, separated only through their descent to this world. When they are married, they are reunited again" – The Zohar, I91a
"All the blessings of a household come through the wife, therefore should her husband honour her" – Bava Metzia 59a
"Only love gives us the taste of eternity" – Jewish Proverb
"Love transforms us. It makes us beautiful in the eyes of those who love us. It makes us real" – Rabbi Jonathan Sacks
"A husband and wife are one soul, separated only through their descent to this world. When they are married, they are reunited again" – Zohar I91b
"I have loved you with an everlasting love" – Yirmeyahu (Jeremiah) 31:3
"If your wife is short, bend down and whisper to her" – Bava Metzia 59a
"You can't force anyone to love you or lend you money" – Jewish Proverb
SEE MORE: Wedding Quotes: 101 of the Best Quotes for the Wedding Day
Funny Jewish Wedding Wishes
Do yourself a favor and listen to me: listen to her!
My condolences on your marri… I mean my congratulations on your marriage!
You know what you could do before getting married? Anything!
Grooms, once you get married remember that when you have a discussion with your future wife, always get the last two words in: "Yes, dear"
"The secret of a happy marriage remains a secret" – Henny Youngman
The five most essential words for a healthy, vital relationship are "I apologize" and "You are right"
The groom is the kind of guy you don't have to worry about introducing your parents to. That's why [brides name] didn't worry about introducing [grooms name] to hers until today
Marriage is like deleting all the apps on your phone except one
Now that you're married, you don't need Google anymore, you can just ask your wife for the answer!
"Marriage is like a video game. Starts off easy, then gets harder, and eventually you go online and find a way to cheat" – Chris Burns
SEE MORE: Funny Wedding Quotes: 64 Hilarious Marriage Sayings
We hope these Jewish wedding messages will have helped you to wish the happy couple a wonderful day and life together.
Whilst it may seem a little daunting if you aren't Jewish to know what or how to say it remember that as long as you are respectful and sincere then most couples will just appreciate you're kind words. So don't feel too anxious about getting anything wrong.