Is someone getting married and you want some inspirational quotes about marriage to write in a wedding card? Need some help finding the perfect happy marriage quote?
Keep reading!
Marriage is an inspiring thing. It celebrates love and the coming together of two people. Who can fail to be inspired by that?
But sometimes it can help to be reminded of how amazing marriage can be. We can forget about good parts of being married and focus on the bad or mundane.
So if you want to rekindle some of the spark that has started to fade from your marriage, inspire a newly married couple just embarking on their new lives together or need heartfelt quotes about marriage for a wedding message or card then try these sayings we've collected.
Inspirational Quotes about Marriage
use these important quotes to inspire some newlyweds, remind others about how wonderful being married is or just as some great marriage advice.
"Marriage is the most natural state of man, and the state in which you will find solid happiness" – Benjamin Franklin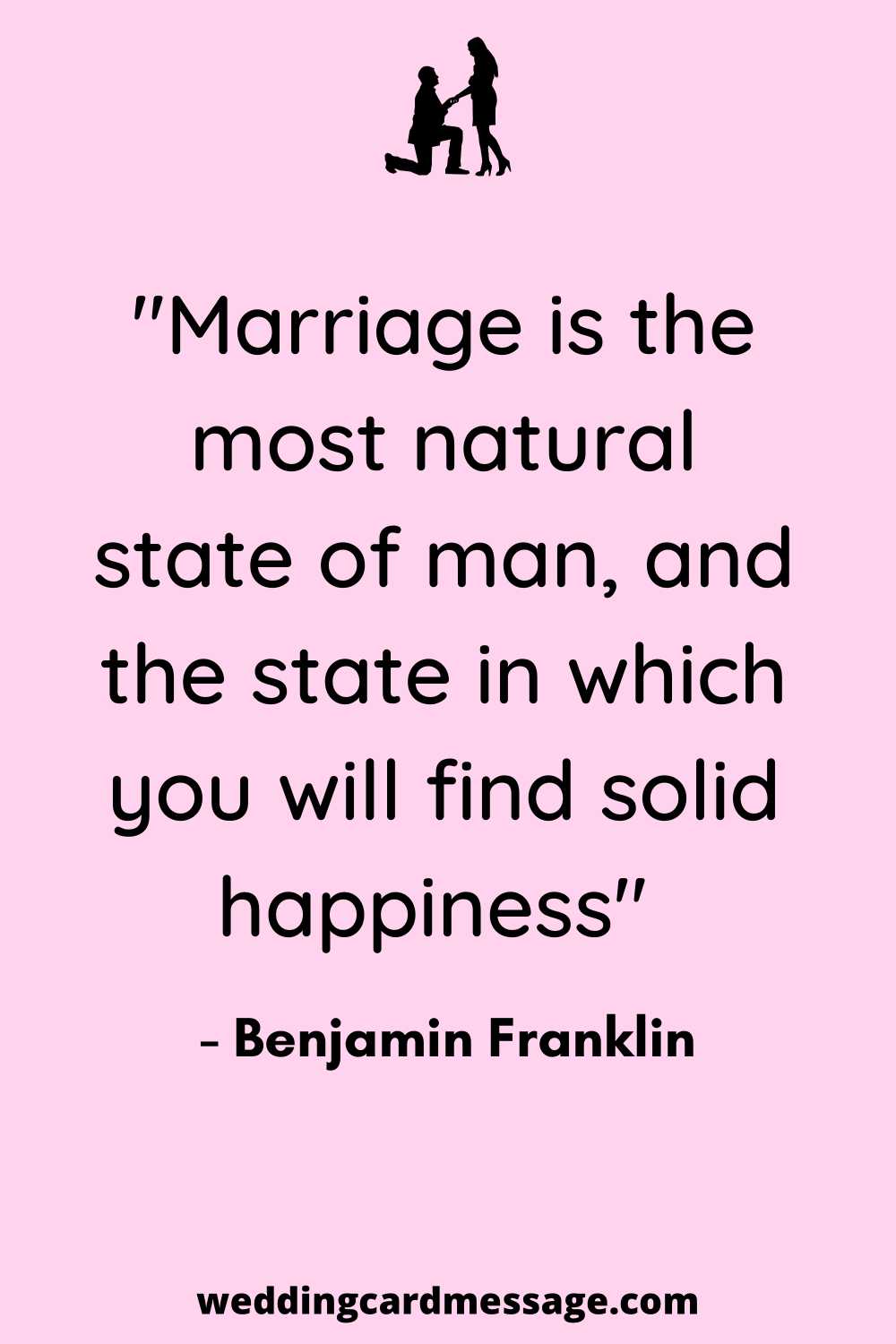 "A happy marriage is the union of two good forgivers" – Ruth Bell Graham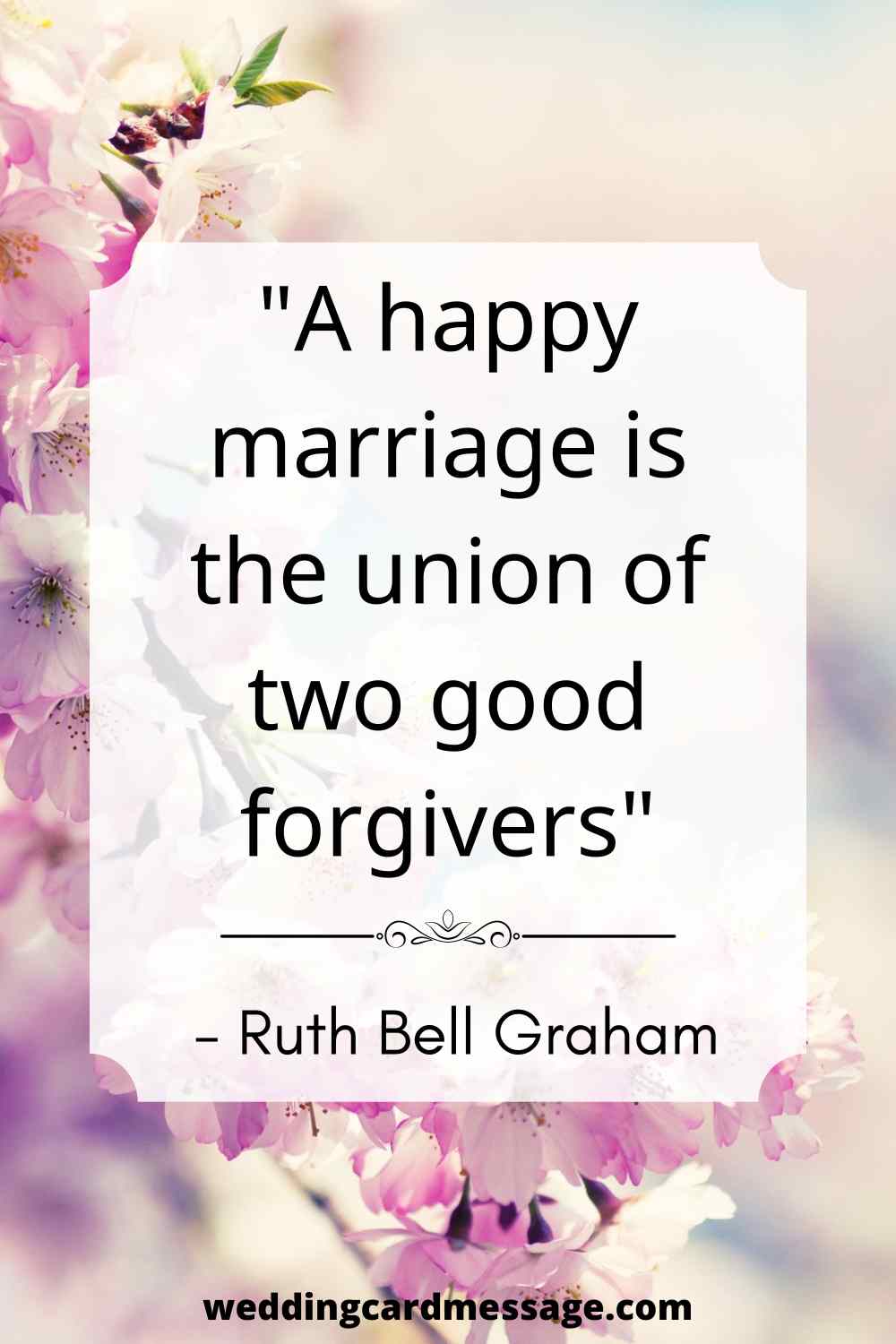 "A successful marriage requires falling in love many times, always with the same person" – Mignon McLaughlin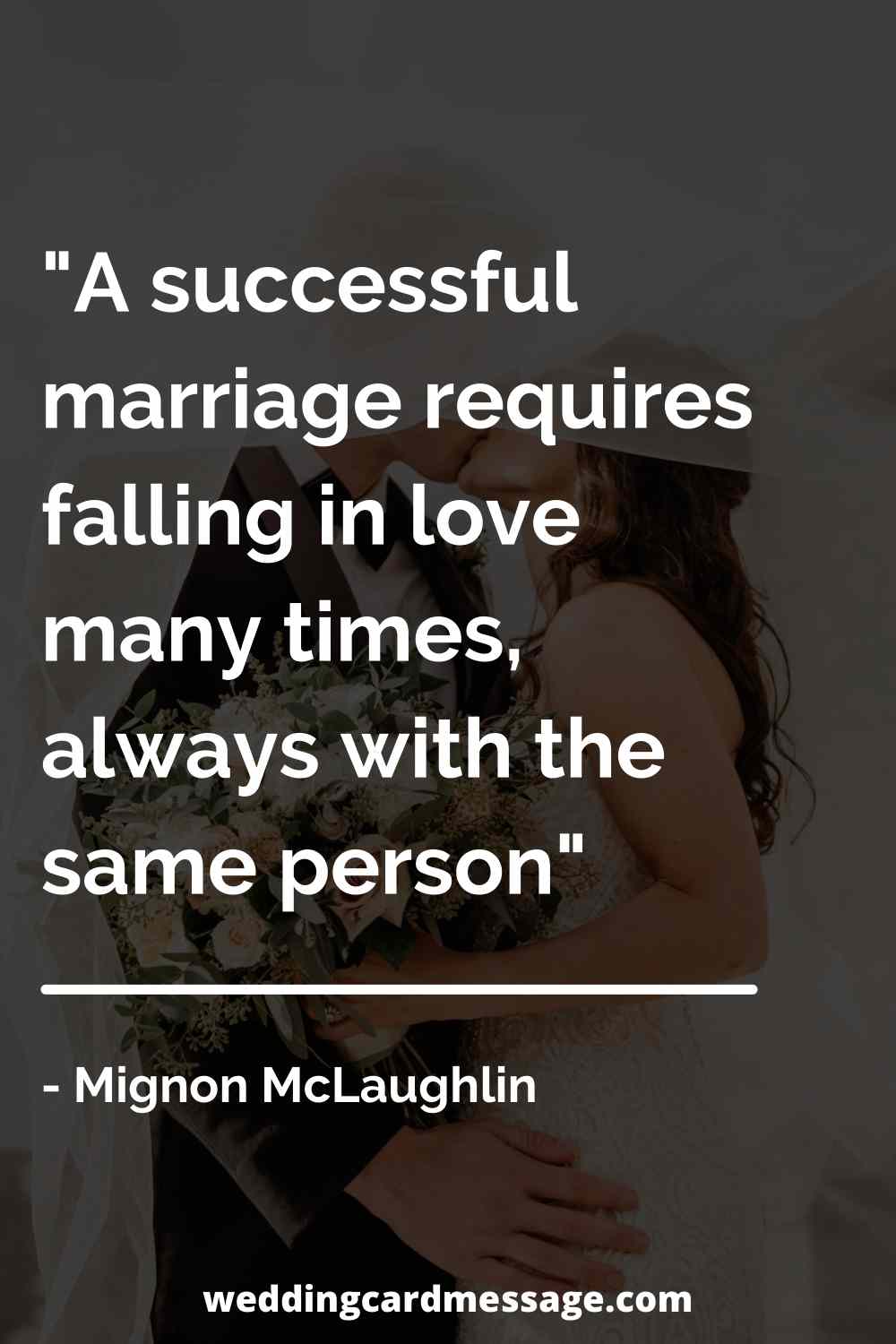 "Sexiness wears thin after a while and beauty fades. But to be married to a man who makes you laugh every day, now that's a real treat" – Joanne Woodward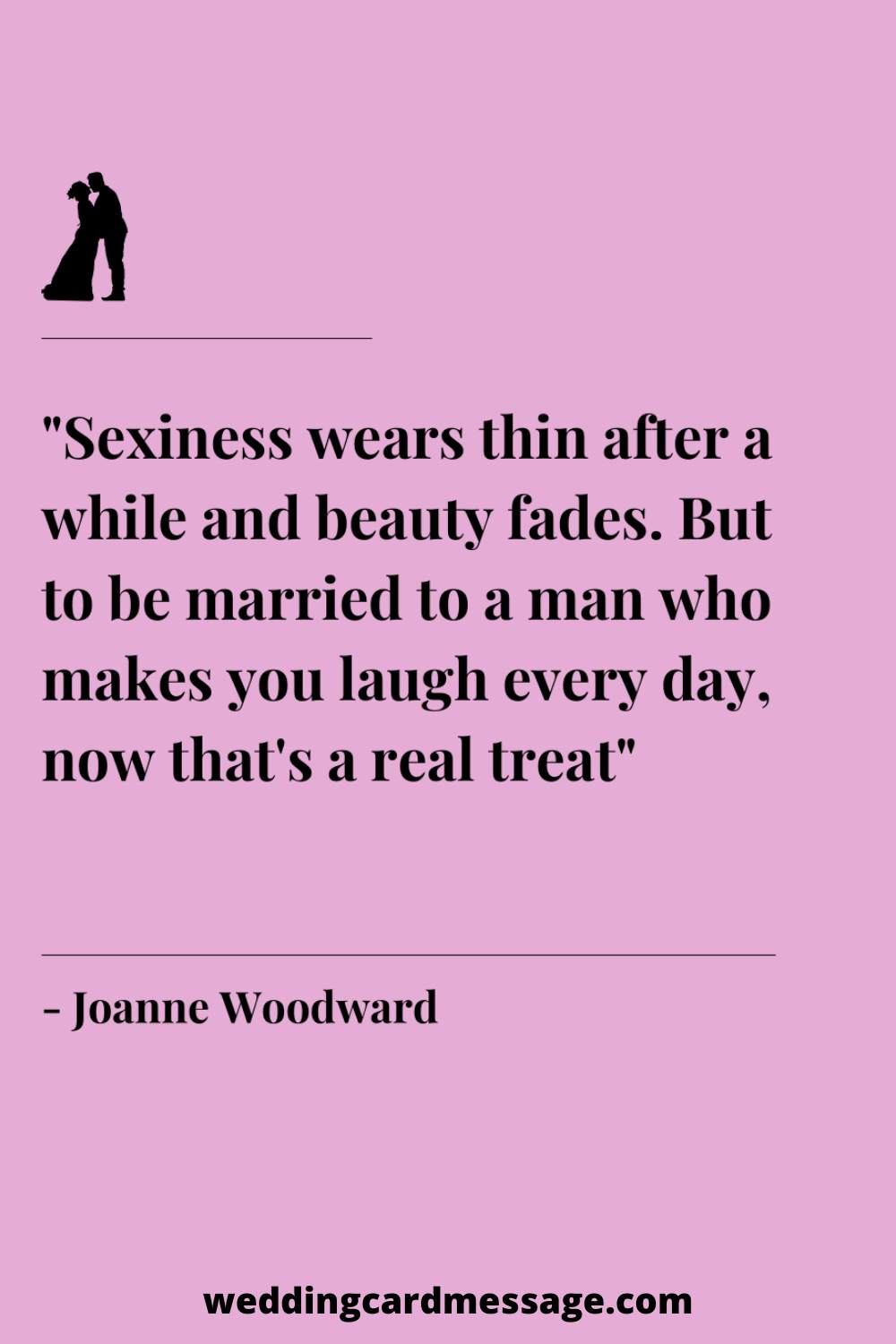 "There is no more lovely, friendly and charming relationship, communion or company than good marriage" – Martin Luther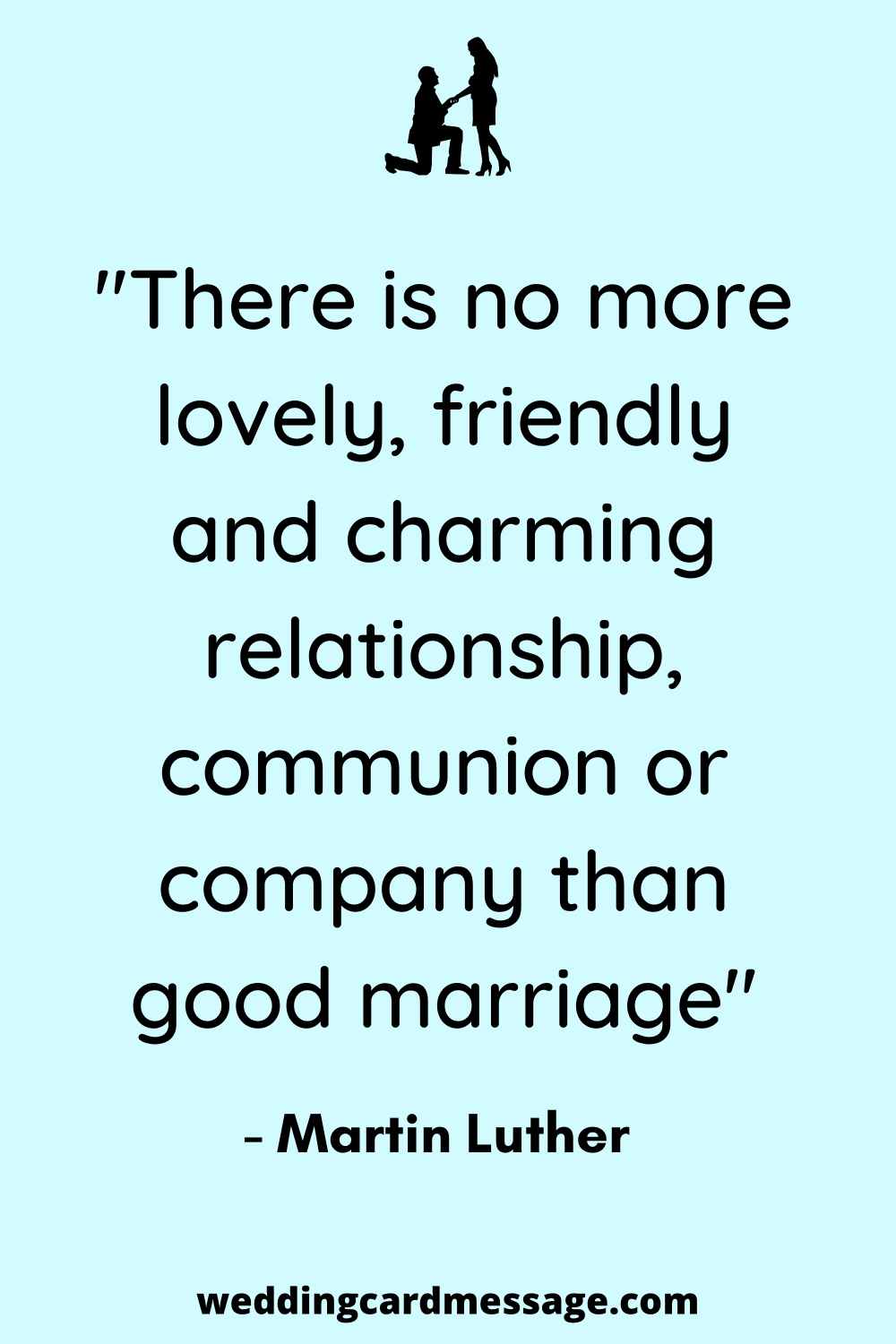 "A great marriage is not when the 'perfect couple' comes together. It is when an imperfect couple learns to enjoy their differences" – Dave Meurer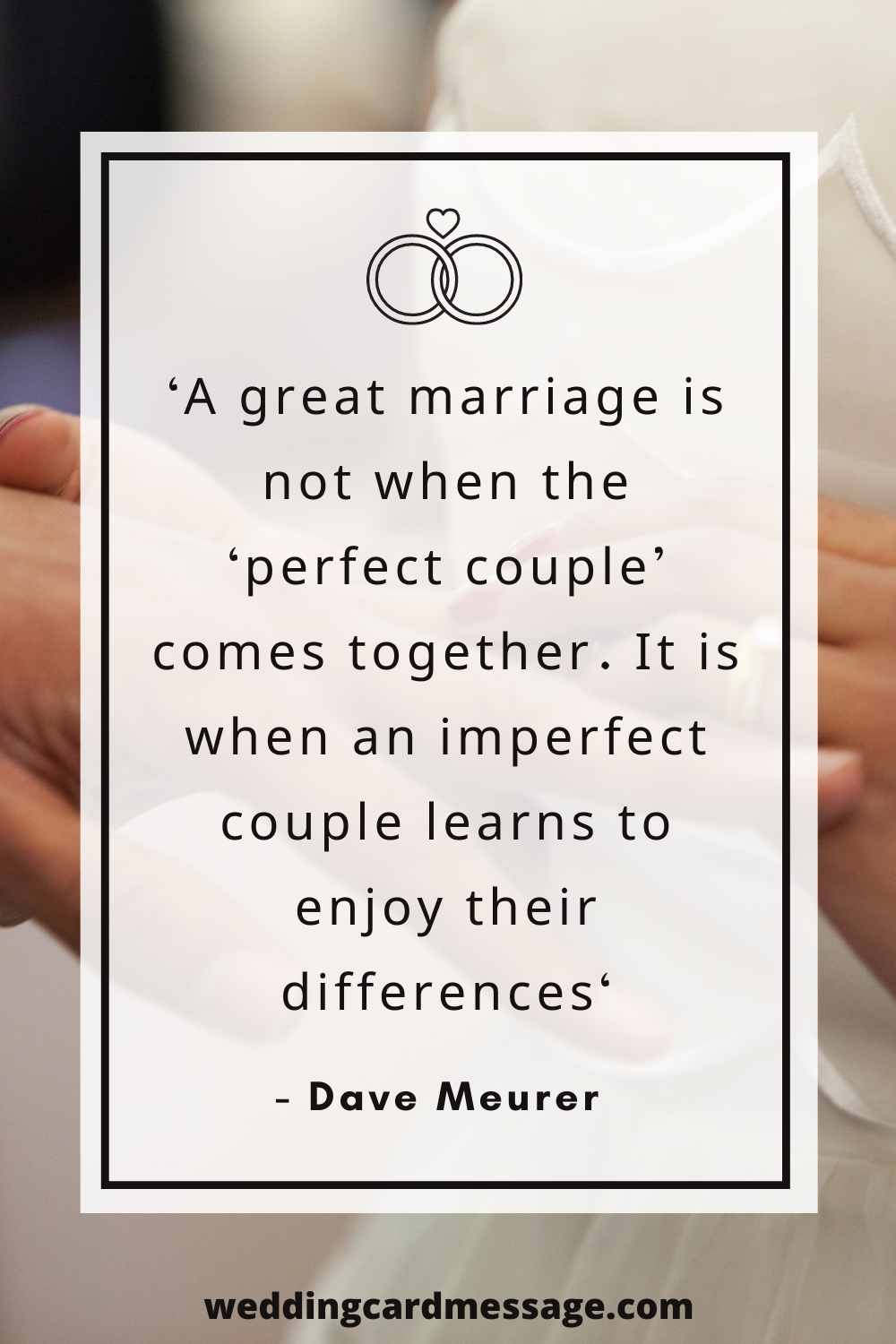 "The highest happiness on earth is the happiness of marriage" – William Phelps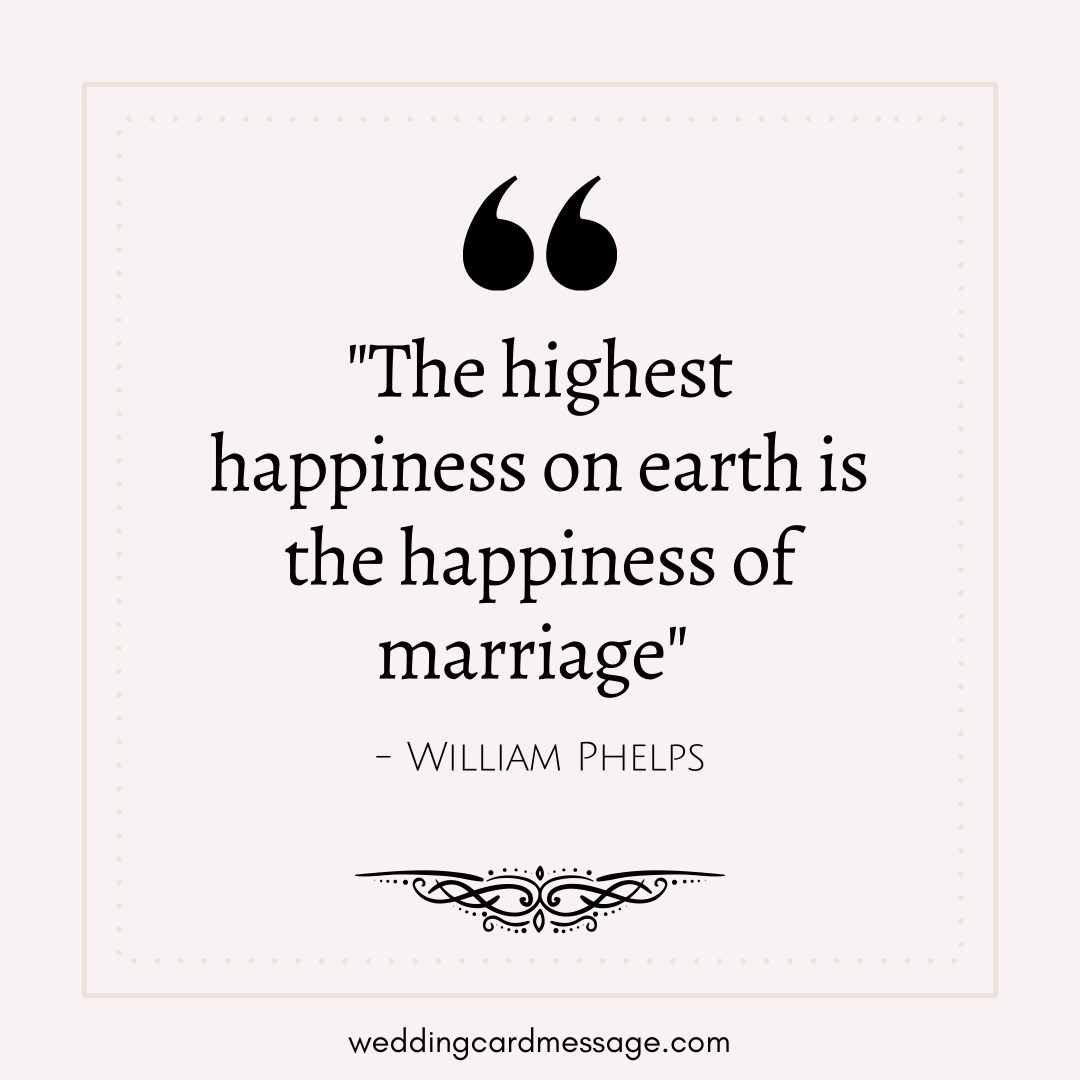 "A happy marriage is a long conversation that always seems to short" – Andre Marius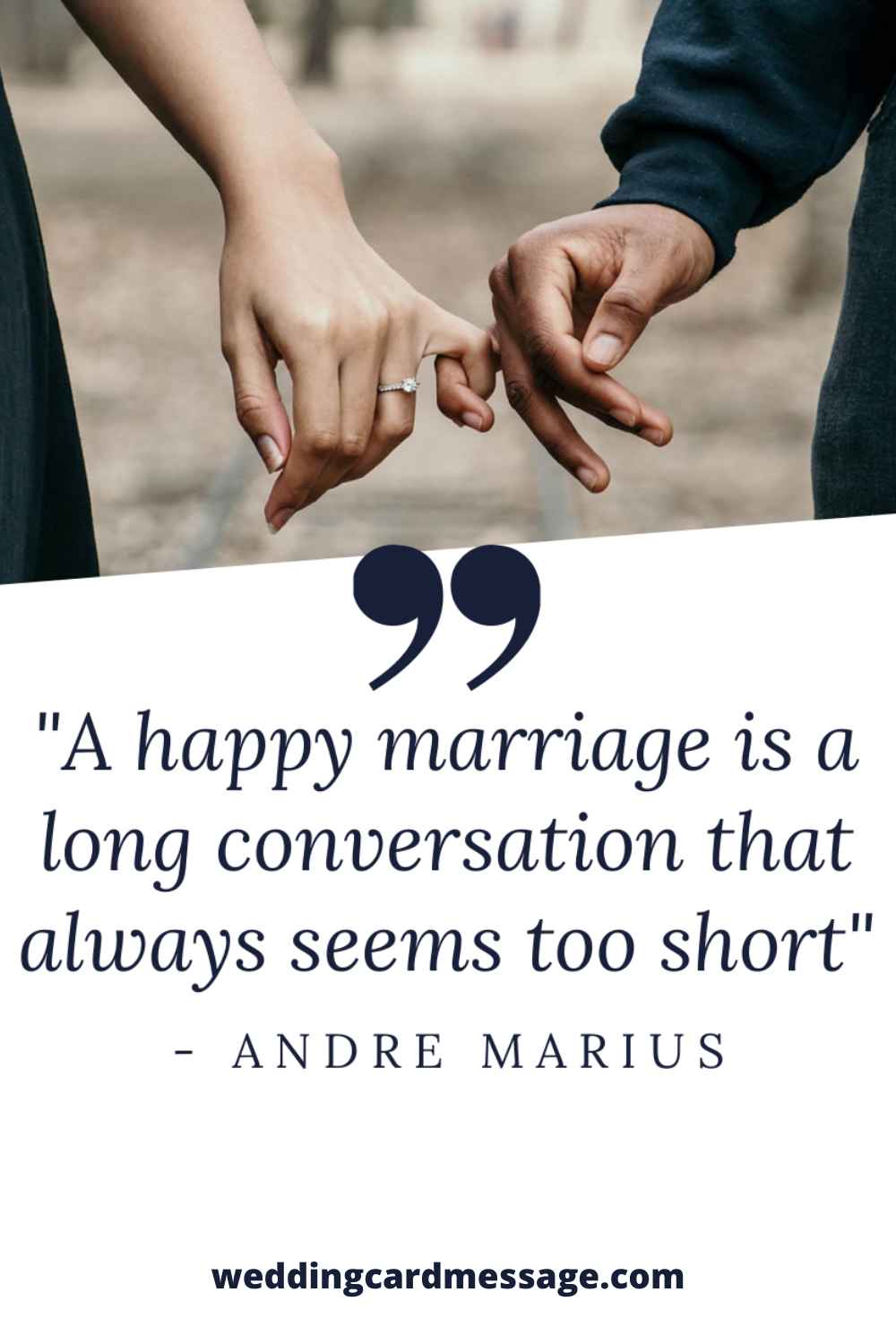 "The greatest marriages are built on teamwork. A mutual respect, a healthy dose of admiration, and a never-ending portion of love and grace" – Fawn Weaver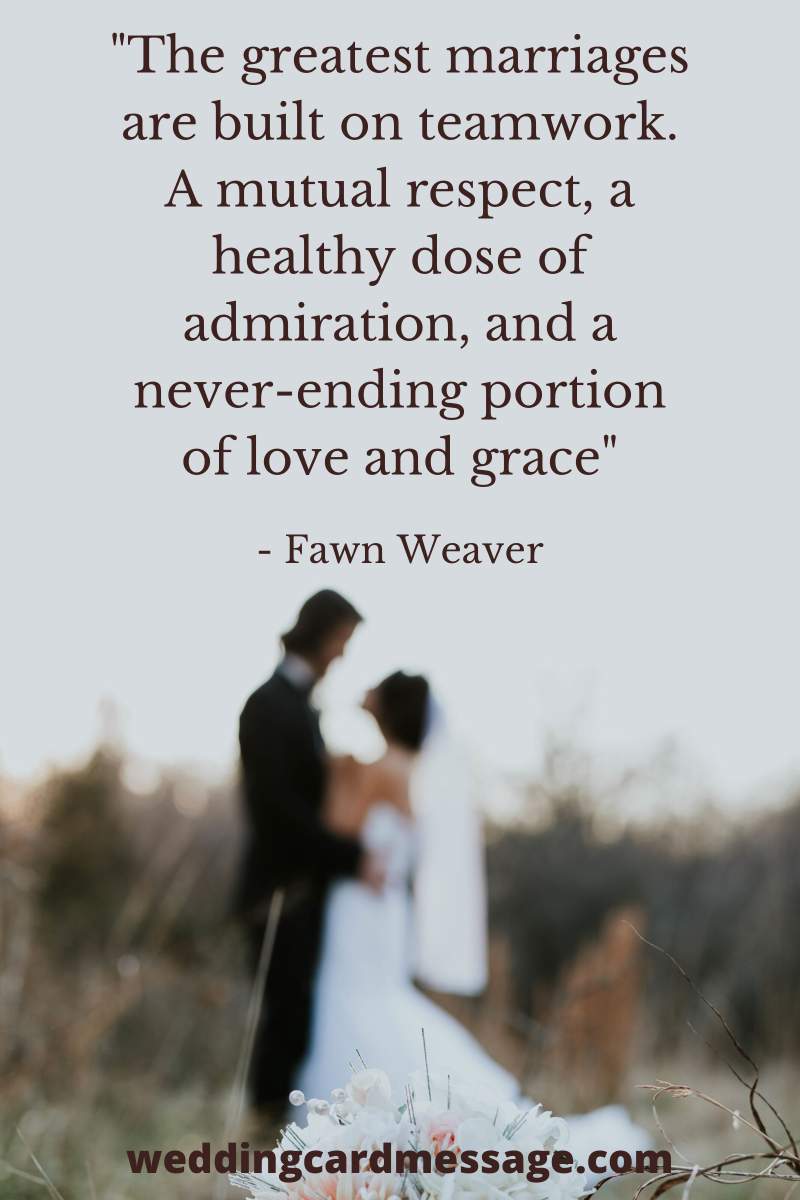 "Happy marriages begin when we marry the ones we love and they blossom when we love the ones we marry" – Tom Mullen
"What greater thing is there for two human souls, than to feel that they are joined for life — to strengthen each other in all labor, to rest on each other in all sorrow, to minister to each other in all pain, to be one with each other in silent unspeakable memories at the moment of the last parting?" – George Eliot
SEE MORE: Wedding Cake Quotes and Sayings
For a Newly Married Couple
Show a newly married couple just what they have in store for them with these inspirational quotes.
"Being in a long marriage is a little bit like that nice cup of coffee every morning – I might have it every day, but I still enjoy it" – Stephen Gaines
"Marriage is a mosaic you build with your spouse. Millions of tiny moments that create your love story" – Jennifer Smith
"Marriage is not about age; it's about finding the right person" – Sophia Bush
"The secret to a happy marriage is if you can be at peace with someone within four walls, if you are content because the one you love is near to you, either upstairs or downstairs, or in the same room, and you feel that warmth that you don't find very often, then that is what love is all about" – Bruce Forsyth
"Marriage, ultimately, is the practice of becoming passionate friends" – Harville Hendrix
"Marriage is not a noun; it's a verb. It isn't something you get. It's something you do. It's the way you love your partner every day" – Barbara De Angelis
"Never marry the one you can live with, marry the one you cannot live without" – Unknown
"It is not a lack of love, but a lack of friendship that makes unhappy marriages" – Friedrich Nietzsche
"A good marriage is a contest of generosity" – Diane Sawyer
"Marriage stands the test of times when both you and your spouse work towards making things better. And we are tested the most when we face adversities. If you can sail through the adversities as one, as a team, then you have won half the battle" – Unknown
"A perfect marriage is just two imperfect people who refuse to give up on each other" – Unknown
"Chains do not hold a marriage together. It is threads, hundreds of tiny threads, which sew people together through the years" – Simone Signoret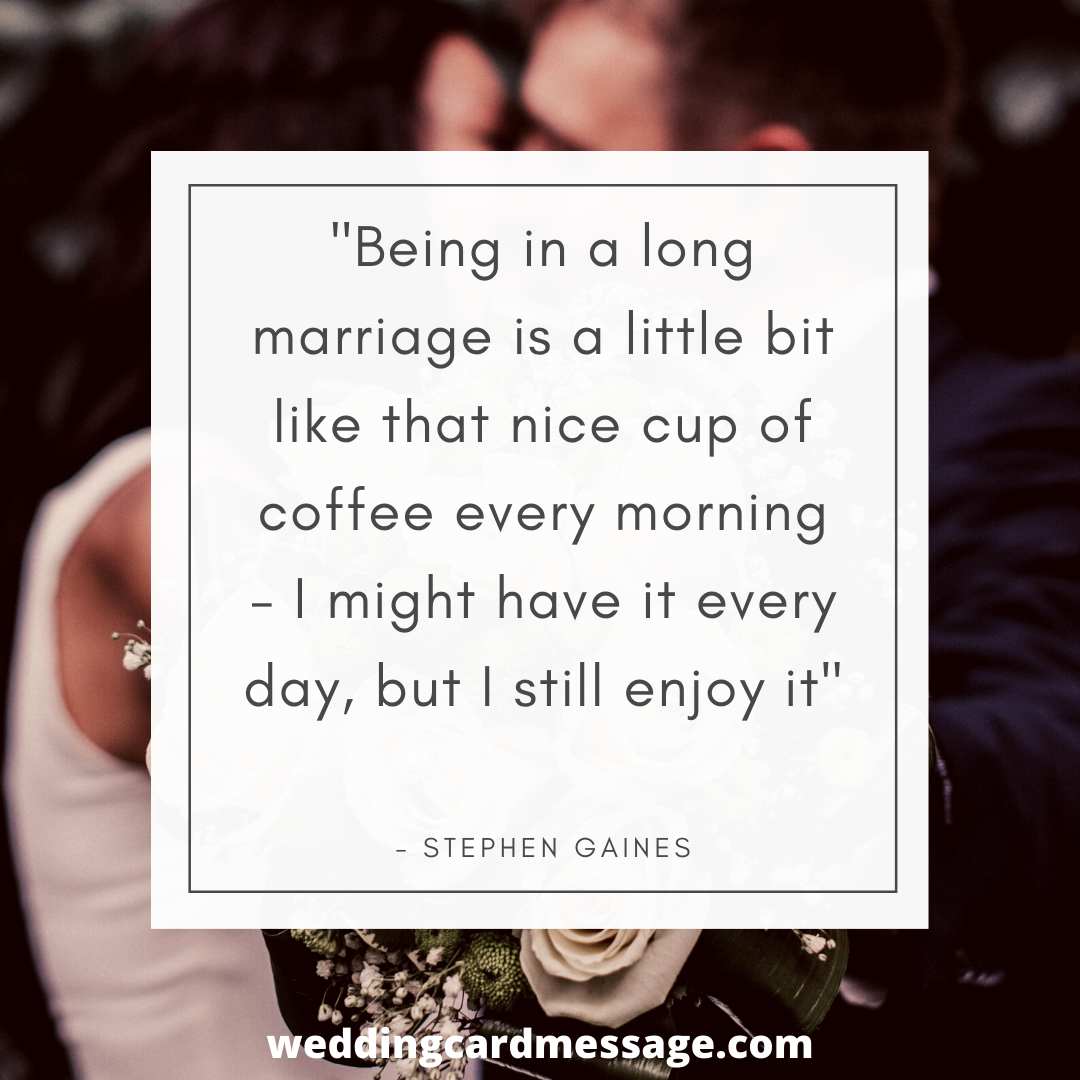 SEE MORE: Funny Wedding Anniversary Quotes
For Wife
If you want to show your wife just how much you love her and are thankful for your marriage try these inspiring sayings.
"Happy is the man who finds a true friend, and far happier is he who finds that true friend in his wife" – Franz Schubert
"My most brilliant achievement was my ability to be able to persuade my wife to marry me" – Winston Churchill
"A good marriage is one where each partner secretly suspects they got the better deal" – Unknown
"If you love 'em in the morning with their eyes full of crust; if you love 'em at night with their hair full of rollers, chances are, you're in love" – Miles Davis
"It's amazing how one day someone walks into your life, and you cannot remember how you ever lived without them" – Unknown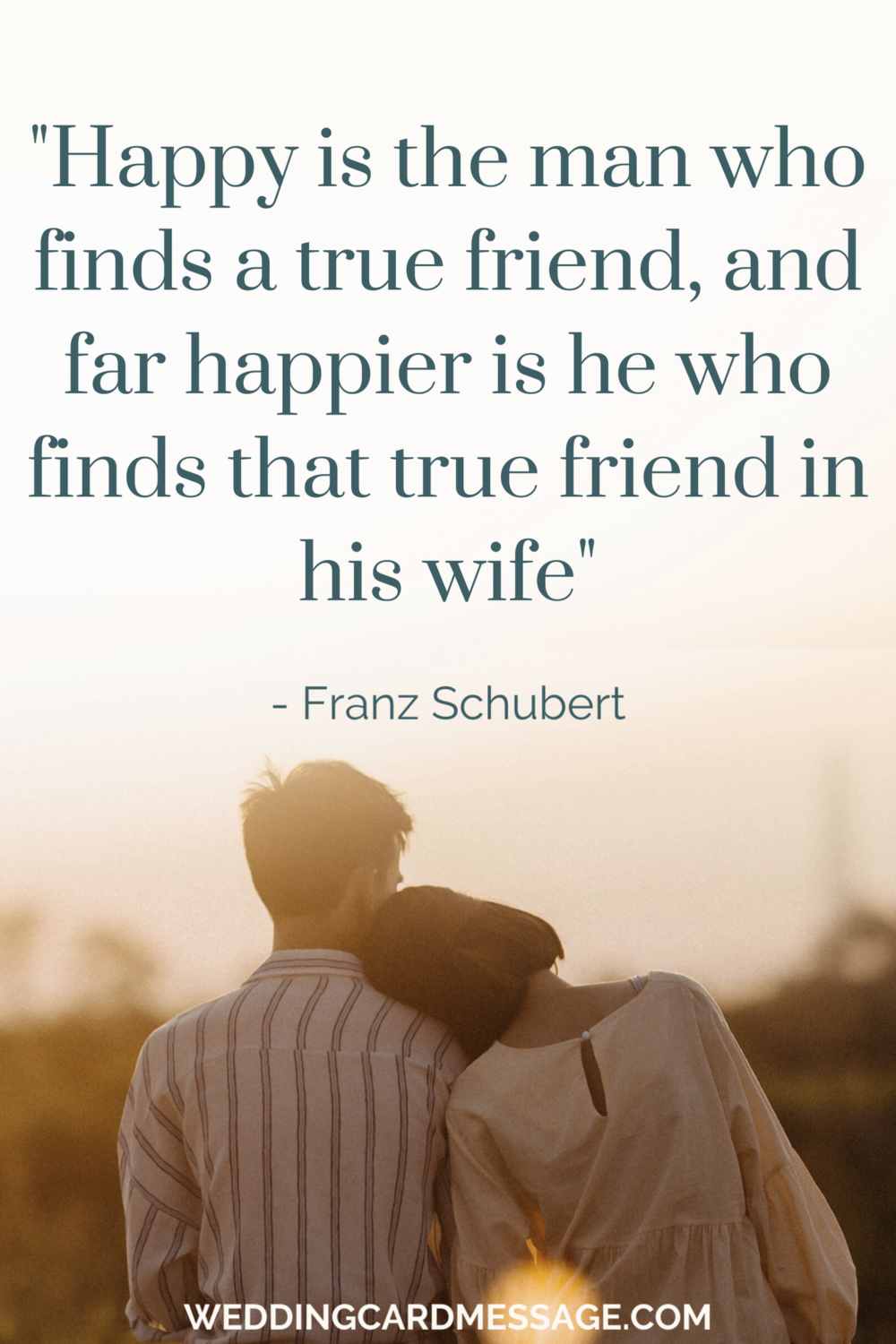 SEE MORE: Wedding Quotes: 101 of the Best Quotes for the Wedding Day
For Husband
Let your husband know how much being married to him means to you with these moving marriage quotes.
"In terms of my marriage, you know, falling in love with my husband was by far the best thing that's ever happened to me" – Caroline Kennedy
"A husband and wife may disagree on many things but they must absolutely agree on this: to never, ever give up" – Unknown
"I have a best friend as a husband, and he is my number one supporter. He's a family man, and he's always giving back to God. That is what makes him a beautiful man. We're not perfect by any means, but that makes us beautiful as well. We're not afraid to say we're not perfect. We have our disagreements, but that comes along with marriage" – Tamera Mowry
"Marriage is the most natural state of man, and the state in which you will find solid happiness" – Benjamin Frank
"Husband and wife relationships are like the relationship of Tom and Jerry. Though they are teasing and fighting, but can't live without each other" – Unknown
SEE MORE: Funny Wedding Quotes: 64 Hilarious Marriage Sayings
Inspirational Bible Quotes about Marriage
Use these Bible verses about marriage to demonstrate the religious aspects of married life and how important and wonderful it is.
"Be completely humble and gentle; be patient, bearing with one another in love" – Ephesians 4:2
"Let love and faithfulness never leave you; bind them around your neck, write them on the tablet of your heart" – Proverbs 3:3
"Therefore what God has joined together, let no one separate" – Mark 10:9
"With all humility and gentleness, with patience, bearing with one another in love, eager to maintain the unity of the Spirit in the bond of peace" – Ephesians 4:2-3
"I have found the one whom my soul loves" – Song of Solomon 3:4
"Owe no one anything, except to love each other, for the one who loves another has fulfilled the law" – Romans 13:8
"Love yesterday, today and forever" – Jeremiah 31:3
"God has poured out his love into our hearts" – Romans 5:5
"In the same way, you husbands must give honor to your wives. Treat your wife with understanding as you live together. She may be weaker than you are, but she is your equal partner in God's gift of new life. Treat her as you should so your prayers will not be hindered" – 1 Peter 3:7
SEE MORE: 78 Religious Wedding Wishes and Messages
We hope the inspirational marriage quotes found here will have inspired or helped you to find the perfect words for friends and family getting married. Or shown you how amazing marriage can truly be.
Use them in wedding or anniversary cards, for newlyweds and more established couples and make it clear just how incredible being married really is.