Seeing your grandson getting married is such a wonderful moment. You've had the chance to watch him grow into a fantastic young man and now he's found the love of his life and you're attending his wedding.
So congratulations are of course in order. But what do you say or write in a wedding message for your grandson?
You want to make it clear just how happy for him you are. So a message with real feeling and that shows just what he means to you.
Well if you're struggling with what to say or write then try the example wedding wishes and messages below. You can change them to fit your situation and alter any details with your own.
Wedding Wishes for a Grandson
Use these wedding wishes to wish your grandson just how happy you are for him on his big day.
To my darling grandson, have a wonderful wedding. I'm overjoyed to see you in love and finding such happiness
It's hard to believe my grandson is really getting married! You have grown up so quickly, but I'm so happy for. Wishing you a wonderful life and so much happiness
Having watched you grow and become such an impressive young man I could not be more delighted to see you get married today. All my love to my wonderful grandson
Happy wedding day to my lovely grandson! You have found the woman you love more than anyone and are going to embark on a life of amazing happiness. I know you will be blessed with such joy
Wishing you and your bride to be a very happy life as man and wife and a truly wonderful wedding that you will look back on with such happiness
May today be the start of a life you share with your partner that is filled with happiness and laughter forever more
Sending my wishes to my grandson to have a wedding day of unimaginable happiness and the beginning of the happiest life as a couple
I love you so much and wish you all the best on this magical day. I know this is the start of an incredibly happy married life. Congratulations
I don't have the words to show you just how delighted I am to see you getting married. More than anyone you deserve a happy life and I know that's what your marriage has in store. I'm over the moon to see it start today and be a part of your wedding. Congratulations!
Wishing you love and good wishes for today and your marriage going forwards. May your wedding be blessed with love and happiness
Here's to your love growing stronger as each year passes. Congratulations to my lovely grandson and your wife
It will be an honor to witness you getting married and be at your wedding. I wish you an eternity of happiness with your one true love
May today mark the start of a journey that brings you the best of times and truly special memories you will cherish forever. Wishing you all my love and best wishes
Wishing my grandson a long and happy life with the woman you love. Have a wonderful day my darling
May your new life begin in the best possible way. Have a brilliant day and enjoy your wedding
I'm pleased to say you've discovered the person to spend the rest of your life with. Wishing you years of happiness and love to last you a lifetime
It was obvious to see you two were perfect for one another right from the beginning. As you become man and wife I am so happy for you both. Have a fantastic day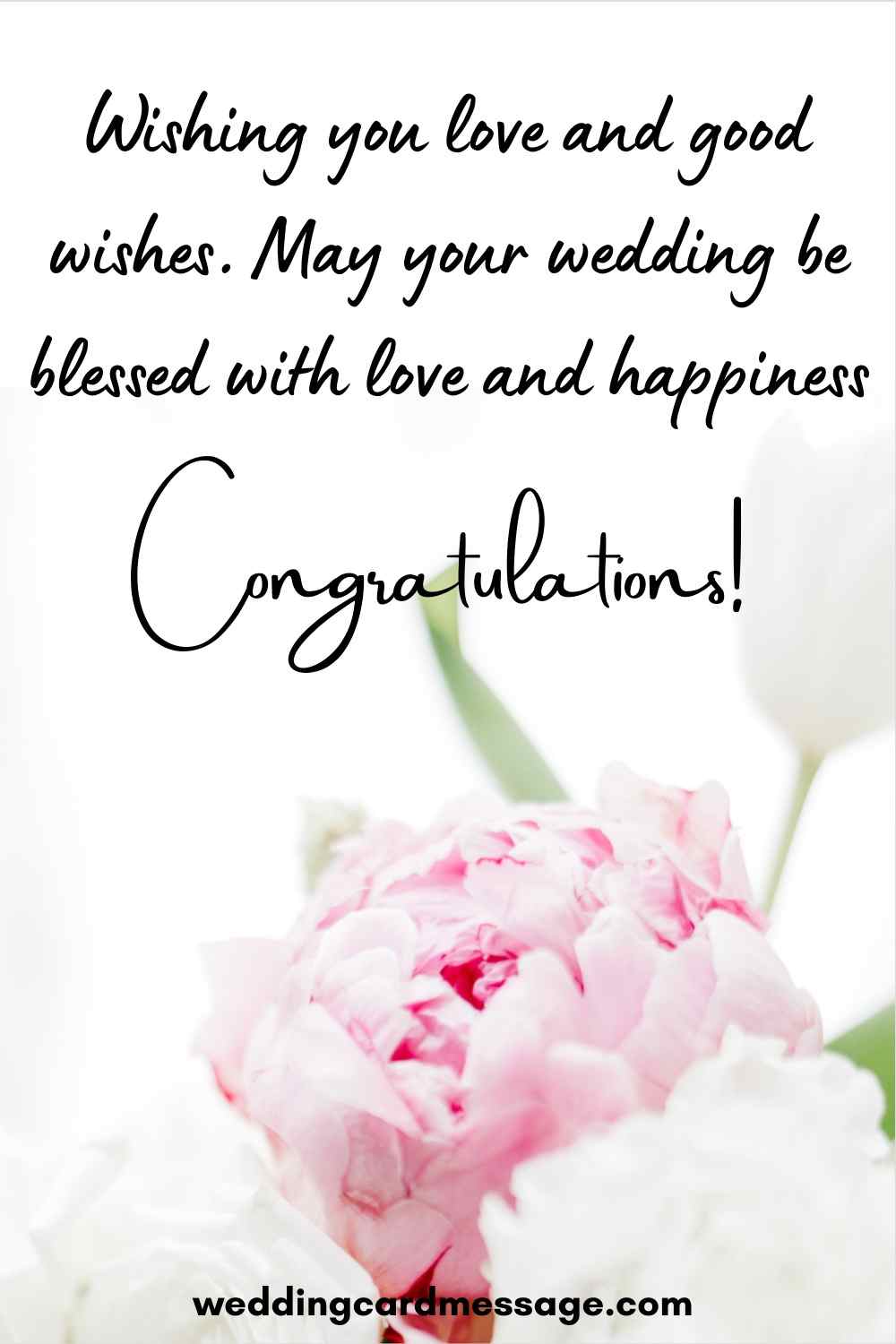 SEE MORE: 49 Wedding Wishes for the Bride and Groom
Wedding Congratulations for your Grandson
Use these lovely messages to wish your grandson congratulations on his wedding day.
Congratulations to my adorable grandson as you get married. May you be blessed with a love that is purer and stronger than anything else
Congratulations! I wish for you a love that only grows as you and your bride to be enjoy your life together
May this day be this start of the happiest years of your life. Congratulations to my grandson
You are the perfect couple and I'm so pleased you've found true love with one another. Congratulations and enjoy your day
May all the brilliant memories you make today last a lifetime. Congratulations and enjoy the big day
I will raise my glass to my grandson and wish you all the best for a very happy marriage. Congratulations
Congratulations my beloved grandson. May today mark the beginning of your incredible journey through married life, filled with happiness, excitement and most of all love
Congratulations and all the best for a day that you will always remember. Sending much love to you both and wishing you all the happiness in the world
Enjoy everything about your wedding and treasure those amazing memories you will have after it. Congratulations from your grandma and grandpa
Your wedding is all about you and your bride. We will do everything we can to ensure you have the best wedding possible. All our love and congratulations
May your wedding day be the happy occasion you dreamed of and being you the life you've been going for. Congratulations our grandson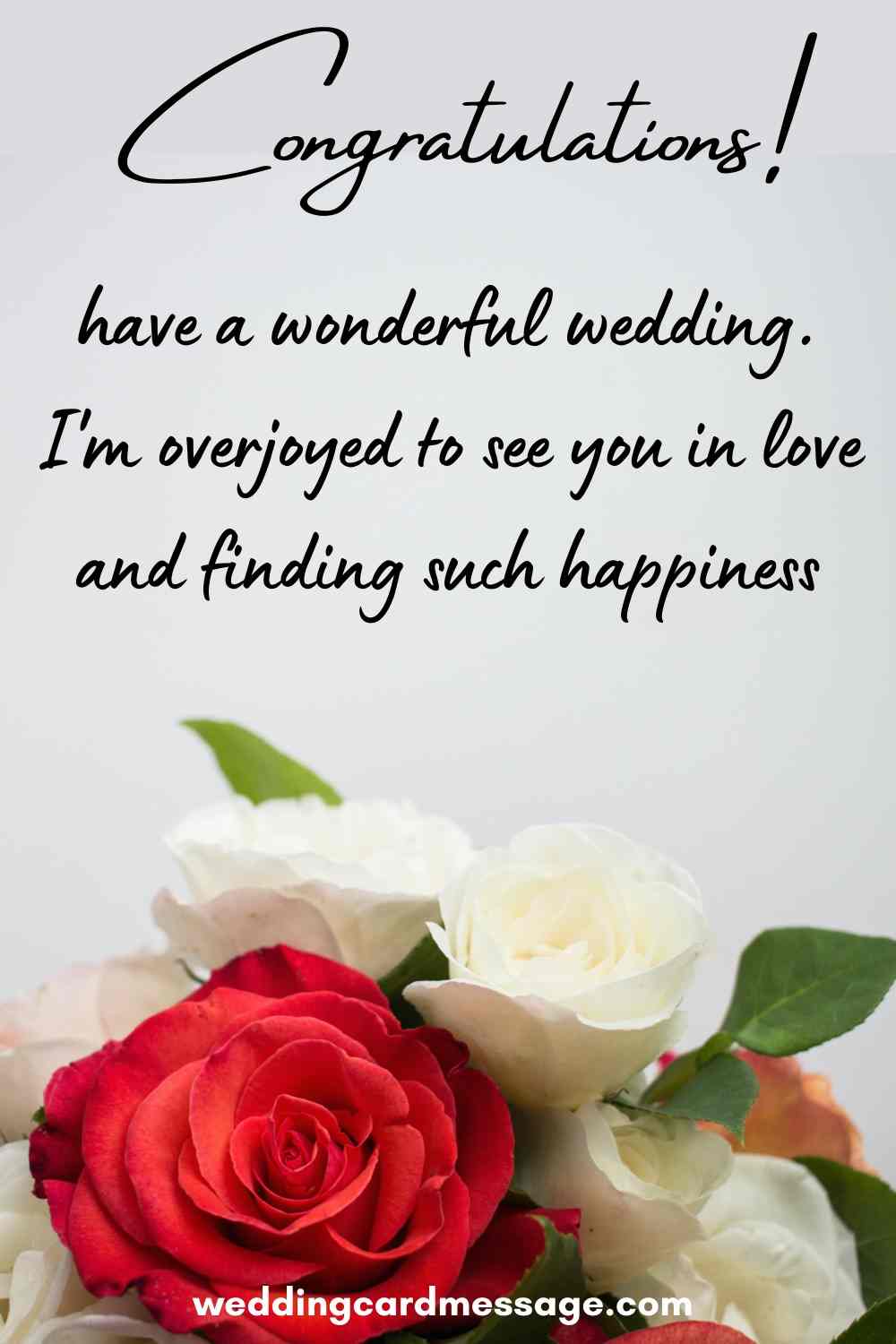 SEE MORE: Inspirational Quotes about Marriage
Your new wife is a very lucky lady! We are sure you will both make each other so happy and have a wonderful life together. Congratulations
You've found your soul mate and will now spend your life and share the happiest moments with them. Congratulations
May your wedding be blessed with happiness and love. Congratulations and enjoy your special day
Nothing could make us happier than seeing our grandson marry his beautiful wife. You make such a perfect couple and you will bring each other a love so pure. Congratulations and all our best
SEE MORE: Wedding Quotes: 101 of the Best Quotes for the Wedding Day
Hopefully the wedding messages for your grandson here will have helped you to find the perfect words to wish and congratulate your grandson on his marriage.
Your words, if they come from the heart, will be warmly received and appreciated by your grandsons for his partner as they embark on their new life.