When your boss is getting married, or a member of their family (son, daughter etc) is, you will probably want to wish them congratulations. But it can be hard to know what to say or write in a wedding message for a boss.
Finding the right words to wish your boss a happy marriage is tricky. You may not be as close to your boss as you are to friends and family.
So your message can't be quite as personal as it would be to them. But you still want to make it clear how pleased and excited for them you are.
If you aren't sure what to say then use the example wedding wishes for bosses below to help you come up with the perfect wedding message.
Wedding Wishes for Boss
Use these wedding wishes to let your boss know how happy you are for them on their big day.
I'm so happy for you and honored I get to see you marry the man/woman of your dreams. Enjoy your special day
I couldn't be happier to see my favorite boss getting married. I've been lucky to see your love grow and I know you're going to be so happy. All my love and congratulations
Congratulations to my boss on your wedding. You really deserve all the happiness in the world and I'm sure you've found it. Enjoy your wedding day
Wishing you and your husband/wife to be all the best for a wonderful day and happy life together. Congratulations
I was so touched to be invited to your wedding and am looking forward to seeing you walk down the aisle. Congratulations
Best wishes to you and your partner as you take this big step. I know you two will make each other happier than you've ever been. Enjoy today and the rest of your lives together
May today be the start of a life together that is filled with love, laughter and joy
Here's to my boss having a truly amazing wedding day! Together you and your bride to be will enjoy the happiest of lives with one another
I know that today is just the start of a truly happy and exciting life for you both. Wishing you all the best on such a special day
From everyone at work we wish you all the best for your life together and whatever it will bring you in the future
Congratulations on your wedding and May you be blessed with good health and love forever
I was so warmly welcomed into the office when I fussy started working here and now to be invited to your wedding is very moving. I hope you have a fantastic day!
Wishing you years of love and happiness that grows stronger each year. Congrats
I've seen how in love you are and wish you all the best for the big day. It's a thrill to be invited!
It's a special day and we're celebrating a very special couple! Congratulations to you, boss, and your partner – you look so happy together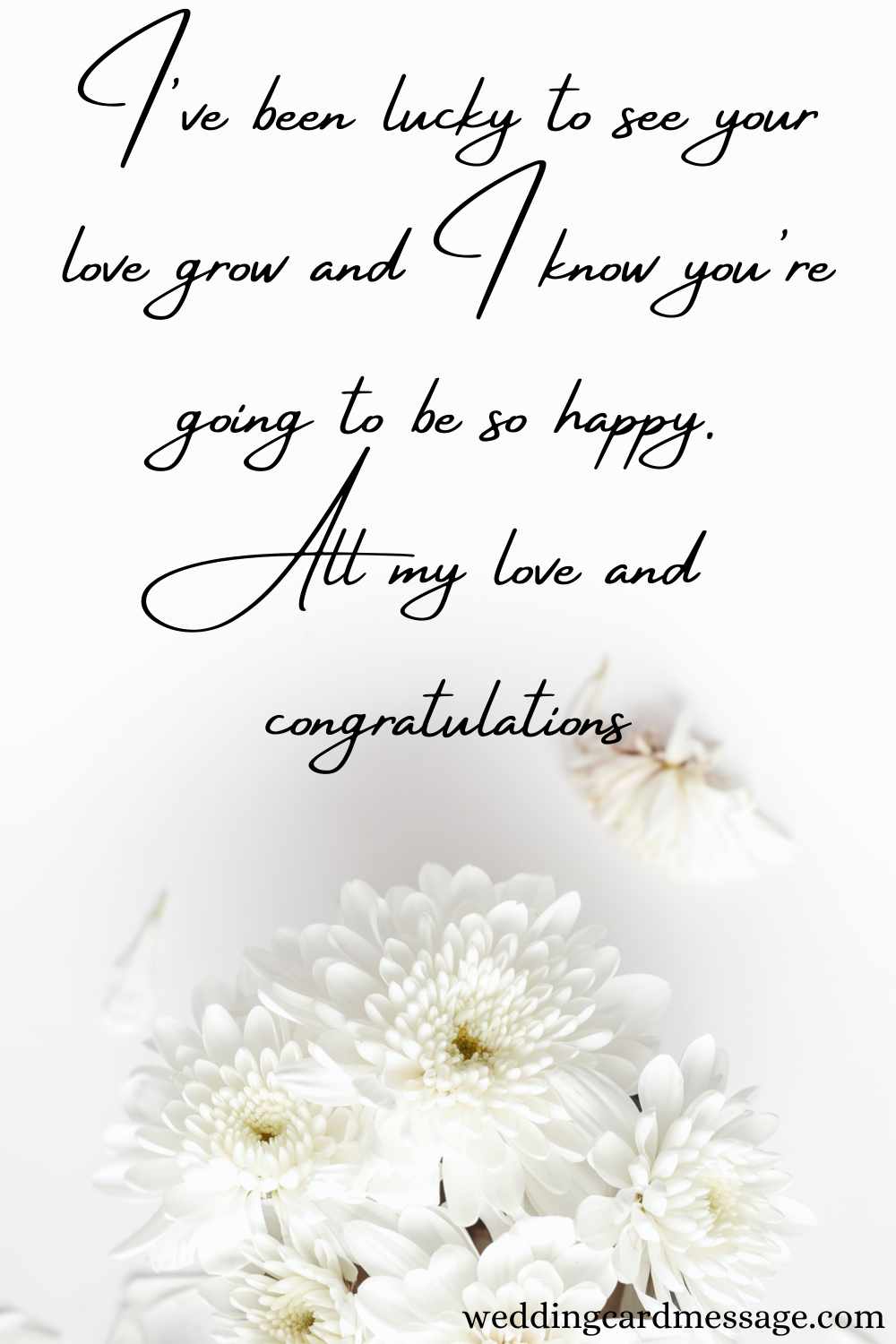 SEE MORE: Wedding Messages for the Couple
Wedding Congratulations to Boss
I am honored and touched to be able to witness you get married. Congratulations and all my loving wishes for a happy life
Big hugs and wishes to my new favorite couple! I hope you enjoy your honeymoon and don't rush back to work!
I think it's not just you who's lucky but your lovely new wife/husband! They're getting a pretty amazing partner for life! Congratulations to you both
Today you settle down with the person you love more than anyone else. I will raise a glass to you and wish you eternal happiness
Wishing you a very long honeymoon… no, it's definitely not so I can slack off from work while you're gone!
You have found your other half, the missing part of your life so that everything finally feels complete. That love will last forever and I just know you will enjoy an amazing marriage
A wedding is day you will remember forever boss. Congratulations on tying the knot snd heres to a lifetime of happiness
You've found your soulmate boss, and I would wish you good luck for the future but I know you won't need it. You were made for one another. Congratulations
I'm overwhelmed to have been a part of your wedding. It means so much to me to see my boss getting married the man/woman of their dreams. Congratulations and lots of love
I have never had a boss as good as you, so I hope you have a spectacular wedding that brings you joy forever more
SEE MORE: Inspirational Quotes about Marriage
Wedding wishes for Bosses Daughter
Congratulations to your daughter! I hope she has a wonderful wedding. You must be very proud!
Please wish your daughter big congratulations from everyone at work! She is a lovely girl and I'm sure will be very happy
I know we don't know each other very well as I work for your mom but I wanted to wish you a very happy wedding day and all the best for the future
From everyone at [company] we wanted to send our best wishes to our bosses son on his big wedding day. Congratulations!
Weddings are such wondrous times for family. I hope you can enjoy your daughters wedding without getting too emotional!
To my boss and his very sweet daughter. I know you will look beautiful on your wedding day and as a family I'm sure it will be a truly joyous day. My best wishes and congratulations to you all
The whole office sends our love to your darling daughter as she gets married. May her wedding be blessed with love and joy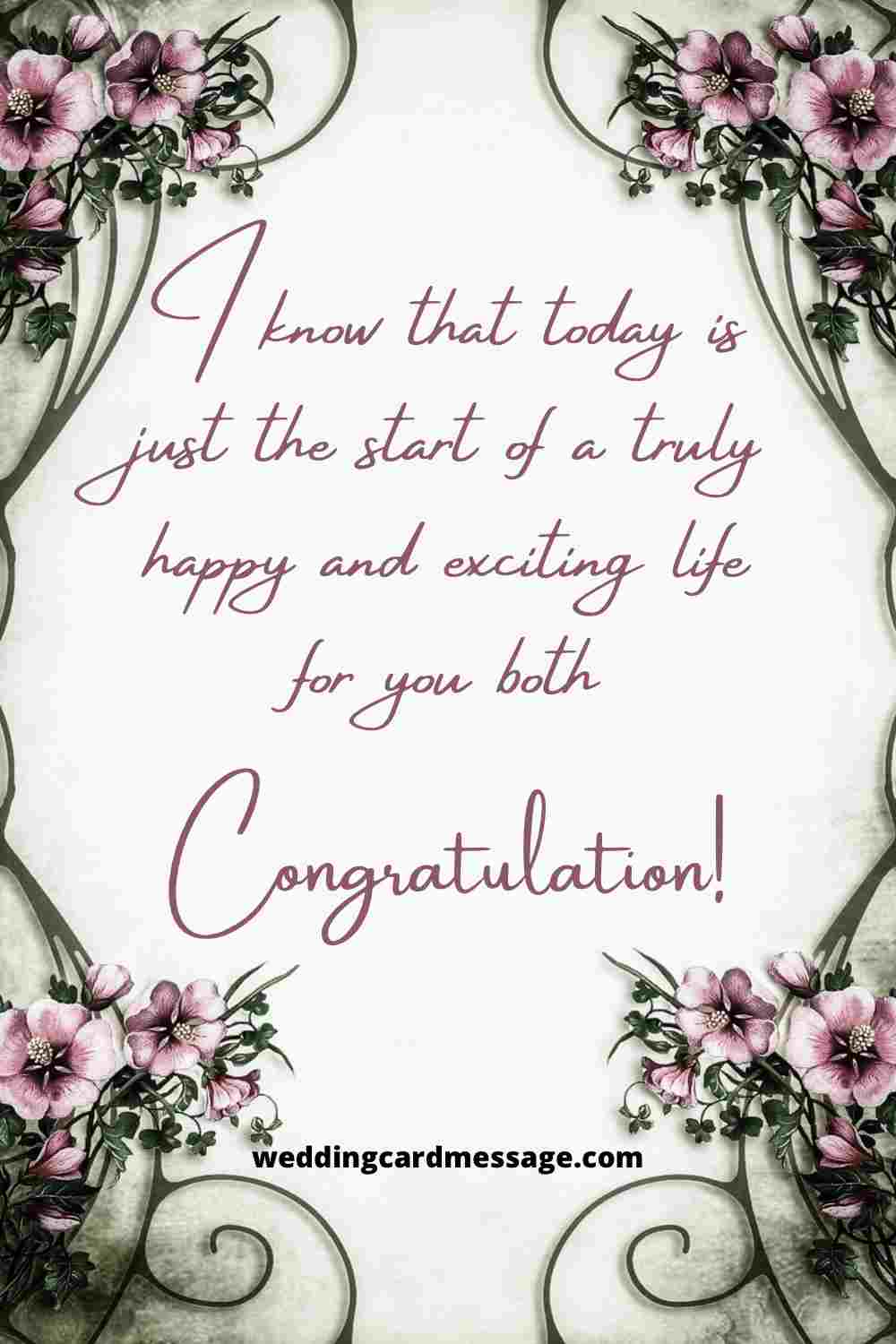 SEE MORE: What to Write in a Bridal Shower Card: 68 Wedding Shower Wishes and Messages
Wedding Messages for Bosses Son
Congratulations are in order as your son gets married today. I hope he enjoys the big wedding and you are a proud parent watching him walk down the aisle
We send our happy wedding wishes to you, our bosses son, and hope your big day is all you've dreamed about. May married life treat you well! Congratulations
I am really happy for you and your son. Marriage and wedding date such brilliant occasions and bring a love that we rarely see. I hope your son enjoys the day and his honeymoon before embarking on the incredible journey that is married life!
Congratulations to my bosses son – have a great day! Your dad always tells us how proud of you he is and I'm sure today will be no different
As you begin a new chapter in your life I wish you the best for a lifetime of happiness. Congratulations
To the bosses son – congratulations on your wedding! You deserve such happiness after having a dad as demanding as our boss!
We send our biggest and most heartfelt wishes to you, the bosses son, as you take this big step into married life. I'm sure you will make a wonderfully husband and enjoy the love you deserve
Hopefully these wedding wishes for a boss will have helped you to congratulate your boss on their marriage.