Oh no, you're late! You've forgotten to wish someone a happy wedding or send them a wedding card with your best wishes.
Now what do you do? Can you send them late or belated wedding wishes?
The answer is: yes!
You might be a little late but that shouldn't stop you wishing the happy couple all the best.
You will have to make some mention of being a bit late to though. Saying sorry and explaining why you are belated with your congratulations will have to make up part of your message.
But even after the wedding is long over you can still send a card or note with your congratulations.
You may be worried there's some sort of time limit. Like if it's over a week since the wedding then it's rude to send a card.
Honestly, there isn't really anything like that. Obviously if it's something like 9 months or over a year then it might be a bit odd.
But if it's just a short time that you're late by then you shouldn't worry. Apologize in your note for being tardy but that will be enough.
So if you're a bit late or slow to send your congratulations to the happy couple use these belated wedding wishes
Belated Wedding Wishes
I'm so sorry I'm late with this but I hope you had a wonderful wedding and enjoyed your honeymoon!

I was so disappointed to miss your big day but I'm sending my best wishes now. Congratulations!

My belated wishes for your wedding. I'm sure you made a beautiful couple

Sorry I missed out on you getting married. I'll promise be there for the next time (only joking!)

Better late than never is what I always say! Congratulations! I hope your happiness lasts forever

I am really sorry I missed your wedding. But here's some belated wishes for a lifetime of joy and laughter

I was distraught to have missed your wedding but something I just couldn't get out of came up. I hope it was a lovely day and wishing you both all the best

I'm such an idiot! I can't believe I managed to forget to send you a wedding card. Well, here I am trying to make up for it – happy belated wedding wishes!

Congratulations on your marriage. So sorry I'm a little late. I hope you had a wonderful day and enjoyed your honeymoon

I know I'm late with sending this card but I hope not too late! Here's to your marriage and a happy life together

My apologies for such a late wedding card. Congratulations and my best wishes

Extremely sorry for missing the wedding but hoping I can make up for it with by sending you my blessings and love

You know I would only miss your wedding if it was something really important. I would have do anything to be there but I just couldn't make it. But I know that you will both be so happy together. Congratulations

I'm sorry I couldn't be at your wedding. Unfortunately personal reasons meant I could not attend. You have my best wishes

SEE MORE: 49 Wedding Wishes for the Bride and Groom
Although I wasn't there you were in my thoughts as you got married. Sorry this is a little late though

It's never too late to celebrate the coming together of two people so in love!

It was with such sadness that I missed your wedding. Please accept these belated wishes and my congratulations

This note is later than I would have liked but I still wanted to make sure I sent my congratulations. All my best for a truly happy marriage

Everyone has said what a spectacular wedding it was and I'm just so sorry I wasn't there to witness it. Congratulations

Due to illness I'm afraid I wasn't able to make your wedding. I know this is late but I wanted to explain why I couldn't be there. I do hope you'll understand. My armrest wishes for a happy marriage

SEE MORE: Wedding Wishes for Nephew
Belated Wedding Congratulations
Congratulations on your lovely wedding. My only regret is not being there. I hope these belated wishes make for it a little

I really hope this message isn't too late and finds you both still on a high from the big day. Wishing you, belatedly, all the love in the world and years of happiness

Sending my very late best wishes and congratulations on your wedding

We are so sorry this is later than we would have liked but it's been a hectic few weeks for us. Please accept our apologies and our congratulations on your marriage

Is this too late? I'm really sorry I didn't wish you congratulations any sooner, but I'm so happy to see you so happy. All the best for years of happiness together

My very belated wedding congratulations. You make a lovely couple and I'm thrilled for you both

My very best and late wishes for your wedding. I hope it was a magical day

SEE MORE: Wedding Cake Quotes and Sayings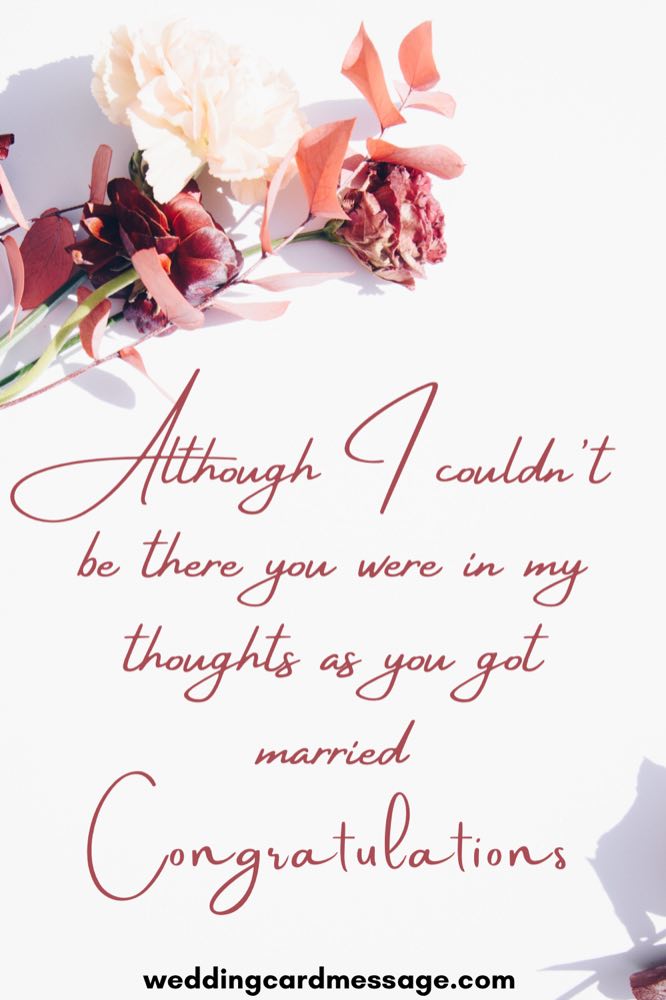 I hope you can forgive me being so late with this but life just got on top of me. Congratulations! You make a beautiful couple

Happy and belated wedding wishes! I'm sure it was an abating day and I'm really sorry I couldn't be there

Let's ignore the fact this is very late and just focus on how awesome a couple you are! Congratulations and here's to a long and happy life together

Sending all my love to you both for your big day. I'm sorry it has come a little late though

I still can't believe I had to go away for work on your wedding day. I hope it was just as perfect as you'd imagined though. Sending my belated congratulations

I have been so busy lately but I still can't believe I forgot to send you this message of congratulations. I know it's now a bit late but hopefully it will find you both still in the throes of love soon after your wedding

Belated congratulations on your marriage. You two are perfect for one another

My wishes may be a little late but they are still as loving and delighted to know you are now man and wife. Huge congratulations to the two of you

Hopefully you can now send a belated wedding message to someone who's wedding you missed or forgot. Be honest, admit your your mistake and wish them all the best and they will both appreciate and understand you being a little late.