If a teacher you know is getting married you will want to reach out in some way and wish them congratulations on their wedding. But what do you say to a teacher getting married?
Teachers are really important to many of us. They may be inspiring you as you learn from a young age or a really great professor.
Whoever your teacher is them getting married is a time for celebration.
But finding the right words to wish your teacher a happy marriage isn't easy. It's not the same as saying congratulations to a family member or close friend on their wedding day.
You need to get the tone right. Not as personal as some messages might be but still expressing how happy you are for them.
So if you're not sure what to say then use the example wedding wishes for teachers below to help you find the right words for a touching wedding message.
Wedding Wishes for Teacher
All the best for your big day! Wishing you a happy life together!
You've been such a fantastic teacher to me and everyone who's lucky enough to be under your tutelage. I hope you enjoy your wedding day and have the happiest life with the one you love
As an educator there is no one better than you. I feel so grateful to have you as my teacher. Best wishes for a wonderful wedding!
Wishing you and your partner a spectacular wedding and a lifetime of happiness together
I'm so delighted to be invited to and attend your wedding. I hope your love only continues to grow as each day passes
May your wedding be filled with joy and happiness and you can look forward to years of laughter and love from now on
It's a real honor to be a part of your big day and witness you get married. I know you're going to be so happy
Here's to your wedding and the happiness married life will bring you!
Your influence and the way you've shaped me have made me the person I am today. I owe you so much and want to wish you the happiest of weddings and life after. You really do deserve it
I hope you grow old and very happy together. Best wishes on your wedding day
May your love grow stronger with each year and you be filled with a joy that you could never have imagined
Sending my best wishes and blessings on your big day. May your wedding be everything you have hoped for and more
Wishing you, my teacher and mentor, all the happiness in the world. Have a fantastic wedding
Thank you for inviting me to your wedding. Wishing you a wonderful day
Your love is inspiring, just like your work as a teacher. Enjoy a truly special day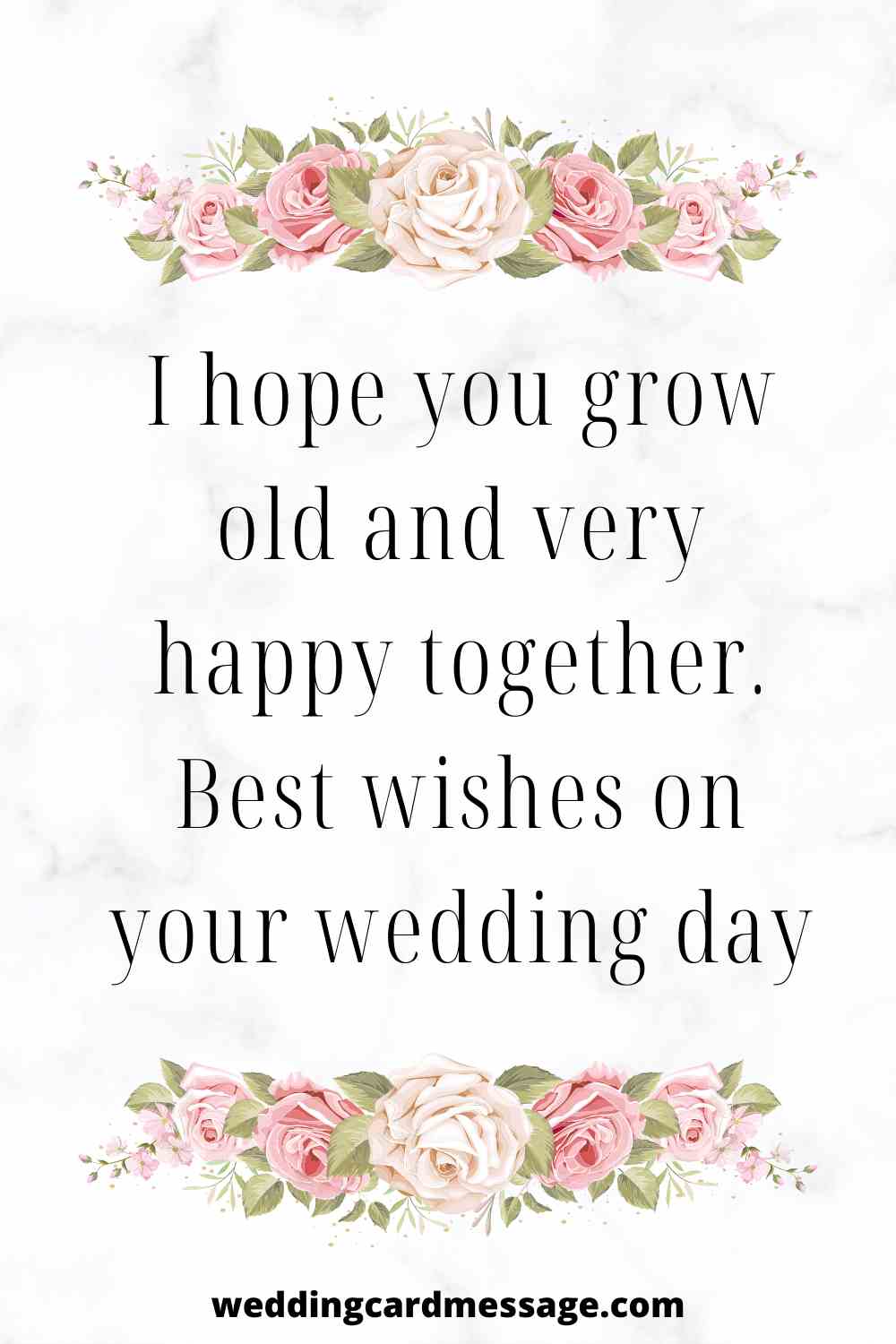 SEE MORE: Wedding Messages for your Boss
Wedding Messages for Teacher
Wishing you a very long and happy marriage for many years to come
As our teacher we have depended on you to guides us but now you deserve some time to be loved. Congratulations
I'm certain that your love story is one that will last for eternity. Congratulations!
I am overflowing with joy for you! Have a wonderful wedding day and enjoy your honeymoon
To the best teacher in the world – congratulations on your wedding! We miss you, come back soon!
It was only a matter of time before someone put a ring on it! Have a great day and enjoy your life together
Celebrating your wedding and wishing you an exciting and joy filled life
I could not be any more delighted for you and your partner. You are love personified and I'm absolutely thrilled to see you getting married
On such a happy day we wish you love and contentment with your new husband/wife. Congratulations
I can't tell you how happy I am that you're getting married. Warm wishes for the big day
SEE MORE: Wedding Messages for the Couple
Wedding Congratulations for Teacher
Sending my blessings to my favorite teacher on your wedding day. Congratulations!
Huge congratulations to you as you take those steps down the aisle!
Sending my congratulations on your wedding day and wishing you a love that is eternal
Thank you for your hard work and dedication as a teacher and congratulations on your wedding. May it be all you have hoped for
My heartfelt congratulations to you both as embark on the amazing journey that is marriage. Your wedding will be the starting point of a truly special life together
I'm so happy for you! Congratulations and all my love on this amazing day!
Congratulations to a teacher who has had such a positive impact on my life. Thank you for everything and enjoy your wedding
Its been a joy learning from you. I know you have found true love that will last forever. Congratulations!
Congratulations from everyone of us at school! We hope this is beginning of the happiest chapter of your life
My biggest congratulations for a lovely day that will be everything you could ever want. I'm sure it'll be a very special wedding
If you can cope with a class full of children then then you can deal with a wedding! Congratulations and all my love
Not only have you become a top teacher but now you have amazing personal success too. Congratulations on all the exciting things that are happening in your life
I'm overjoyed I get to see my favorite teacher getting married. You deserve all the love and happiness that is coming your way!
May today be the beginning of a life together that is filled with every happiness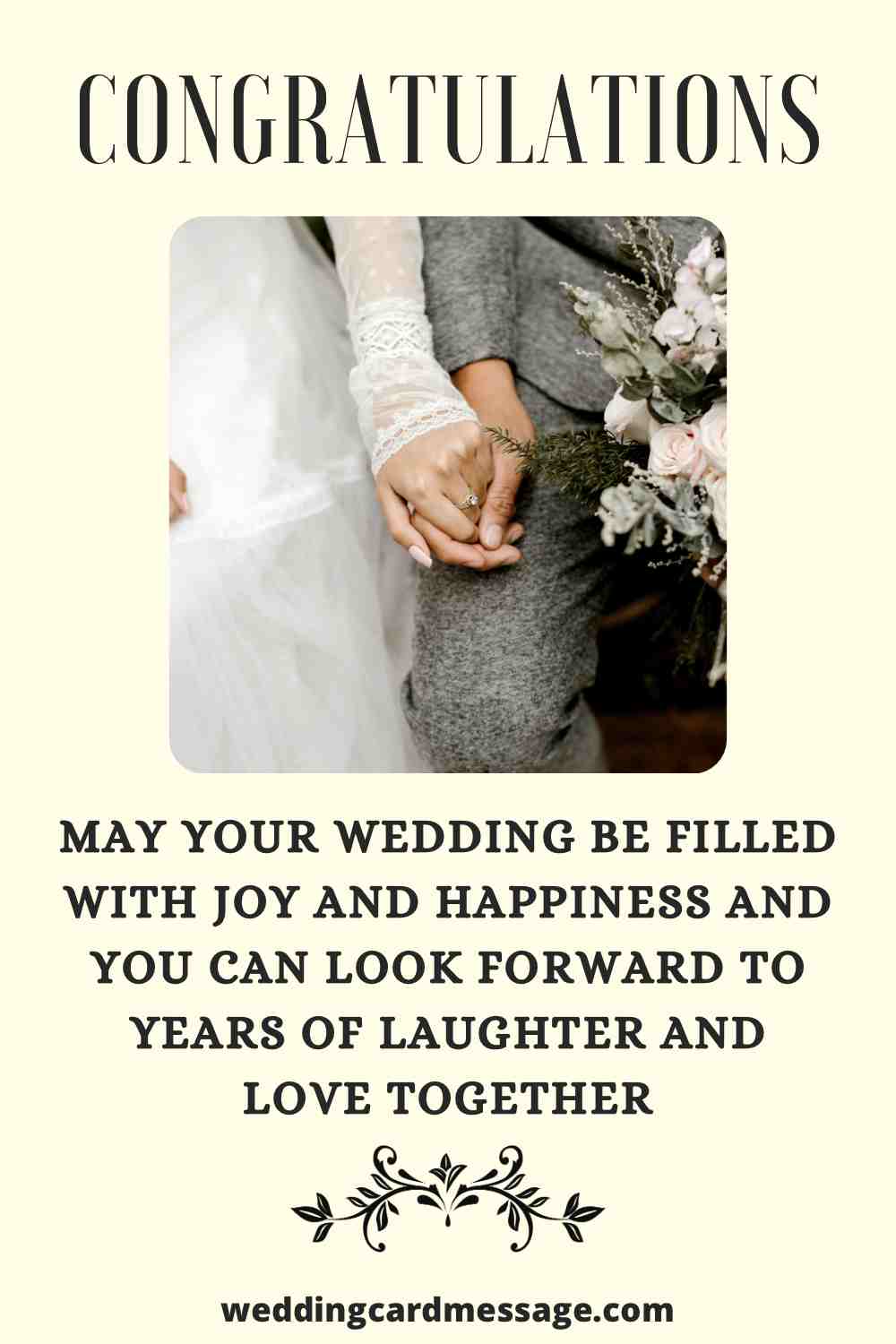 SEE MORE: Wedding Congratulations Messages and Wishes
We hope that these wedding messages for will have helped you finding the right words to offer your congratulations. Let them know how happy you are for them as they get married.
You don't need to do any more than that. As long as you are sincere with what you say and keep it simple then you'll end up with the best wedding wishes for a teacher.